Review of The Female Buddha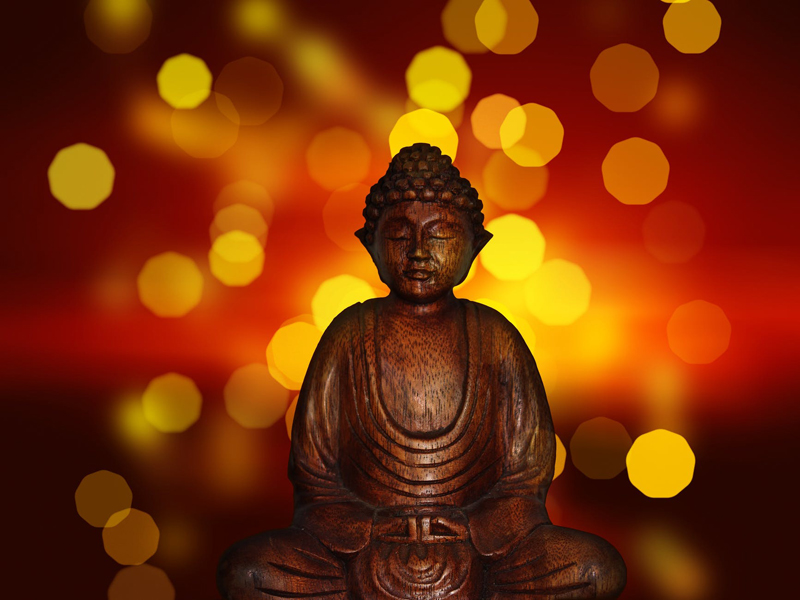 The Female Buddha: Discovering the Heart of Liberation and Love
is a beautiful, hard cover 'coffee-table' style photography and contemplation book filled with images and quotes related to the feminine principle within Buddhism. It is the work of Deborah Bowman, a psychologist, photographer and professor at Naropa University. The photographs are her own, gathered on travels throughout Vietnam, Taiwan, Korea, Japan, Thailand, Cambodia, Myanmar and the United States. She pairs each photograph with quotes from women Buddhist teachers and writers, both historical and contemporary.
The book centers around Guanyin, a feminine Buddhist figure also known as Kwan Yin or Quan Kin depending on the source. In the introduction to the book, Ms. Bowman covers the history of Guanyin, beginning with her emergence in eighth century China as a variation of the male Buddha of compassion, Avalokiteshvara. In many parts of Eastern Asia, the female Guanyin is now the most common Buddhist statue found, and is more common even than statues of Buddha. She represents unconditional love and nurturing, and is often thought of as a mother figure. Legends abound related to her kindness and nurturing, and particularly to her compassionate action, the wisdom quality she embodies.
In the introduction Ms. Bowman also shares the story of her personal connection to Guanyin, and what she means to her. On the one had, Guanyin represents a rare female Buddhist role model for contemporary seekers, and in so doing drives home the point that awakening is gender-neutral, despite the fact that historically most teaching lineages to date have been male-dominated. On the other hand, Guanyin represents the 'feminine' or 'yin' side within us all, and offers us a path for connecting and integrating this within ourselves.
The photographs in this book feature different images of Guanyin from East Asia and the U.S., as well as women Buddhists engaged in practices from several different lineages of Buddhism. Each photograph is paired with a quotation from a woman Buddhist teacher or author, from the Buddha's day up to the present. This creates a contemplative book, that you can experience page by page, or even center a daily mindfulness practice around.
For example, here is a passage from Tenzin Palmo, a contemporary teacher in the Tibetan Buddhist tradition, which is paired with the gorgeous photograph you see above from the cover shot of the book – an eighty foot tall Guanyin that lies at the foot of a mountain range east of Kyoto, Japan:
"The nature of the mind, the Buddha nature, is not my Buddha-nature or her Buddha-nature. It's just Buddha-nature. It's like the sky. It's infinite and all-encompassing. It's what we all are in our true nature. We are not separate."
And here is a historical passage, from Abhirupa-Nanda, one of the first Buddhist nuns in India at the time of the Buddha, which is paired with photos of carved wooden Guanyin statues in Taiwan:
"Get rid of the tendency to judge yourself above, or equal to others. By penetrating deeply into judgment you will live at peace."
Other passages from the Therigatha, a collection of writings by the first Buddhist nuns, are included, as well as quotations from well-known contemporary teachers such as Pema Chodron, Charlotte Joko Beck, Aung San Suu Kyi, Tsultrim Allione, Sharon Salzberg, Sylvia Boorstein, and more. There are also many quotations from women teachers less known in the West, and from more obscure historical sources.
Overall, this is a beautiful, meditative book that carries a powerful transmission of the awakened feminine. Whether you are looking for feminine role models on the spiritual path, and/or to connect to the 'feminine' energy of compassion within your own being, this book is likely one you will treasure for a long time.
You Should Also Read:
The Therighatha - First Buddhist Writings by Women
Women in Buddhism
Buddhist Books


Related Articles
Editor's Picks Articles
Top Ten Articles
Previous Features
Site Map



Follow @mommymystic
Tweet



Content copyright © 2023 by Lisa Erickson. All rights reserved.
This content was written by Lisa Erickson. If you wish to use this content in any manner, you need written permission. Contact Lisa Erickson for details.