Hoparazzi Videographer Wins 2013 Philly Beer Geek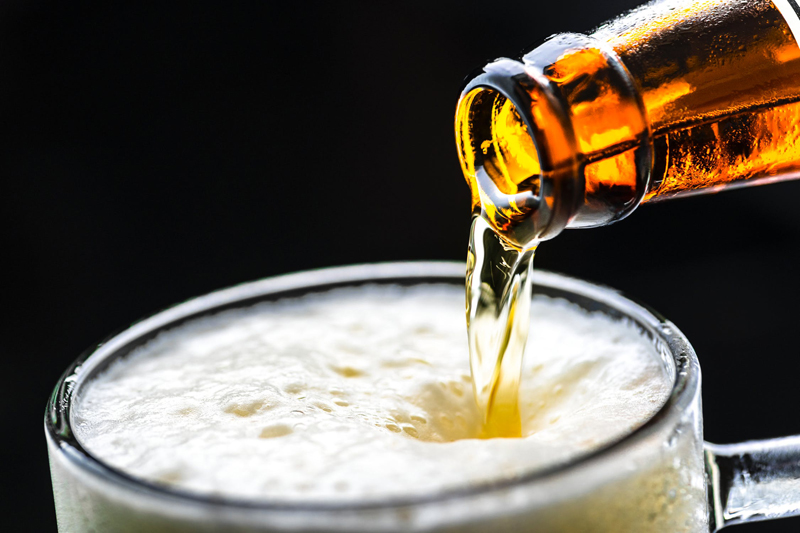 For most videographers who live behind the lens, competing in front of an audience and camera can be a bit unnerving. Not so for Mike Lawrence, who dramatically seized the stage in his self-styled rendition of "Night of the Liquid Bread," capturing the title as 2013 Philly Beer Geek on Thursday, June 6th at the Field House in Center City Philadelphia.

The noise from the wired-up fans was deafening as a million stars lit the sky through flashing lights and pounding music. At least, that's how it felt to Lawrence, as his name flowed through surround sound announcing him as Philly Beer Geek 2013. The excitement was infectious. In a Facebook thread, one woman wrote, "It was so exciting that my husband ran up on stage like he knew Michael for years!"

"It was certainly the crown jewel," said Lawrence, who took the name Hoparazzi as his Philly Beer Geek moniker for the duration of the competition. As one of six finalists, Mike Lawrence appeared before a panel of eight "Illustrious Celebrity Judges" who evaluated the contestants for beer knowledge, tasting skills, and the ability to communicate their passion for beer in Philadelphia.

This was no small feat. In this winner-take-all competition, prizes worth more than $5,000 were awarded to the Philly Beer Geek Champion, along with geeky privileges befitting a maven of the suds.

During his reign as chief beer-geek, Mike Lawrence will design the next official Philly Beer Geek Beer, collaborate with Manayunk Head Brewer Doug Marchakitus to brew his recipe on a commercial system, serve as a judge in the 2014 competition, and make appearances throughout the city as Philly Beer Geek 2013. And he'll own a brass-and-maplewood plaque proclaiming his success as the most passionate personality in the Philadelphia Beer Scene.


The competitors were put through a number of paces to expose their knowledge regarding beer, along with their ability to communicate passion for craft beer that pours across Philadelphia. Perhaps the most challenging was their attempt to identify a single hop, simply by tasting it. They answered trivia questions about beer ingredients and Philly events, matched beers to the breweries that produced them, and proved their abilities with open-ended questions from the celebrity judges.

In one of the final rounds, they "pitched" a movie about Philly Beer. Michael Soo and his Brew Crew stunned the audience and the judges with their take on West Side Story – a modern day rendition that focused on Dock Street Beer (from West Philly) vs. the Wines, complete with beer-centric verses and off-off Broadway singers.

Colin Presby appeared as Bockman with his side-kick "goat" Simon, and Andrew Pope presented his interpretation of Beerheart, the kilted hero with blue-painted face, proclaiming his lust for craft beer.

Dr. Decoction Aimee Richard ripped off her lab coat to reveal a hop tattoo, framed by a red-white-and-blue bikini - and Jess Streeter displayed her own tattoo of the Liberty Bell wrapped in hops.


The winning Philly Beer Geek, sponsored by The Grey Lodge Pub, spoke with passion about Philly's craft beer and featured a Coors-drinking zombie, crawling across the floor in pain. As the zombie crawled up his body, Mike Lawrence poured craft beer into his mouth, awakening him to the flavors and delights of Philadelphia. It was a fun-flick idea from the guy who created Philly Philms and Beeradelphia.

Judges for the competition included:

Jim Koch, President and Founder of the Boston Beer Company and Sam Adams Beer

Lew Bryson, Philadelphia drinks writer, As Seen through a Glass blogger, and author of a series of brewery guides for the states of New Jersey, Pennsylvania, Virginia, Maryland, Delaware and New York

Rosemarie Certo, Owner of Dock Street Brewery and one of the earliest microbrewers in the country

Erin Wallace, owner of the Old Eagle Tavern, Devil's Den and the newly resurrected Barren Hill Tavern

Marnie Old, Wine and Beer Sommelier, author of She Said Beer He Said Wine and Wine Secrets, as well as "Cheap Buzz" columnist for the Philadelphia Daily News, and award winning app developer for Wine Simplified

William Reed, owner of Standard Tap and Johnny Brenda's in Philadelphia and co-chairman of the Philly Beer Week Board of Directors

Scoats, owner of The Grey Lodge Pub and Hop Angel Brauhaus, and brain-child behind Friday the Firkinteenth and a hoard of other distinctively Philly beer events

Steve Mashington, 2012 Philly Beer Geek and current manager of Growlers Bar, the 2013 Philly Beer Scene Award winner as Best New Bar.

Steve Hawk, 2010 Philly Beer Geek, and Natalie DeChico, 2011 Philly Beer Geek, served as escorts for Jim Koch. Philly Beer Geek Founders Jason Harris and Carolyn Smagalski served as Emcees. Tim Adams, manager of the Field House, and Maura Pease were hosts of the event.

Cheers!




Related Articles
Editor's Picks Articles
Top Ten Articles
Previous Features
Site Map





Content copyright © 2023 by Carolyn Smagalski. All rights reserved.
This content was written by Carolyn Smagalski. If you wish to use this content in any manner, you need written permission. Contact Carolyn Smagalski for details.