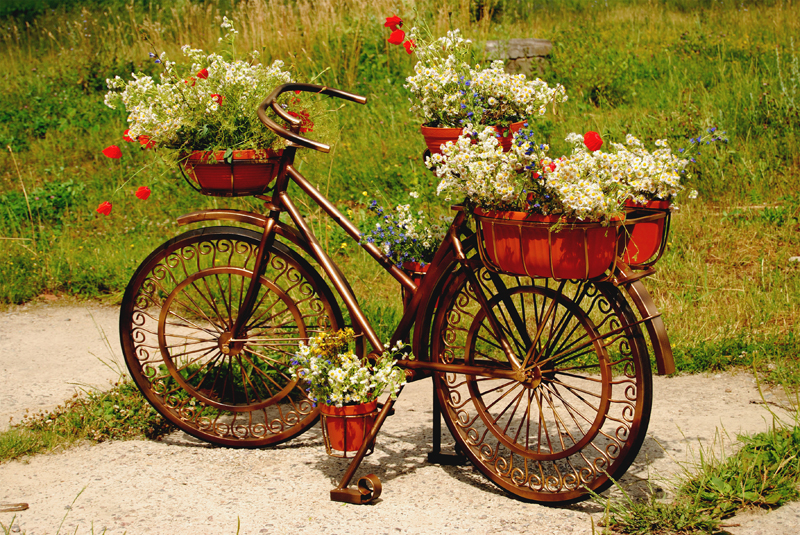 "I have the simplest taste. I am always satisfied with the best." Oscar Wilde

Everyone exhorts you to look after the basics of your containers reminding you constantly to take care of the usual suspects. These will include the right actions for the right plant at the right time in the right container with the right requirements of soil, watering, feeding and sunshine. Well with all those 'rights' there are the matching wrong actions too and below there are some more basic dos and don'ts advice for you when you buy new plants.

Intuitively you will just know but hopefully going back to basics will be a fair reminder for you, especially if you are in a hurry and just must do something today, now this minute … or perhaps because you are on a very tight budget and are tempted to take "reduced or on-sale-today-only-stock."

Wherever you source your plants from there are good and bad things to look for when choosing which to buy. Be fussy, go Wilde! Don't be an optimist to your disadvantage. If the last plant on the shelf is just the one you wanted but it is not up to scratch for some reason, let it be. It is not likely to grow well and will take up precious time and attention and not give you what you seek from it. All your plants have to earn their keep.

Check the POT.
BAD – Is it cracked down the side? This may mean that the plant was dropped or is root bound and busy outgrowing the pot which means it is old stock and under stress.. If it is a plastic is it faded and does it have a matching drip tray?
GOOD – The opposite. The pot is clean, new looking, has a drip tray to match the size, soil comes to the top of the pot, the plant sits well and stands straight, looks healthy and rearing to go.

Check the LABEL.
BAD – Either there isn't a label at all or the label is smudged or faded and you can't read it. Look for labels, look for instructions on how to plant and care for the plant as well as any special mention in connection with what it needs for soil sunshine time to maturity and so on. If this is missing, go on to the next choice you wrote in your gardening notebook. You have got your Gardener's journal with you hey? Hope so. If not fuss not. Start one today.
GOOD – The plant is clearly labelled, it is probably a plastic label with a picture of the flower (etc.) which indicates the variety, the colour, the plant name; the plant-by date (?). If this info is not there, and not all merchants offer it, ask questions. When is the planting-season over? Clear any other queries you may have. Plant attendants are available and knowledgeable.

Check the SOIL.
BAD – Is it dry and compacted? Sandy? Does it sag at the sides, is there too much plant stem and even some root showing? Put it back on the shelf, especially if it is in a black plastic grow-bag. Scratch the surface. Is there evidence of moisture and recent watering? Is the soil too soggy possibly flooded? Move on to the next one or choose another flower/plant altogether.
GOOD-The soil is moist, dark, friable, not compacted. It covers the crown of the plant (the bit like the horizon) i.e. the part between the roots and the stem at the soil level. If the plant is in a plastic grow-bag, it should have some give, be a little squishy. Check it's not smelly; that packaging is not slippery or slimy. It should smell fresh like newly tilled soil. No; no need to sniff, you will smell it or not.

Check the PLANT.
BAD - Look for weed growth, wilting leaves, any signs of disease (not often seen but look anyway). Brown tipped leaves? Yellowing leaves? Soft or wrinkled stems, all round floppiness? Is the plant upright and proud, got some open or opening blooms? Are the leaves green with no curly edges bumps or tears, no messy fronds? Even if there are only one or two funny leaves and you think you can fix it when you get home, don't be tempted. Move on to another one.
GOOD - This will be obvious but it will look 'green', stand up straight or be bushy or feel firm or look smart. It will have turgid happy leaves, evident buds. Note that the top has not been lopped off; that it is sitting nicely in the pot and does not have a front or a back because it's evenly spread. If it is a creeper or a climber then it should be creeping or wanting to climb now, look for signs of new growth. Generally it's likely to be saying "Pick me! I'm the one!"

Check the BALLED PLANT (not in a pot, looks like a Christmas pud in sacking)
BAD – Conifer style plants are usually sold like this to help them and you get through the trauma of not disturbing the root ball when transplanting and so minimise 'new-home-trauma.' Don't laugh. In my experience conifers hate change. Is growth lopsided? This indicates plant was searching for light and so is possibly old or neglected stock. Are there patches of brown on the plant – may mean virus or sun burn. Can you feel the roots going round and round 'cos they are as fat as your pinkie finger? This is an old stock or root bound sign. Put it back on the shelf. Of course the sacking must have has no tears and it is not leaking soil or water (may be damp, that's okay).
GOOD – Will be obvious. Soil will smell nice, balled sacking presentation nicely tied, tree/plant standing upright, no splits or breaks.

Check for external ROOT GROWTH.
BAD – plant stuck to the grown because pot already growing down in the row where it was placed. Indicates old stock or stock that has not been moved or it may have leached a lot of the good stuff and so may need extra feeding. If the tap root has snapped (oh dear!) or if it is showing and growing out of the drainage holes under the pot, put it down.
GOOD – Soft hair-like side roots show and grow out of the sides of the sacking? No fuss, this is a good sign that the plant is healthy and possibly even organic.

What do you want your container garden to do?




Related Articles
Editor's Picks Articles
Top Ten Articles
Previous Features
Site Map





Content copyright © 2023 by Lestie Mulholland. All rights reserved.
This content was written by Lestie Mulholland. If you wish to use this content in any manner, you need written permission. Contact Lestie Mulholland for details.