Container Care and Cleanups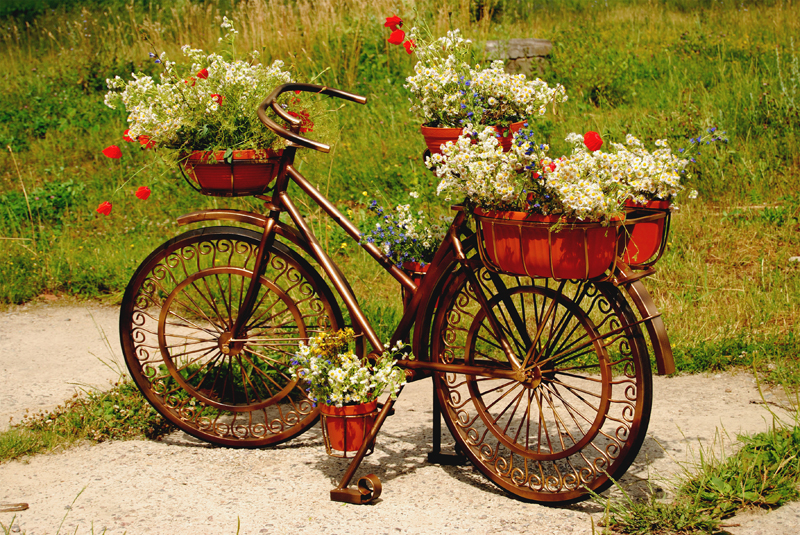 Maintaining containers and tidying up your 'patio' garden repays many times over. Below are some thoughts on how a little bit of easy and timely container garden housekeeping goes a long way! And what better time to do it than when the seasons are handing over to each other and there is some spare time, sort of making use of the lull. From winter to spring; spring to summer; summer to autumn and autumn to winter (especially preparing for frost snow and low low temps) you need to go potty regularly!

A container garden 'spring' clean is important. You don't want to pass on old problems to new plants – after all, they have to use up their energy growing and producing for you. Jim Rohn used to teach so much by saying "If a thing is easy to do, it's also easy not to do." Don't get caught in the 'not to do' part when it comes to cleaning up your 'patio'

With your change of season critical eye in gear, do an inventory of your deck garden in general and your containers in particular. Brand new pots are not always necessary or affordable; many plants need rest time, a time to be dormant or they can be propagated, seeds can be gathered and herbs dried – there is much to consider. Got your notebook on hand? Got last year's info to refer to? No? No matter, start your journal today, next year this time you will be pleased.

These actions seem so easy and we do know what we should do … but first, here is a small word of encouragement. Let go.

Know that there is no room to be sentimental or regretful. Let go. A new season of challenges is up for grabs and to go for it makes sense. Get rid of the plants that didn't make it. Procrastination and hanging on to the old keeps you back in more ways than just the garden. You miss out on so much. Let go and polish up any black thumbs you think you have, they are just green thumbs in disguise. And anyway, our plants are often more hardy than we think they are and sometimes a bit of tough love is in order (like a hard pruning or a sharp short hair cut).

SO - choose which containers need a complete clean up then remove all the plants that are past their sell by date, dead, dying or perhaps diseased; or in any event not performing. NOT performing is the important factor here, dead and dying is easy to see. Burn most of this material or compost it only if you can. Include plants that are leggy, those with too-small leaves, no leaves or just plain looking sad. Remove the entire plant, roots and all, also any root material that may be stuck to the sides of the pot. Sometimes a couple of days before I flood with water to loosen things up a bit, but other times I just leave them dry, depends on if I want to make mud pies or not. Remove too all stems, stones, fillers, linings, bubble wrap, left over mulch, whatever … as you will want to renew it all. It is not best practice to reuse any of these. Of course compost what you can (no plastic or diseased materials) and if you do not have a compost heap just throw it away.

With empty pot/container in hand, soak it in a 50/50 solution of white spirit vinegar and water for a day or so if you can, or overnight or at least for a morning. No need to use soaps or anything else but 'get the kids' to help scrub them clean, wash all the soil away then leave in the sun/wind to dry. When you are finished, then just empty the vinegary-water tub into the garden over the plants that like acid soils … or if you are only planting on the deck then down the drain; vinegar is not harmful to plants or drains.

Now check the patio/deck floor for lime stains. If you have any, neat vinegar may help to remove them but I must confess I have had a lot of problems with this and so often I have no choice but to leave the containers in the same place. Not even the professionals have been able to help me (other than to say retile!) Still what about you? – are you going for a new look for the new season? Can you rearrange the garden for a complete makeover? What about the containers themselves? Change over to clay from plastic, need new coat of paint, mosaic dropping off? Will you relegate it to the propagation table? Chuck? What about swapping them with a neighbour if they are in good nick but you are just tired of them? The garden swap meet? Garage sale? Or maybe (my favourite!) it's time to buy some new ones!

Anyway, what ever needz to be done to zhoozsh up your container garden, 'inter-season lull time' is the time to do it. Some containers will be empty, easy to move around and re-position. Some people see these tasks as chores, try not to … impatience is not a virtue and here a gardener reaps what is sown for sure. Take two or even three weekends to revamp and clean up, it's a win win situation if you do it to your satisfaction.

You are now ready to move on to attending to the remaining plants on the patio, you know, the ones that are not 'dead wood', the ones that made it through, the ones that were not retrenched! What now?
What do you want your container garden to do?

Well, you may have decided to keep the conifers; the climbers and the roses … now what about trimming back the ivy and alyssum? Have the pelargoniums (geraniums) gone leggy? Can they be used to propagate more of that scarlet red one you like so that reminds you of Switzerland picture postcards … what about the Begonia? is it good for another blooming? And the bulbs … do they need to be put away until next year? The herbs are looking great but maybe a couple could be replaced?

Renew your soils and mulches and do a bit of pruning are good actions. *Working in between your plants, remove around a third of the top soil and set aside. Then loosen the rest if you can BUT do not disturb the roots. This is quite tricky of course but work slowly and you will see it can be done. Renew this middle layer now with new soil mix (potting/compost/kraal manure) with an annual scant handful of bone meal. Hand pat it down to remove air pockets; replace the top soil (yes you will have some left over to use elsewhere) and water. Save any earthworms and if you do not see any introduce 2-3 or so to each container.

Tidy up the plants, undust any broadleaves, trim, cut back, remove dead and yellowing leaves, check for treatable pests, do a weed watch, replace and re-sort mulches. Once you have done this with all of your remaining pots and containers, then water them all thoroughly – water should flow easily through the pots and if not try checking the drainage holes, they may be blocked. Save any brown soup that comes into your trays for another watering another day. That brown consommé is fertiliser tea of sorts and it would be a waste not to use it again. See how important watering is – I have repeated myself on purpose.

The next day after watering (because the soil will be moist) add a measured watering of liquid fertiliser to each container. Gauge the amount according to the size of the pot but not so much that it leaks out the bottom into the drip trays, you are feeding the plant not letting it go to waste. Never feed plants or fertilise containers with dry soils, soil must be moist before or when you feed-water your flowers.

*This is what I do every four months or so and have done for many years. Recently I have read and heard that this is BAD practice and that soils and roots should never be disturbed like this and that fertilisers and feeding is a good enough solution to renewing soils whenever. I offer this advice and information sincerely so, "you picks your piper you playz your tune." If digging and replacing topsoil doesn't suit you, no matter, but it does work for me.

What do you want your container garden to do?






Related Articles
Editor's Picks Articles
Top Ten Articles
Previous Features
Site Map





Content copyright © 2023 by Lestie Mulholland. All rights reserved.
This content was written by Lestie Mulholland. If you wish to use this content in any manner, you need written permission. Contact Lestie Mulholland for details.