Choosing Pots - Clay and Ceramic Pots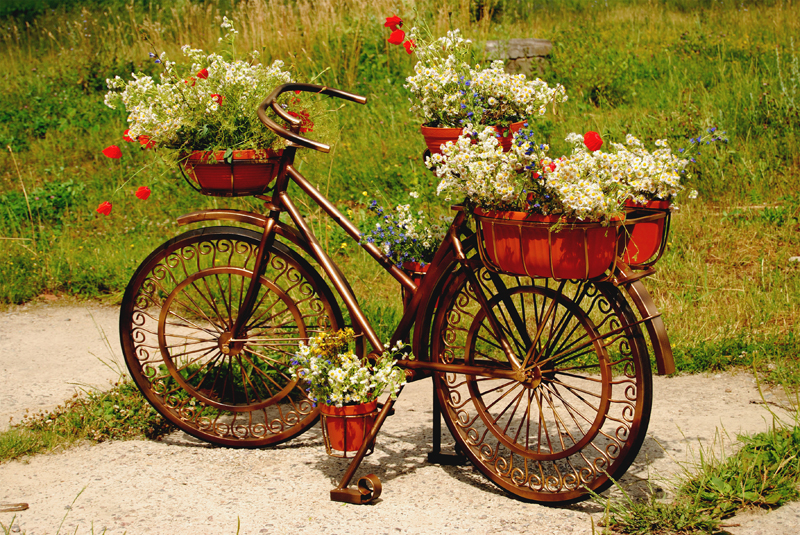 Of all the types of containers, ceramic and clay give you the greatest selection of colors, shapes and sizes for your container garden. If you can think it, it can be shaped from clay and glazed or painted with any color or design. On the downside, ceramic and clay are some of the heaviest materials for containers and pots made from them are breakable. But if you use small to medium sized pots, or will plant them and leave them in place, then they are an excellent choice for your containers.

Terra Cotta
Terra cotta containers, the very common and inexpensive reddish-brown clay pots, are porous and allow the roots of plants potted in them to breathe. But they also allow water to evaporate through the sides, making it necessary to water them more often than less porous types of containers. They will also slowly dissolve or flake away over the years, especially if kept constantly damp. Terra cotta pots are relatively inexpensive, however, and available in a wide variety of shapes and sizes, making them quite good for container gardening and 'potscaping' - landscaping with pots. And if terra cotta pots are arranged close together or the sides are otherwise shaded, the evaporation problem can be reduced.

If you choose to use terra cotta pots, try using a variety of sizes and shapes suited to the different plants in them. For example, if you are planting an herb garden with several different herbs, select a variety of tall pots and the shorter bulb or azalea pots and pots of different diameters. Plant the taller types of herbs in the taller pots, and the shorter trailing types in shorter and wider pots. Then arrange the pots together in groups of three or more with varying heights and diameters for interest and appeal. Or you can use pots of all the same size and shape and let the different heights, colors and shapes of the herbs give appeal to your garden.

You can also paint the pots for added color. You can add simple designs or go for an over-all painted effect. Or you can select pots of all the same shape and size and use pot feet or other pot decorations to dress them up. Or use all the same size and shape but plant them with such a beautiful array of plants that the pots fade into the background of the colorful display. Experiment! Try different arrangements and go with what makes you happy.

Ceramic
Ceramic containers are also made from clay, but from a different type and they are fired at a higher temperature than terra cotta. That, plus the addition of glazes, makes the pots waterproof and much longer lived. Ceramic is also a good insulator from heat which protects the roots of the plants in them from high summer temperatures. Ceramic pots tend to be more expensive than terra cotta, but their wide variety of shapes, sizes and colors makes them a great choice for 'potscaping' and you can use them to make some very beautiful arrangements.

Ceramic pots are sometimes made with inadequate or non-existent drain holes. If your ceramic pots do not have adequate drainage you can remedy the problem in one of three ways:
1. drill out the holes with a ceramic drill bit (be sure to wear goggles and gloves and follow all safety precautions if you do this), or
2. add a 2" deep or more layer of course gravel or water absorbent material to the bottom of the pot before adding your potting soil, or
3. use the pot as a drip catcher for an internal pot. To do this, plant your plant(s) into a plastic or terra cotta pot which will fit inside your decorative ceramic pot. Place some rocks or pebbles in the bottom of the ceramic pot and set your internal pot on top of them. When water drains through the internal pot it will drip in between the rocks and away from your plants so they will not be sitting in the water. Be sure to pour or drain out any standing water on a regular basis.

If you choose to use ceramic planters, decide what you want for a theme for your garden. Do you want it to have an old world feel? Then you can use urns and whites and earthy colors for your containers. Do you want a specific shape, or certain colors? Or do you choose to have a variety of shapes and colors, matching the container to the plant or plants you will put in them? For example, you can use a fluted blue or purple pot to plant Jacob's Ladder – the fluted shape complements the shape of the leaves and the color compliments the purple/blue flowers. Or you can use a low, round pink pot to plant pink or red columbine. The low round shape complements the low mounding of the columbine's leaves, and the pot color accents the color of the flowers. Likewise, you can use tall square pots for tall grasses or spiky plants, and very large round pots for sculptured bushes or trees.

Experiment with different sizes, shapes and colors for your containers and for your plants in them. With clay and ceramic you have no limit to the beautiful gardens you can create.
................................................................................

CASUAL VISITOR … and just browsing? Why not sign up to the Container Garden newsletter? It won't matter what space or how many pots you have or even how much time you have to spend in your container garden; what will matter is that you get our reminders and good advice and ideas all in one interesting article.




You Should Also Read:
Container Garden Design Ideas
Specialized Potting Soil Recipes


Related Articles
Editor's Picks Articles
Top Ten Articles
Previous Features
Site Map





Content copyright © 2023 by Jessica Carson. All rights reserved.
This content was written by Jessica Carson. If you wish to use this content in any manner, you need written permission. Contact Lestie Mulholland for details.