Ten Photography Projects to Keep You Inspired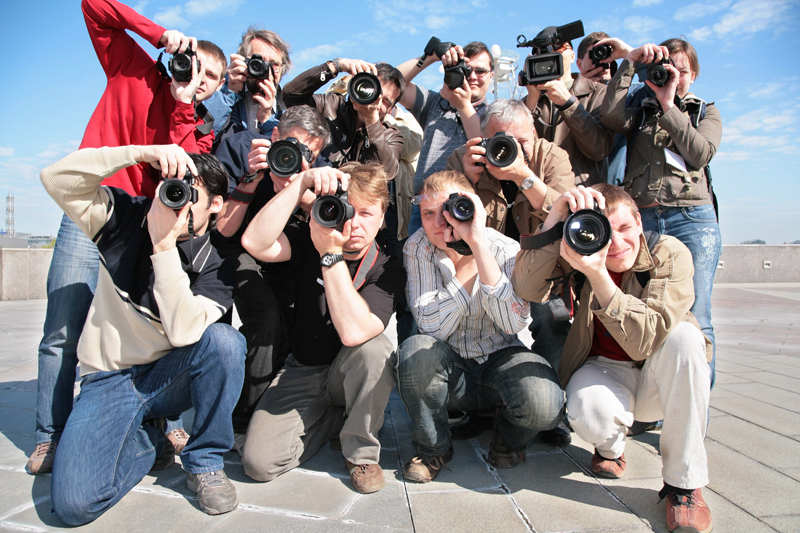 Do you remember the first time you started taking photos, when you couldn't put the camera down and everything from grandma to your neighbor's cat, was recorded in megapixels and uploaded to Facebook within 5 minutes? Those days when you looked at everything in the world with an inquisitive eye? Days like this are great and can yield some interesting photos. But what about the times when you just can't find inspiration and you are beginning to wonder if you really had any creativity in you at all? Don't be disheartened! All creative people get stuck once in a while and we all need something to inspire us when the creativity in us has taken a break! To get your self back on track, try a few of these projects and start to see the world through your cameras eyes again.

Red

Red is a color that we don't see that often and one that is frequently used to attract our attention. Take a day out to fill your frame with the color red. Maybe you spot a pair of red shoes amongst all the black-heeled feet, or the one red-haired girl in the crowd. Whatever the hue, look around you and focus only on red for the day.

Shapes

Give yourself a shape and stick to it! Try something challenging like a triangle and see how often you can spot things that make that shape. How about the woman talking on her phone with her hand on her hip, or the warning sign? Whatever shape you decide on, you will start to see it everywhere when you look for it.

Self-Portraits

Turn the camera around or put it on a tripod and see how different you can make yourself look in each photo. Use emotion to create drama or play with your surroundings for effect. It's not an easy project, but you will learn more about yourself and gain a deeper understanding of the human form.

A Child's View

Do you remember how it felt to feel so small in a world of big people? Take your photos from a lower angle for the day to get a different perspective on the world. Wear the right clothing and take a black garbage bag with you for that "must have" shot when you just have to lie down on the ground. If your knees can't take it, then raise your camera above your head instead.

Black and White

Think in monochrome and set your camera to black and white mode or change your photos later in editing software. Stormy clouds look dramatic and can take on an eerie feel in black and white. Take note of how different colors look when changed to black and white. Red often looks quite dark in black and white so maybe you can use that to your advantage.

Choose Your Own Theme

Choose a theme for the day. Pick a word out of the dictionary or an object in your house and concentrate on that for the day. Maybe you decide to photograph eggs for the day. How different can you make that one object look? Think about light and shadow or pairing the object. Or maybe the word "fresh" inspires you and you take the day to express that photographically.

People on the Street

Open your eyes to the characters that color our world. Take the courage to stop and ask the farmer with the weather worn face if it's ok to take a photo of him, or the gothic girl that you walk by every day. They might not all say yes, but most people will be quite flattered that you even asked. If you want to publish those photos later, or enter them into a competition, don't forget to get your models to sign a model release form.

Shadows

Shadows can make an interesting pattern or abstract photos. Go out on a sunny day and see how many you can find that inspire you. If it's not too sunny, create your own shadows with a torch or lamp and some interesting objects to shine the light on or through. Move the light around for short and long shadows to add interest. Shadows often make great graphic images so have fun and enjoy the results.

Graffiti

Love it or hate it, graffiti usually makes for an interesting photograph. The colors and style of the graffiti can really vary from place to place, so it could become a longer-term project if you enjoy this type of art. Graffiti is also an interesting thing to blur in Photoshop because of the bright colors and shapes

Triptychs

Shoot with a triptych in mind. A photographic triptych is 3 images shown together. Many subjects can lend themselves to this theme. You could take pictures of subjects that work well together or get really creative with this project. Shooting in this way focuses you to think about the end result. Triptychs are usually shot in portrait format, but if that does not fit your style then remember, rules are made to be broken.

Whatever project you decide to do, remember to have fun and share your images!

You Should Also Read:
Two Weekend Photography Projects
Find Inspiration For Your Photography


Related Articles
Editor's Picks Articles
Top Ten Articles
Previous Features
Site Map





Content copyright © 2022 by Ewa Sapinska. All rights reserved.
This content was written by Ewa Sapinska. If you wish to use this content in any manner, you need written permission. Contact Ewa Sapinska for details.