Trends for Container Gardening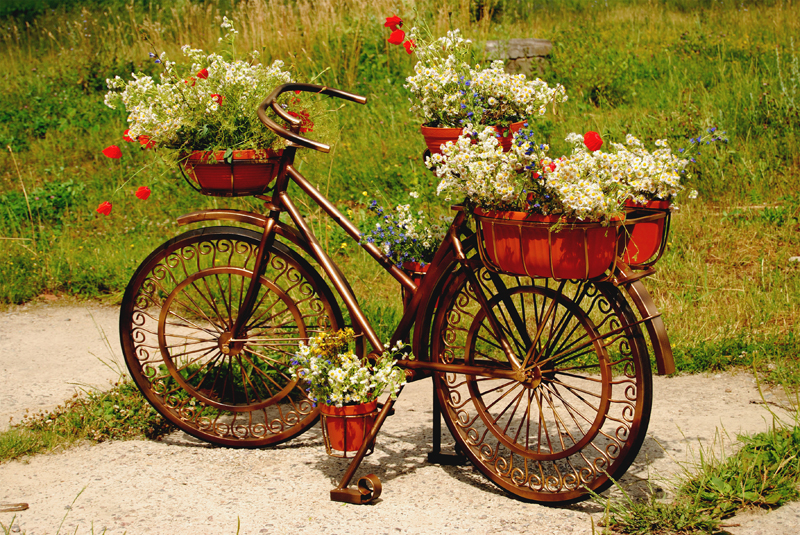 So what's new? What are the neighbours doing? Are you out of step with what is in and what is out? Do you mind? And anyway, why must we follow trends, given that we even recognise them as such? Ah well – what is a trend? Who are the trendsetters? Why do we follow trends in general? 'Oh save me please – that's too many questions for me to consider seriously coming so closely one after the other' … so said a friend of mine on reading this article! Ah well, I chose not to change them but leave them in; maybe you think thinking is fun?

So why do we follow trends …

Some do so to fit in or just keep up with the Joneses down the road. I guess you could throw in a bit of 'me too' here; after all who really wants to be the tall poppy? Blending in and trending in is safe.

Some do so to impress those around them, the pretence of being fashionable in whatever field of life they are competing (clothes, hobbies, gardening and all and all) makes them seem superior somehow. These trendies lack self-esteem and prefer a sheep mentality approach, you know,'… if they are doing it, then maybe I should too?'

Some follow trends for guidance. These people don't really know their own taste or style (they just know what they like.) Very often they are impatient too and do not want to think too much about anything, they just want instant solutions and ready to buy answers.

And others just like to play around with what's in the shops or 'in fashion' these days. They don't really follow a trend specifically, but they may follow it if it suits a purpose, makes them look and feel good and/or because they get a measure of 'envy of the neighbours thrown in' for their efforts. They don't seem to be following any trend per se – but guess what, they are and do. These people are not ruled by what's in and what's out; they can take it or leave it.

BUT I say most do follow 'trends' because it just makes sense to do so – for instance go green, practise recycling, manage water-wise gardening – common sense practices that are globally smart. They may have started out as trends but are now best and next practices. This is where a lot of gardeners sit!

Trend or not, it is just a commonsensical approach to living – and besides PATIENCE, our planting certainly teaches COMMON SENSE.

Well if you have read any of Malcolm Gladwell's books (I am sure you enjoyed them) you will remember in the Tipping Point he says The tipping point is that magic moment when an idea, trend, or social behaviour crosses a threshold, tips, and spreads like wildfire."

So. What are the perennial trends for gardeners?

It would seem that LIFESTYLE is always king and with many of us being 'hardwired' for modern gadgets and platforms and this electronic age, this has the most to do with what may be considered trendy or just plain personally convenient, easy and sensible. And in my book, hardwired or not, Gardeners should seek what is personally convenient, easy and sensible – regardless of whether there is a trend lurking or not.

We want to be HAPPY, we want to feel COMFORTABLE, we want to get the most from the least wasted effort and it seems that we are redefining and matching our personal values in all we do, especially with gardening and CARING for Gaia; Mother Nature and 'all who abide on her.' We seek SATISFACTION and PEACE from our personal surroundings. And where better to get this JOY and CALM but in our gardens and pots and plants?

So, if this is true, what then follows in gardening and gardening practices?

• Buy local, plant indigenous; and match your climate zone with the plethora of plant material available to you.
• Themed gardens are as ever popular – but simplicity is in, fuss is out. Themes include colours, leaves, perennial, comfortable spaces, edibles and soft design.
• Green gardening is in, natural remedies for garden pests and problems; an avoidance of chemicals and pesticides is prominent.
• People are seeking quality wherever they place their dollars … suppliers are finding a more discerning buying public.
• Planting from seed is catching on and finding a whole new market. Gardeners are slowing down, taking more time to see the fruits of their labours, going for the whole shebang as well as buying the ready-made.
• Home vegetable and herb gardens are even more popular and for extended reasons. These include eating well, community living, saving money and taste. Chemical solutions are out.
• Genetically modified seeds and foods are out for those who care and know. Hormone enhanced produce, mass produced tasteless refrigerated food is avoided whenever and wherever possible. Grow your own.
• Heritage seeds and plants and produce 'are all the rage' and with today's mind set, why not?
• Eco-conscious gardening is here to stay. Sound water wise actions include good choices of xeriscape plants, use of grey water and saving rain water.
• Size of gardens are receding smaller spaces are being designed and the use of Containers and Pots and other and alternative 'holders' are in – yay!
• A 'back to basics' approach is rearing its head. Over-complicated methods are losing place to down-to-earth practices. Good soil, well-positioned plants, good light and sun or shade requirements are being met along with good natural fertilising. It seems we want to dig in ourselves, get our hands dirty and reap the benefits of our own efforts more now than ever.
• Ordering a ready-made garden or containers from landscapers is losing ground to individual action. It's not completely out, and will never be of course – but chucking money at the space is only being tolerated as far as our personal desires and requirements are being met.
• Organic and in-tune-with-nature gardening is taking precedence as information becomes more available to the average Joe/Jane … that's me! Recycling kitchen waste, worm wee and own-made compost is in wherever practical.
• Street gardens, vegetable pots to share with passers-by and community thinking is gaining ground fast. People want to know where their food comes from and how in tune with nature all else is.
• Garden club membership is growing – people want to learn first-hand – they do not just want it done for them or just to read about it; they want to do and know.
• Old favourites as well as new hybrids are as popular as ever. Suppliers are having to adapt to meeting the needs of both those who seek the old and steady favourites and those who want to experiment and try new 'things'. Research is on-going.
• Tools and gadgets to make gardening easier are in, but so must services and warranties offered. Gardeners are holding onto the old and only buying new when absolutely necessary. 'Blades' are being sharpened; pots and other gardening supplies are recycled, repainted, repurposed and reused.
• Less is more, small is big, miniature anything is cool. Meditation garden corners (containers too) are a hit in many circles.
• Specialised gardens are gaining ground … like a general and simple green background to an orchid only or succulent only or bonsai only or roses only garden.
• People are spending more time 'outside' and communing with nature … so decorating gardens and balconies (etc.) are dictating a new lifestyle approach – more 'me' time, family time, friends time. Entertaining in the garden has always been around, but now it seems that we are doing it more and for extended reasons. Part of the entertainment is the garden; it's no longer just a setting to hold that picnic or braai.
• New uses for old methods are moving in – for example fashioning a Rosemary bush into a small (not bonsai) tree in a decorative pot allows the aesthetic senses to be satisfied as well as the 'eatability' of the herb.
Are there trends in Gardening? I say NO. Is there a lot more to say on the subject? YES.

There is continuous development, yes, new approaches, yes; self- interest and personal choices, yes; sensible action, yes, modern and smarter gardening techniques, yes – but trends? No I don't think so.

Still we will explore these ideas in the Container Gardening forum – be sure to sign up now so you can join in our conversations!

What do you want your container garden to do?

...............................................................................

CASUAL VISITOR … and just browsing? Why not sign up to the Container Garden newsletter? It won't matter what space or how many pots you have or even how much time you have to spend in your container garden; what will matter is that you get our reminders hot off the press and get good advice and ideas all in one easy read.

Join now, it's easy and your privacy is guaranteed.




Related Articles
Editor's Picks Articles
Top Ten Articles
Previous Features
Site Map





Content copyright © 2022 by Lestie Mulholland. All rights reserved.
This content was written by Lestie Mulholland. If you wish to use this content in any manner, you need written permission. Contact Lestie Mulholland for details.