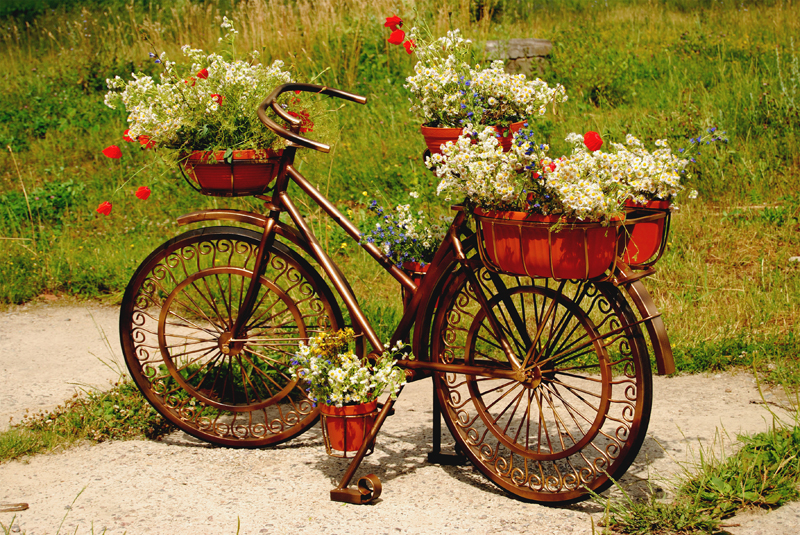 Anyone for a Mint Julep?" Well, yes don't mind if I do!" Irvin S. Cobb, a southern USA author once said of the drink, "Who has not tasted one, has lived in vain" Indeed. And another good quote comes from renowned chef James Beard who said "Mint Julep, why it is the most elegant drink in the world."

Now where is your imagination? See, it's a hot day outside somewhere in the world, the skies are puffy blue and the wind is gently rustling the leaves in-the-just-rightly-situated Magnolia tree. And then there are the main ingredients of me, you or a group of us lolling and arbing and laughing and 'julepping' in icy silver goblets, with or without our picnic baskets.

I suppose most people know how to make a Mint Julep but I didn't; and now having done so and having tasted it, I am spoilt for life and the hot-day beer market has lost a dedicated customer!

Recipes differ in two of the ingredients while the other two are steady, those being Bourbon and Mint. What water you use and how you add what sugar remain strong points to differ over- and believe it or not misty-dawn-duels have been fought, friendships broken and family fueds started over ¡¥what is what¡¦, ¡¥what is considered the right way¡¦ or ¡¥the only way¡¦ or ¡¥my way¡¦ of making this delightful refreshment.

And so on to a recipe that seems acceptable to many ¡V simply blending four ingredients of water, sugar, bourbon and mint ¡V and which still rouses strong emotions. But if it is so simple to make a Mint Julep, why the quarrelling and disgreement?

Well it would seem that each ingredient has a most important part to play and it has to be just so. How much sugar ¡V one or two teaspoons? What kind of sugar ¡V granulated, or icing sugar or caster sugar ¡K or what of sugar syrup? And the Bourbon ¡V will ¡¥two fingers¡¦ do? And then there is the water ¡V icey cold or just cold, still, spring or sparkling, how much is too much;? And then when serving ¡V must it be in a silver goblet, julep cup or will a Collins glass do? Finally, what of the mint. Do you crush it, pummel it, muddle it, shred and strain it? Is it served over shaved ice or crushed ice or no ice? Whatever ¡V wait for the condensation please for therein lies the refreshment!

Do you grow MINT already? Yes ¡V great; no? Well then read on for a fine container addition to your New year¡¦s herb or general garden space.

Growing MINT from seeds can be a bit of a fuss, and I am not sure it¡¦s worth the stress for a casual container gardener and herb-in-the-kitchen user. My advice is to start from seedlings bought from a reputable supplier or somw cuttin from a friend; these will grow fast if given the right conditions. In general, mint is an easy and favourite herb for gardeners for several reasons ¡Vthey are colourful and good ground covers, their many fruity and menthol scents are a delight and underfoot, release their scents readily.

Which mint to choose? Any will do they are all so nice ¡V ask the nurseryman for some options. There are over 60 kinds including chocolate and lemon.

While very easy to cultivate, mint is a ¡¥bossy¡¦ herb and can be a selfish one when it comes to demanding space. If allowed to, it will take over, overwhelm, crowd, suffocate other plants and may spread like wildfire; so your best bet is to contain it in a pot so that the roots/stolons are stopped from spreading. If you want to grow it in your garden, then you can still ¡¥plant¡¦ the pot in the soil ¡V and then to deter the roots from spreading through the drainage holes, just turn the pot bi-monthly.

Use a (12 inch/20cm) plastic pot here to start but you get them in all sorts of sizes and in this case they are light to handle and easier to deal with than ceramic planters. Also, plastic pots do not dry out as quickly as ceramic pots do, caution though ¡K mint likes lots of water but also needs good drainage and loamy soil. Mint hates wet feet and roots can rot easily if you are not mindful of your watering regimen. It really likes a rich composty soil, so be kind, give this toyour seedlings ¡V they will thrive and pay you back ten-fold!

Once planted, (remember to assist drainage by using a pot with holes, covered with some small pebbles or broken pot shards)cover with a natural mulch which will assist with keeping the soil moist, may even feed and anyway will keep the leaves clean for you to harvest.

All mints (and I am sure you will get to find your favourites) prefer a cool, moist spot in partial and dappled shade but will grow also in full sun, specially morning sun if you can get to choose. Leggy mint is generally a sign of not enough sun, so listen to your plant when it talks to you.

Did you know in folklore that a bunch of fresh mint hanging in an entrance doorway means a hospitable welcome to guests and friends. The pleasant fresh scent it releases will freshen your home and lift your spirits ¡V it¡¦s a natural mood enhancer.

Some Uses, Advantages and Tips for Mint ¡K and I am sure you could add your own:

"Ï Mint sauce (finely chopped fresh leaves with vinegar, water and sugar) served with roast lamb particularly, but with other meats as well. I have a friend who loves it with pork sausages.
"Ï Mice really do not tolerate the smell of peppermint. Use peppermint oil to wipe down pipes and other places of entry ¡V or leave blobs of cottonwool-dipped in peppermint oil behind appliances.
"Ï Make a compress of crushed fresh mint leaves (use thin medical gauze) and use it to relieve a headache ¡V include a bit of darkness and quiet too.
"Ï Freeze fresh leaves in water in ice trays turning out the cubes for use later in cordials and cooking.
"Ï Growing mint will keep your garden space attractive to ¡¥the good guys.¡¦ Mint is rich in nectar and pollen, and honeybees and hoverflies love its small clusters of flowers. It attracts both the good the bad and I guess the ugly, but it deters these baddies, repels ants and flies.
"Ï Keep your domestic pets free of fleas with a homemade repellent made up of fresh spearmint leaves, thyme and wormwood. Make an herb pocket and tuck into or near the pillow or blankets.
"Ï Peppermint tea is an excellent way to ease an upset stomach by drinking a cup of made with boiling water and fresh mint leaves. It also aids cramps, gas and indigestion. Try it, you will see ¡V plain is best but add a touch of raw honey if you must.
"Ï Mint water spray cools and refreshes your skin so use it as a spritz to cool down in summer.
"Ï Make a strong mint leaf tea, cool it in the ¡¥fridge, and use it to ease sunburn pain by applying gently it to the sore skin with cottonwool pads.

Then you can purchase some essential MINT oil and you can
"Ï spray it diluted (ten-water-to-one-oil) around doorways and window sills. This will keep your home free of many bugs.
"Ï keep your home smelling fresh by adding a few drops of mint essential oil to your standard liquid cleaners like Handy Andy and Domestos.
"Ï dilute a cup of white vinegar in a gallon of water and add around 5 drops of mint essential oil and use it as a floor cleaner ¡V you will find it is good for wood, laminate, tile or even concrete floors.

Mint is really a friendly herb and an easy garden companion ¡K just one more reason to choose containers.

What do you want your container garden to do?

...............................................................................

CASUAL VISITOR … and just browsing? Why not sign up to the Container Garden newsletter? It won't matter what space or how many pots you have or even how much time you have to spend in your container garden; what will matter is that you get our reminders hot off the press and get good advice and ideas all in one easy read.

Join now, it's easy and your privacy is guaranteed.



Related Articles
Editor's Picks Articles
Top Ten Articles
Previous Features
Site Map





Content copyright © 2022 by Lestie Mulholland. All rights reserved.
This content was written by Lestie Mulholland. If you wish to use this content in any manner, you need written permission. Contact Lestie Mulholland for details.