Vegetable Container Mistakes 2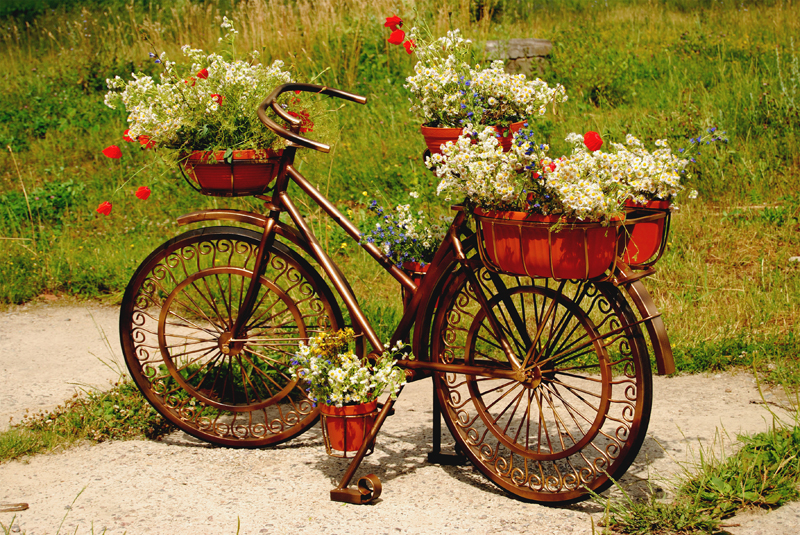 What's a container if you cannot eat from it? Well when you think of it, it can still bring you much joy in the gardening department, but if you are going to grow something – then why not grow something to eat anyway? It's up to you as YOU are the smart person who can make this all come true. Remember, you do not have to make the same mistake twice – there are plenty of new ones available!

So now, what MORE is there to say about container gardening mistakes? In no specific order of importance (though each is connected to the next), let's start explore another five ideas.

Mistake the Sixth – CARE and MAINTENANCE.
Don't fuss too much when you start about the long-term requirements of running your containers. Of course some thought is required, but don't dwell on what might happen, what pests may come, what hail is expected and so on. 'Garden in the now' as they say, start now, act now, plant now, get going now. If you worry too much about what might happen, well then you may never get going.

"There is nothing either good or bad, but thinking makes it so." Shakespeare said it first and how true it is. Don't let your container gardening become a chore – it's not. Everything falls into place when you plan. The plants you choose, the size of your garden, the time you have to spend in it, the purpose of your containers, creativity and decor of your 'private' space ... all these and more will have impact on your enjoyment and successes you will get from it all. Think good thoughts, think positive thoughts, smile when you are in your garden.

The maintenance and care regime that you set up for your containers follows that commitment you have given to your garden. Planning and planting is nothing if you do not care for, watch and maintain. You need to water. You need to feed. You need to manage. You are the Gardener. That's a privilege. Believe it.

Mistake the Seventh - PLANTING PRACTICES
There are essentially two ways of approaching your choices. For instance, choose your plants and vegetables that you want to grow, and then buy the containers you need OR use the containers you like and buy plants to suit them. Please do one or the other but don't do nothing.

Incorrect planting practices include plants that are too squashed, too many planted in the same pot without space to spread out or grow, planting too close together, planted at the wrong time of year or planting material not suitable for your zone. Don't hanker after something that won't grow in your area – there are plenty of other choices you can make.

Plant at the right time – seasonal gardening is important when it comes to giving your vegetables the best chance. Don't waste money on seeds and seedlings that get frost bitten or remain ungerminated. Each season has its best growing plants – don't mix up summer and spring or autumn and winter.

Try to avoid chemical fertilizers and fungicides etc. Instead, use organic fertilisers like worm castings, good compost, manure and natural mulches or other organic mixes. Organic and natural products won't hurt your plant roots and will enhance and add to your growth medium. Have you come across a recipe for the use of garlic and chillies as a spray? A note of caution here though - please never use nicotine in your garden. It is a poison.

Finally, more is not better. If you plant seedlings too close together they will compete for sunlight, water, nutrients and food. Too close together and they could be starved for what they need, and you may subject them to poor air circulation which in turn may make them more readily susceptible to pests and diseases.

And when it comes to light, any straggly and leggy plants generally mean that they are 'bolting' in search of sunshine. Give your seedlings space even though you can see the soil. They will grow. If you are not patient, then fill over the bare soil with good natural mulch like bark chips or peanut shells.

Mistake the Eighth – WATERING and DRAINAGE
This could have fallen under planning practices above, but it is that important that it gets its own heading!

Water often enough but rather less often and deeply, than more often by giving a daily surface splash. You need to ensure the roots get water so they can develop by drawing up the necessary nutrients from your healthy soil, thereby supporting the plant. Funnily enough, most plants are killed by too much water than too little. When the soil is too wet (not just moist) then the roots can get waterlogged and may even rot. Know too, there are many plants that do not like 'wet feet' as they say. Make sure that your pots have drainage holes and that they are adequate. Check them occasionally, you do not want them to be blocked – it defeats their purpose.

Too much water also wastes a lot of the nutrients that may leach out. Use the brown water that is captured in the drip tray or saucer to water other plants – there's gold in them thar brown water! Another idea is not to use an automated watering system for your containers. It is not as if you are running a farm. By having to check your plants daily, you get to see what is going on and you can catch any problems timeously. Besides, who doesn't want to visit their garden daily? When you have to go away on business or holiday, don't you miss your plants and pots? I do like crazy.

Different plants need different watering care, so it is smart to grow vegetables together that need similar watering. I tend to grow 'only pots' ... you know one vegetable in its own planter, so that watering is easy – but often herbs share space with each other. Your plant leaves will tell you the state of the nation, so note what they are doing. If they are wilting, it could be a watering problem, but when they go yellow say, that is often a sign of a need for food – nitrogen in particular. Leaf ends browning could mean too much of a draught or wind shy. Look out.

Finally, when watering, water into the soil and not over the top of the plant. You may lose a lot of water this way and anyway your plant may not get enough. The best time to water is early in the day and regularly. Late afternoon watering is not the best – wet leaves attract pests more readily, so give the containers a chance to dry out in daylight as well as absorb all, including the nutrients, by watering early.

Mistake the Ninth - HARVESTING
So – having grown and tended your vegetable containers and fed them and whatevered them, you do not want to miss out harvesting what they have to offer. Miss out? How?

Well you may be too eager and pick the fruit too early, some fruit doesn't ripen on the vine as it were (like avocados) and then some types of tomatoes are better picked a little early and allowed to ripen off the vine a little before eating. And then you may be too busy or away on holiday or careless in one way or another and not harvest what you have grown in time and leaving it to rot. I have seen this so that is why I speak of it here.

Stagger your planting so that you can always have something from the garden, and then use what you have harvested even if you share, swap or even just give surplus produce away. Pickle it, bottle it, make jams, freeze it, cook it and all those good things... but enjoy the harvest, you will have worked hard for it. And then seeds? Are there any you want to keep aside for next year's planting?

Mistake the Tenth ORLTH or ALL-TH if you like!
Know that you are going to make mistakes – but realise that all is not lost.

Pick yourself up, dust yourself off and start all over again (thanks Jerome Kern). Pay attention. All is not lost; all is never lost. Read. Read. Read. Join a garden club; gardening can be a lonely pastime. Subscribe to gardening publications. Listen to the radio. Ask. Ask. Ask. Look after your green thumb. Do. Do. Do. Your health is important so take care in the garden - and don't forget your hat and gardening gloves!

Mistakes? I say embrace them, they are your real teachers! So that you won't get caught, think about these ideas and translate them into your gardening life – and you are sure to improve things all round if you follow the advice. Container Gardening is easy when you follow a set of simple rules.

And now for a pseudo-mistake! Nothing pseudo about it I say, but still, many may disagree. I say it is a mistake NOT to talk and play music to your plants. Mine can't be the only plants in this whole wide world that love it - and believe me they do.

Go on! Get going! Get growing! Get a container!

What do you want your container garden to do?

...............................................................................

CASUAL VISITOR … and just browsing? Why not sign up to the Container Garden newsletter? It won't matter what space or how many pots you have or even how much time you have to spend in your container garden; what will matter is that you get our reminders hot off the press and get good advice and ideas all in one easy read.

Join now, it's easy and your privacy is guaranteed.




Related Articles
Editor's Picks Articles
Top Ten Articles
Previous Features
Site Map





Content copyright © 2023 by Lestie Mulholland. All rights reserved.
This content was written by Lestie Mulholland. If you wish to use this content in any manner, you need written permission. Contact Lestie Mulholland for details.