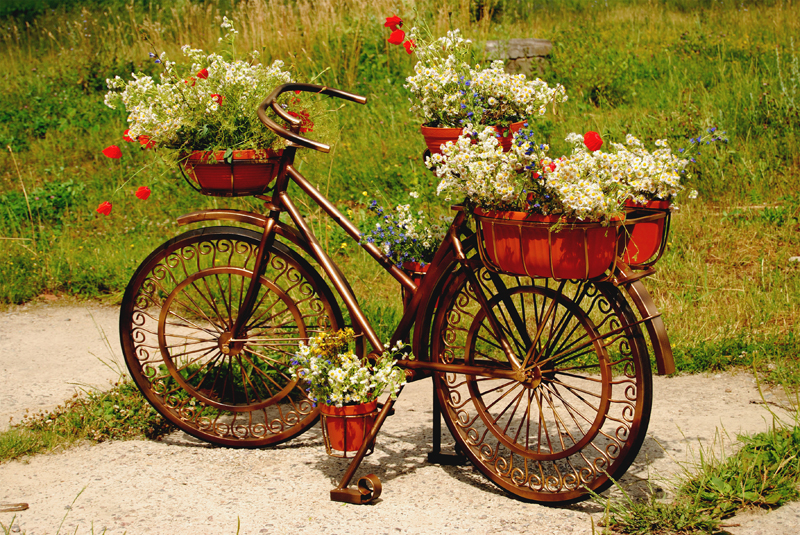 "How could such sweet and wholesome hours be reckoned but with herbs and flowers?" Andrew Marvel said it.

The Botanical names of Basil include Ocimum basilicum, Ocimum crispum, and Ocimum minimum – I don't really use these – I just say Basil please!

Basil is one of those mainstream herbs that most people grow, and for many reasons, not the least being culinary! Still, which one would you choose? There are at least 40 to choose from and enough for even the most fussy gardener, decorator or cook. Some basil varieties are more usually used in cooking while there are others that are more decorative.

Basil plants vary in size, leaf formation, flowers, colour, aroma and taste. In fact, if you have the space or inclination, why not just grow a variety-of-basil garden? I think I am going to try this soon – I have a large and deep round planter going begging right now. I will fill it with at least six types of Basil and see what fun that brings!

The joy of growing your own pot of this easy-to-grow herb means that your harvest will be organic, fresh, varied, tasty and useful beyond your kitchen. Inexpensive too – for besides the initial outlay, if looked after accordingly, your basil plants will serve you for a long time.

Standard requirements for growing Basil (no matter which variety you choose) are listed below to make it easy for you to make notes; and then at the end of this article there will be a brief summary of some of the plants you may like to ask after. Just follow these simple but important instructions to get a winning 'crop.'

ABOUT SWEET BASIL – It also includes varieties such as Genovese and Neopoletano and is the one you are likely to find on sale at the supermarkets and the one you usually use for your pasta pesto. It is an annual plant so should be replanted every year and it can be grown both indoors and outdoors – though for indoors you may need to use or install grow lights if you don't have enough sun for the kitchen sill. It needs at least 6 hours of sunshine a day for best growth results.

A sweet basil plant will probably grow to around 30 inches and for this reason, some gardeners prefer to pot them in their own container as it were. But, you could also plant them as a centre piece for your larger circular herb container as Basil doesn't mind company!

Even though basil can tolerate very warm temperatures, it hates extremes of weather, so don't plant too early in the spring and definitely wait for around two weeks after the last frosts. It can deal with cook temperatures but will not thrive or bounce back easily. Similarly, protect your plants from strong winds.

Sunshine: Most basil plants needs at least 6 hours of sunshine or light a day, though some will tolerate light shade if placed in dappled light on your balcony.

SOIL - Basil needs a good evenly moist easy draining potting soil. If you are planting seedlings, add some bone meal and compost to the initial soil mix, but then just leave it and watch your watering regime. Keep the plants moist, not wet and make sure your roots get water – don't just sprinkle the top or think that because it has just rained that the plant does not need water. If your soil is draining correctly, you are okay to water after the rain.

When speaking of watering, it is best to water early mornings and as with most plants, water the soil and not the plant. Basil is one of those that may get damaged leaves from water spots that do not have time to dry out. I use a spray bottle sometimes. Also, don't wet the stems or leaves; and by this you will avoid mildew, a disease often found because leaves were wet.

PLANTING and PROPAGATING BASIL - You can grow Basil from seed, but it is more easily grown from seedlings which will give you a healthy harvest after some 2 months or so. Give your seedlings space to grow and plant your basil around 10" apart. Cover the bare soil with a natural mulch like bark chips or even shredded straw, but don't use pebbles or stone chips.

They are among the plants that don't really like their roots to be disturbed, so when decanting the plantlet from the tray, try to keep as much of the soil around the roots as you can and place them into your container at the same level they were in the tray. Press down gently, put them to bed as I say and make sure that there are no gaps or air pockets.

This wonderful herb can be grown indoors if you watch your watering (moist soil only) and light availability. Don't allow your plants to grow tall and leggy – generally this means they are in search of sunshine.

You can also grow Basil from stem cuttings. Maybe a friend or neighbour has a cutting or two to share. Get a 6 inch or so piece of stem and place the bottom in a glass of water. After a few weeks you will have a plant ready to put into a small pot (potting soil and all) and let it establish itself for around 2 weeks before carefully transplanting into your 'big' container or planter or herb garden.

When it comes to fertilising your basil plants, use a liquid compost tea or seaweed-based fertiliser around every three months during the growing season – this way you will ensure a really tasty, healthy and plentiful yield.

Last bit here – plant your basil with or in the same pots or close to tomatoes or sweet bell peppers – the latter two will love it!

HARVESTING BASIL - An important thing to do if you are just growing the basil for its leaves is to stop it from flowering. Keep pinching off the top leaves which will strengthen the plant, make it bush out and allow you to harvest your leaves at will. As with watering, early morning is best for harvesting leaves and have a pair of scissors with you, don't tear the leaves, they bruise easily and you don't want to damage the stems of the plant.

In any event, you should harvest all the leaves before the plant flowers then but the whole plant down to about 6 inches or so. And this will encourage a second growth and harvest. By the way, if you are late in stopping the basil from flowering for some reason, let it be, it is a really pretty addition to your containers, but the leaves are a tad bitter, so I don't pick them for the kitchen.

Now what do you want to do with your basil? Use it for foodies and kitchen treats? – Yes please! Use it for garnishes and drinks and cocktails? – Yes please! Use it for colour and prettiness in your containers? – Yes please! Use it in your home for many reasons? – Yes please! So then consider some of the following – we really are spoilt for choice, looks and flavour...

Christmas Basil is a smaller plant, good for borders, grows to around 20" and looks and tastes good. Adds a fruity flavour to your drinks.

Holy Basil (or Sacred Basil or Tulsi) This basil is also known as the 'Queen of Herbs'. It is revered in Hindu religion, is a native plant to India and is an outstanding healing herb having many properties. Just sipping a tea made from boiling water and leaves generally boosts your immune system besides much else.

Lemon Basil – add to salads and fish dishes and iced water for a cooling drink, this type of basil grows to around 20" and has a distinct flavour you will like. You can also dry it and use in pot pourrie.

Lime Basil – is a more compact plant than Lemon basil, grows around 12" high with white flowers, is great with fish and chicken dishes and you can make a sugar syrup (for your cocktail bar), infuse it with lime basil leaves and see the taste sensation for cocktails and such.

Lettuce Leaf Basil - is great on sandwiches, has large ruffled leaves to remind you of lettuce, but makes a good pesto and freezes well. It attracts butterflies (bonus), has white flowers and will grow to about 14". Choose me I say!

Cinnamon Basil – A really nice flavour and scent, use in fruit salad and in flower arrangements, grows to say 25" and has purple stems to offset the bright green leaves.

Dark Opal Basil – purple stems leaves and flowers make this a great choice for prettiness as well as a different pesto. Use it for flower arrangements too. Grows to 20" and is a very popular choice. Another similar type of purple basil is called Purple Ruffles – it grows to around 20", has feathery leaves and is just as pretty and useful.

Spicy Bush Basil – dynamite comes in small packages so they say, and this basil needs only a few leaves to give your sauces, soups and stews a spicy kick. It grows up to around 10", looks bushy with small leaves and offsets taller basil plants very nicely.

Anice Basil (aka Sweet Thai Basil) – for Asian cookery a must, for flavour scent and prettiness too. This basil has purple legs and green leaves and grows up to 16".

Camphor Basil – has a strong camphor flavour and is more often used medicinally than in cooking.

Red Rosie Basil is another vigorous and compact plant and, as its name suggests, it has dark reddy-purple leaves and stems. Better to use this variety of basil for its looks, it will offset so much in your container garden (grow it near the front) and is very pretty.

Spicy Globe Basil is great for miniature gardens and fairy gardens and small spaces. It has tiny leaves and besides looking so good, just a little adds a zingy flavour to cheese and salad greens.

Oh my ... and these above are just a small selection of varieties that are available. Next time you go to your nursery or garden centre, chat to the specialists there and get advice on which ones you can grow in your area - there's at least one to suit you I bet!

What do you want your container garden to do?

...............................................................................

CASUAL VISITOR … and just browsing? Why not sign up to the Container Garden newsletter? It won't matter what space or how many pots you have or even how much time you have to spend in your container garden; what will matter is that you get our reminders hot off the press and get good advice and ideas all in one easy read.

Join now, it's easy and your privacy is guaranteed.


You Should Also Read:
Herbs in Action - BASIL


Related Articles
Editor's Picks Articles
Top Ten Articles
Previous Features
Site Map





Content copyright © 2022 by Lestie Mulholland. All rights reserved.
This content was written by Lestie Mulholland. If you wish to use this content in any manner, you need written permission. Contact Lestie Mulholland for details.