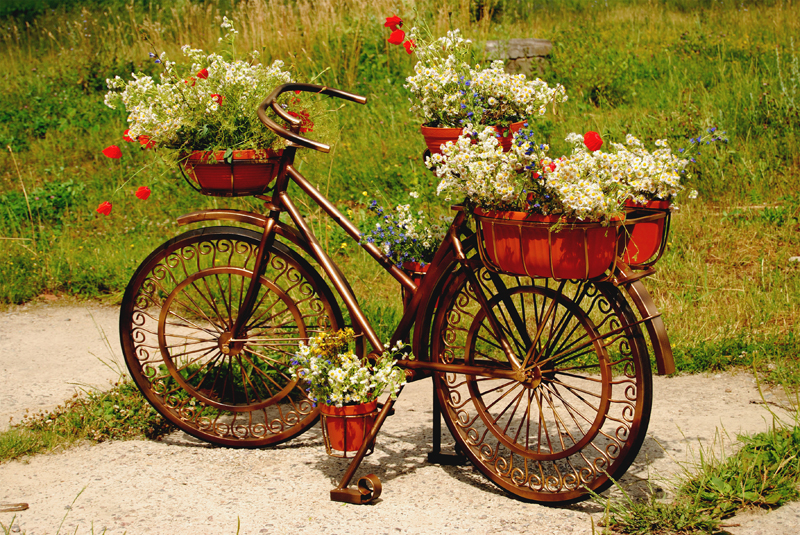 The grass is certainly greener on the other side … especially if it is you who is growing it! Besides, if you are looking for a way to really kick start a new and healthful approach to life – then growing, juicing and eating micro-greens is surely a proven way to go. The results are miraculous, and research has shown that this is not a silly claim.

Let's first look at the benefits of consuming these grasses and what they can do for your well-being and then we will talk about growing them in containers.

And to grow your own wheat or barley grass is pretty simple once you get the steps down pat. What you will get in return for your efforts of growing your own is so amazing, I for one am so sorry that I didn't stumble (?) onto this a long long time ago! Anyway – start now, just start; the benefits are too many to miss or ignore.

Wheat grass juice (and others) is a nutritionally complete food. Your body needs a wide range of mineral and vitamins and enzymes and other trace elements to perform at its peak and you can get all of these from just one 2-ounce slurp of freshly juiced wheatgrass daily. It is a quick and easy way to work towards optimum health, repair damaged cells, cleanse your system and prevent disease because of the boost to your autoimmune system it offers - especially since our problems today seem to come from malnutrition or toxicity.

• Juices are not toxic to humans or animals – there is plenty of research behind this claim.

• In today's world of mass production and the concomitant problems which include climate change, poor soils, GMO foods, pesticides and additives, sugar and fast factory-produced foods, it is not so easy to get all the nutrients we need out of the food we eat. Cereal grass juices feed you nutritionally at a cellular level, rid your body of accumulated toxins and provide energy and alertness. A positive attitude, stamina and the ability to go on for longer just follows too. You can certainly pack more into your day if you are busy, and if not, then your relaxation and fun activities are just as well enjoyed.

• Wheatgrass rejuvenates your blood, which as you know, carries nutrients to all our organs. Healthy blood just has to make sense as clean blood means a disease free life. In fact, many people have reported that with steady consumption of the juice, major health problems and illnesses can be and have been reversed.

• Weight loss is another excellent result. By detoxifying the body, cleansing the blood, speeding up blood circulation, enhancing digestion and metabolism, excess fat in the body disappears. And if you do not need to lose weight, then your body mass is regulated and you will weigh what you need to for your personal optimum health.

• Pollution in the air and water leads to poor or at best ordinary health … our systems get blocked and perform less efficiently in general. We can combat this by strengthening our internal defences, unblocking our bodies and ridding ourselves of collected 'poisons.' Wheatgrass juice combats free radicals, builds up our defences and can even act as an anti-ageing agent.

• It is almost too much to think about when considering that this simple and whole food can even have the ability to repair DNA. Cereal grasses regenerate and support cells in their normal repair processes – many doctors have conducted many experiments and studies of this. By mending the DNA in our bodies, many professionals have asked whether or not this is a way to ward off serious disease? Apparently this juice can lower blood pressure, cholesterol and, as noted before, it boosts your immune system. Many even believe that cancer can be included here.

• Blood can by cleansed through greens – especially chlorophyll. Haemoglobin in our blood is very similar to the make-up of chlorophyll and in healing programmes; red blood cells were doubled by people soaking in wheatgrass baths or drinking wheatgrass and other green juices.

• Enzymes found in green grass juices means more enzymes in your body and it seems that this is one of the most important healing properties of wheat grass. By taking them in, they encourage your body to manufacture its own enzymes that it needs to fix things. Cell respiration; fat dispersing enzymes; protein and starch digestants; toners for muscle health (especially your heart) and body tissue renewal are just some of what happens. As we grow older, our body's ability to deal with fats, proteins, starches, extra kilojoules and so on slows down and weakens; and the obvious conclusion to this is to drink wheatgrass juice regularly to boost your health. It does seem to make a lot of sense and it surely cannot be harmful.

• Last for now, but certainly not least, is the fact that wheatgrass improves liver function. Your liver is your detoxification factory – it performs over 500 functions along the way. That has to be good news.

All this for a regular 2-ounce glass of green juice daily … something will surely have to say a big thank you to somebody!

Green cereal juice is a whole and natural food BUT, please know that the commentary and information offered in this article does not take the place of professional nutritional or medical advice and expertise.

Are you interested? Convinced? Ready to try cultivating your own? Okay, then see how easy it is! By the way, since the 1930s research has not shown any nutritional difference between wheat, barley oat or rye grasses. They all look the same and have the same nutritional profiles so it is up to you to grow the one you want to grow. I have chosen wheat grass, but this is just a personal choice so you make your own.

You can buy a full growing kit, and this may be a good idea for starting off, but it is not necessary as all the bits you need are readily available from the shops.

For one tray of wheatgrass you will need 2 square 6" by 10" x 15" (or similar) plastic containers with drainage holes, organic soil, some mineral additives, wheat grass seeds, water and some time, sunshine and a little patience.

Steps to growing Wheatgrass:

1. Take about 500gr of seeds and soak them in water overnight. Drain the seeds and rinse them twice. Then leave the seeds in bright sunlight again for 12 hours or so, then rinse them again. They should be germinating by now, but if not, just rinse them again and wait. What you want is your seeds to have sprouted tiny roots up to ¼ inch long.
2. Fill your tray/s halfway up with organic potting soil, sprinkle the top with a mix of worm castings or other trace mineral and cover this with another thin layer of organic soil.
3. Water the soil thoroughly making sure it is completely wet so that a little drains out.
4. Spread your germinated seeds over the top of the soil evenly but do not push the seeds down.
5. Cover your planted tray with another empty same-sized tray – also with drainage holes which now act as holes for air circulation. If you do not have another tray, dampen some newspaper and place this on top of your sprouts.
6. Place your tray in a warm area, say around 70F. If it is cooler, you will find they will still grow but it will take longer. Also, if it is too hot or humid then mould can occur. Of course if this does happen, destroy your tray contents and throw away the soil. Rinse the trays out in vinegar water and start again.
7. Water your grass daily or as much as you need to to keep it moist (not wet or saturated). Maybe using a spray bottle to mist the growing grass would be useful, especially while waiting for the roots to establish themselves in the soil.
8. After about 3 to 4 days when the grass is a pale yellowish colour and about 2" high, remove the top and expose your tray to indirect then direct sunshine. It will continue to grow evenly and turn a lovely bright green – keep the soil moist.
9. When the grass is around 10" high, it will be ready to harvest – yay! The first harvest is always the most nutrient and flavour rich one, though you can expect to get two harvests from one tray; but thereafter they are not for transplanting into the garden – throw the roots and soil etc into the compost heap.
10. Using a pair of scissors, but the grass as close to the soil as possible and juice and drink it straightaway for best results.
You can get these cereal grasses in pill or powder form – which may be easier to take if you do not intend to grow your own or even buy in trays of wheatgrass. While the powdered products are very good, there are some healthful enzymes that are not available in the dried product.

About Juicing:
Any research will tell you that there are specialist juicers used only for juicing grasses. Apparently a centrifugal action does not get all the goodies out of the grass, though I have used this by adding my grass cuttings when making other juices like carrot, celery, beetroot, apple and so on.

Sad thing is that these juicers are more expensive and not everyone can afford them. The important thing is to start gaining the health benefits from consuming these grass juices, so any way you can get them is far better than no way at all.

I started by using a blender to which I added filtered water. I then poured the smoothie juice into a bodum (coffee filter machine) and pressed down on the liquid to get as much of the goodness I could. It certainly worked. But now I think I have to tell my piggy bank to produce more so I can buy a single-function grass juicer!

What do you want your container garden to do?
...............................................................................

CASUAL VISITOR … and just browsing? Why not sign up to the Container Garden newsletter? It won't matter what space or how many pots you have or even how much time you have to spend in your container garden; what will matter is that you get our reminders hot off the press and get good advice and ideas all in one easy read.

Join now, it's easy and your privacy is guaranteed.



Related Articles
Editor's Picks Articles
Top Ten Articles
Previous Features
Site Map





Content copyright © 2023 by Lestie Mulholland. All rights reserved.
This content was written by Lestie Mulholland. If you wish to use this content in any manner, you need written permission. Contact Lestie Mulholland for details.