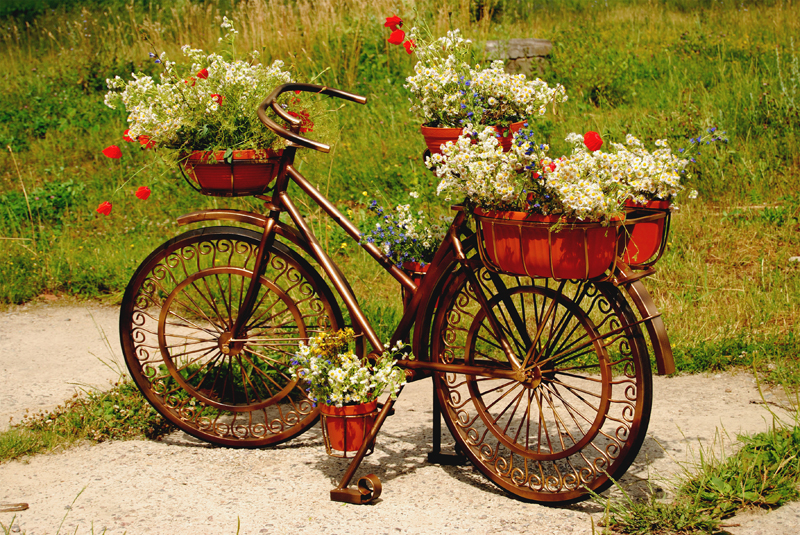 Imagine growing a row of sunny faces to greet you every morning – it surely just has to lift any lagging spirits – and they will still be there to greet you when you come home after a work day no matter what you do! The nice thing about it is that sunflowers come in all shapes and sizes and colours and styles ... and you can be certain to find one just to suit you and your garden space. Kids from age 6 to 60 plus will love growing them too - they are easy to tend and give such pleasure that it would be sad if you did not grow these beauties somewhere.

What you will need is a sunny spot, a prepared container not smaller than 15 to 20" wide; some good potting soil mixed with compost and a grab of bonemeal; water of course and your seeds. I use bark mulch to pretty up the surface of my container while I am waiting for my seeds to germinate.

Which seeds will you buy? Well, a dwarf variety of course, better for containers because of their size and you will find that these do not need to be staked. Other varieties can grow up to 17' with a flower seed head that measures 24". Wow!" But dwarf varieties you could go for included Music Box mix or Big Smile or Pacino which have been adapted for northern gardens or if you are a southern gardener, go for Ring of Fire or the Sundance Kid. Other dwarf varieties include Big Smile, Sun Spot and Teddy Bear.

• Music Box has lots of smaller bicolour cream to yellow to mahogany flowers and grows to around 24" high;
* Big Smile has a large cheery face with yellow petals with a soft brown centres and grows to around 15" high;
• Pacino is a bright yellow sunflower and grows to around 12" high; a sturdy showy plant.
• Ring of Fire has a name to suit! They have bi-coloured flowers, yellow at the tips and a dark red circle edging to the brown seed centre.
• Sundance Kid has graceful petals and a range of yellow and honey to brown and russet many of which are bi-coloured as well. It blooms well and invites butterflies and birds to your garden.
• Sunspot is still a dwarf variety even though its flowers can be up to 10" across. It grows to around 24-36" high and the blooms are gentle, wayward and welcoming (hope that makes sense to you!) Anyway, they do not look like a clipart version of a sunflower.
• Teddy Bear grows to around 15" high has soft fluffy golden cushion-like flowers and attracts birds. It has a dahlia look about it and if you didn't know it, you might not recognise it as a sunflower.

What a choice! I have decided to get more adventurous and try others this year as I have always played it safe and grown Pacino.

Containers:
Plastic is okay with a 15 to 20 inch width. If you have used them before, remember to clean them properly using vinegar water. You could also use a deep window box or maybe you will find some other quirky container like a steel tub or old garden trug. Sunflowers don't like being transplanted so avoid this if at all possible and if you must, then be as careful as you can not to disturb the roots.

Soil:
Prepare the base of your pot with gravel or pebbles and such to assist with drainage ... some people use bits of polystyrene so that the pots are not so heavy. Add to that your mixed potting and composted soil and halfway up sprinkle a small handful of bonemeal. The bonemeal is not vital, I just do it and get good results anyway. Then top up with soil to an inch from the top, water right through to let the soil settle and top up again (I use only compost for this) if you need to. In general though, sunflowers are not too fussy about the soil – drainage is more important in the long run as is correct watering. Use a drip tray and whatever you catch use to water your other pots nearby. Sunflowers will die if they become waterlogged.

Planting:
Plant as many seeds as you want sunflowers plus a few extras in case some do not germinate; and this should happen within 8 days – and if not then it is unlikely that that seed will perform. Plant them 5" apart and 1" deep in your prepared soil and know that you will not keep all of the seedlings that do come up – you will choose the best looking and strongest. Sunflowers need full sun to grow so place your containers accordingly.

I usually only plant 5 or so seeds as I only grow sunflowers in containers – so in the end I will choose 1 or 2 but not more. I have a limited container space and there is so much else that I have to ... want to...and like to grow, so if you have a larger space or a back wall or something, then a display of sunflowers will look quite lovely.

If you are going to plant your container sunflowers in the garden, then if it rains a lot, move them to ensure drainage which may be hindered by their position. I repeat, sunflowers do not like waterlogged soil.

Growing:
Sunflowers are easy to grow – they are trouble free and tough plants. They are nearly drought resistant but it is smart to water them regularly and well to encourage the spreading roots to grow and anchor the plants comfortably. Anyway, make sure that the seeds are moist until they germinate and to help here use bark (or similar) mulch which will help to keep the soil moist and will suppress weeds. The sunflower plant, leaves, stems and roots, can inhibit the growth of other plants and as far as companion planting goes, do not grow them in the same pot or near potatoes or runner beans.

Transplanting seedlings:
If you are certain about the quality of the seeds that you buy, then plant just one in the centre of the container, mulch it and care for it and let it grow. This is what I do as from experience I know that sunflowers do not like to be transplanted - they do not want their establishing roots to be disturbed. Still if you need to transplant, just be gentle and careful and all those good things. Also do not press down on the replanted seedling. Cover the prepared hole into which you have placed your plant with loose soil ensuring that there are no air pockets, but do not press down. Gently water newly transplanted seedlings and let this settle the soil which you can top up as necessary.

Harvesting:
When the heads start to droop and they turn to yellow or the seeds turn brown it is probably time to harvest. Cut them off leaving a good stem, tie them together in pairs or so and hang them in a dry and ventilated place like a garage or an attic or a kitchen if there is space. Let them dry for around 4 weeks checking them regularly to see that they are not mouldy because of any damp conditions. When they are dry enough to be dislodged from the head, do so rubbing with your hands to free the seeds. Now spread them on a baking sheet or something similar and let them dry some more until you are certain that they are cured. After this, store them in an airtight container in the 'fridge.

If, however, you are not growing your sunflowers to harvest for yourself, then just let them be and see what fun the birds and squirrels will have. By the by, deer will chomp up a sunflower patch as quickly as you can say "Go away" so if you are growing them in the garden, place them away from where the deer visit.

Uses:
Sunflower seeds are a smart addition to anyone's diet. They are rich in minerals, vitamins and proteins as well as linoleic acid. This helps with body metabolism. Amongst their 'properties they contain iron, potassium, phosphorus, vitamins B, E and A and some C when they are sprouted. To eat the seeds, soak them overnight in water, drain and dry them off and roast on a baking sheet in a slow oven (say 200F) for about 3 hours. Delish – they can be used for snacks in all sorts of ways in the kitchen.

Besides the fact that a sunflower is such a pretty bloom and looks good in a vase or other flower arrangements, it has a variety of other excellent uses.

For instance, it makes good fodder for the farmyard, paper can be made from the pithy stalks, dyes from the petals. As a food source the seeds, seed-meal and oil are a fine and healthy addition to any kitchen, and the oil is also used in the manufacture of soap and cosmetics. Okay, now I see how good this plant is, I will not be participating in the commercial side of growing, I will just feed me and mine which include the birds and all.

Added to this too of course if you grow the larger varieties, sunflowers can be used as wind breaks, privacy screens and/or as living stakes for other climbing vegetables.

Phytoremediation:
This is a process that uses plants to remove contaminants in soil, water and air. It is a clean, green, environmentally-friendly and cost-effective way of cleaning soil. Once this has been done, land is reclaimed for reuse, where prior to remediation, it would have remained useless and wasted. Sunflowers absorb lead and other dangerous heavy metals including zinc, arsenic, copper and manganese. In the Ukraine, where the nuclear station accident of Chernobyl devastated vast tracts of previously arable land, they have grown fields of sunflowers and cabbages to clear and reclaim the land.

Of course, the produce is destroyed as hazardous and toxic waste and not consumed.

What do you want your container garden to do?
................................................................................

CASUAL VISITOR … and just browsing? Why not sign up to the Container Garden newsletter? It won't matter what space or how many pots you have or even how much time you have to spend in your container garden; what will matter is that you get our reminders hot off the press and get good advice and ideas all in one easy read.

Join now, it's easy and your privacy is guaranteed.




Related Articles
Editor's Picks Articles
Top Ten Articles
Previous Features
Site Map





Content copyright © 2022 by Lestie Mulholland. All rights reserved.
This content was written by Lestie Mulholland. If you wish to use this content in any manner, you need written permission. Contact Lestie Mulholland for details.