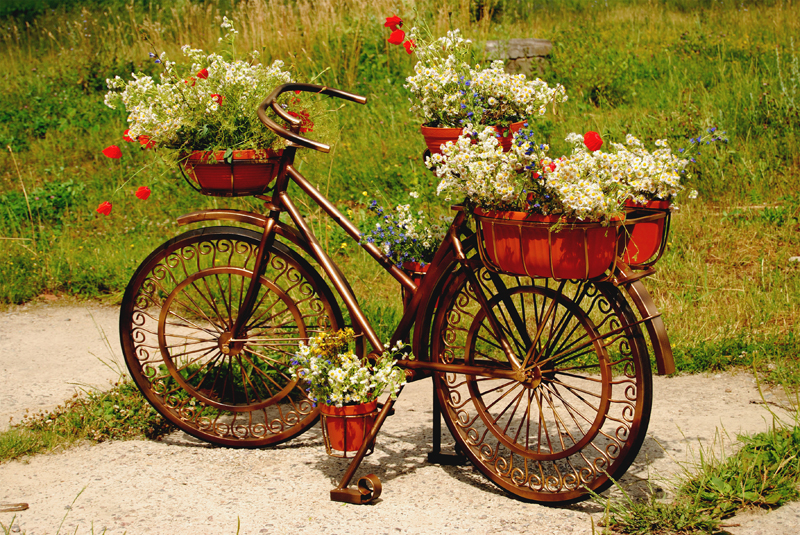 Do you have a gardening journal or notebook?

* Yes of course and I use and update it weekly if not every day!
* No, don't be silly – why would I want a notebook on gardening? I know what I am doing and anyway I only have a few containers.

Do you belong in one of the above or perhaps somewhere in between?

I must admit that it took a couple of years of my mentor's nagging to get me going, and even then I faltered by missing out on weeks of entries or I made up a shorthand that I forgot and then couldn't make out what I had said. Whatever, I am so pleased to say that for the most part I am a well disciplined garden journal holder today and I love what it does for me. Perhaps if you read on I will convince you to try it if you don't already have one ... and then if you do have one and have let yours lapse, well, it could be that you will pick up sticks again.

* Any day, come rain or come shine, is a good day to start a journal but more especially when the weather is inclement and you don't feel like doing much else except chilling and dreaming and thinking in no special order. It doesn't have to be next month, or next season or next week Monday ... start today, tonight ... now. Please.

* First things first, finish reading this article then come back and use any of the ideas that appeal to you and just discard the rest.

So what does a garden journal look like? Like you and your choices so every single one is different! You can just imagine how many ways there are to interpret the idea of a garden journal – and you will find that your way is best as always.

Choose a pretty ring binder that opens flat, or one of those nature study books we used to get for school, you know, the one page is lined and the opposite one is blank kind. Or you could repurpose a now out-of-date diary, or you could use an expanding file with plastic sheets which you can add and remove at will. This is a good option too as it allows you to collect gardening articles taken from throwaway magazines that are interesting and helpful.

I now have a combination of journals, the one is an A5 'phat' plain page notebook (similar to a Moleskine) where I make my daily/weekly notes and diagrams and scribbles and all and all, and the other is an A4 plastic folder with 50 sheets. This means back to back I can get 100 pages back to back. In this I collect and file articles of interest, snippets I cut out of the newspapers or magazines, and personal summarised notes of good plant pot recipes (though these can also go into my written journal).

I have divided mine into 6 sections, one for each season, one for decor ideas or gardening hobby projects and the last for miscellaneous stuff that doesn't really go anywhere else.

Are you better with computer journals and personal blogs or printed templates? Way to go if you are!

Keeping a garden journal is not an exact science! No-one is going to check if it is neat enough or deserves an A minus or a D+. Your notebook is a personal garden diary which summarises your container gardening actions. It is a fine memory jogger, and good record of what you wanted to do, what you did, what you didn't do, what you meant to do, failed, what grew, what you harvested and when; your green thumb moments and your black thumb moments ... plus your hand drawn pictures of pot plants or balcony layout or whatever takes your fancy ... and we know that if a little of what you fancy does you good, well then you can just imagine what a lot will do!

You can let it run on day by day, or you could divide it into sections for each of the gardening areas (seasons, or plant types or method).

I try to make an entry at least daily as far as the weather and chores are concerned. If I have some 'woulda, coulda, shoulda' things to do, then I write them up – but if I don't find the time to write every day, I am not too fussed, I always catch up sometime over the weekend where I will summarise if I need to. Nobody is chasing me but me. And why do I chase? Well I really like reading over my notes of yesterweek and yesteryear... yesterday is too soon.

Digital photography, printed out images from the internet, pressed flowers, seed samples stuck onto the page, seasonal reminders, favourite quotes whether motivational or not, gold stars and black stars and lots of green ones! Red ones are to highlight pests. What do you want your garden journal to do?
What my journal does for me ...

It's a record of what I have done, plants I grew, reminders of seeds and instructions and harvests and lessons learnt.

I can use all this to plan for new containers, for the new season, for a renewed look. A change is a good as a holiday so introducing new themes or ideas or plants, fruit or vegetables not grown before makes more sense. The usuals that I replant give me joy and comfort and besides, it is a good way to stretch my gardening budget.

It reminds me of how magical nature is, how incredibly intricate the world of plants is – made the more credible because I see it change in front of me daily. I am inspired by where I belong in this little world of which I am part.

Okay so after all that chatter here is a summary –

* Any day is a good day to start a gardening journal.
* Any style, any size, any colour, just make sure it is appropriate for your purpose, keep it simple.
* Determine to fill it in regularly daily weekly or action by action – just keep on keeping on. Start again if you stop.
* Write notes, take pictures, remember tips, note down resources, telephone numbers, email addresses and all and all.
* It's like scrapbooking with a theme, it'll capture your successes and not successes ... I am not keen to use the word failures. Nobody sets out to fail in the garden – so perhaps, as I once read, the concept of unrequited experiments might do!
* It tells your garden story
* It helps you stick to your gardening budget
* You can build up plant profile sheets for reference if you are a serious gardener.
* As you get daily diary pages and weekly diary pages, you can design and print up your own gardening journal pages at the start of each month.
* Harvesting notes? How much? Taste? Colour? How many? When? What did you do with your produce?
* Recipes? Making a note of your favourites plus garnering ideas from others makes growing your own so much more fun.
* Electronic formats exist like Smartphone applications and computer-based programs, so search them out and adapt them to your own use as it suits you.
* Have additional record and sample keeping tools like boxes, seed packets and so on.
* Have a special section for pests and what to do about them. How organic were you able to remain? What insecticides or herbicides did you use? Successful/
* Have a section for gardening tips and reminders that will serve throughout the year.

Oh dear! There is so much more that could be said – it just seems impossible to mention absolutely everything you could do with a gardening journal … so please, just get yours going if you haven't already started and it will grow with you as your container garden grows and morphs and changes along with you, the seasons, fashions and tastes.

Whatever you do, do not let it become a chore – it's a delight and a record that zaps not saps.

What do you want your container garden to do?

................................................................................

Are you a CASUAL VISITOR … and just browsing? Why not sign up to the Container Garden newsletter? It won't matter what space or how many pots you have or even how much time you have to spend in your container garden; what matters is you, as you are what makes the container gardening site work when you come and join in the conversations on the forum.






Related Articles
Editor's Picks Articles
Top Ten Articles
Previous Features
Site Map





Content copyright © 2022 by Lestie Mulholland. All rights reserved.
This content was written by Lestie Mulholland. If you wish to use this content in any manner, you need written permission. Contact Lestie Mulholland for details.