Dendrobium Moschatum - Musk Scented Dendrobium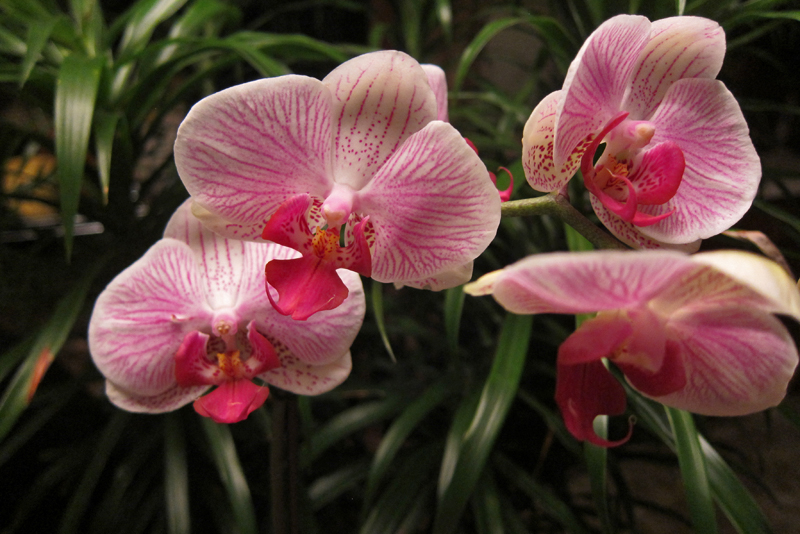 Natural habitat: Dendrobium moschatum occurs upto 1200 meters, in moist tropical regions of Himalayas, China, Bangladesh, Myanmar, Malaysia, Cambodia, Thailand, Laos, and Vietnam.

Scientific and local names: This orchid was previously known by a variety of names like Callista calceola, Dendrobium calceolaria, Cymbidium moschatum, Epidendrum moschatum, Thicuania moschata, before it was put under the name of Dendrobium moschatum. The common name of this orchid is 'Musk Dendrobium'.

General description: This orchid usually grows in company of other epiphytes such as ferns and other epiphytic orchids on the trees. It prefers to grow in sunny locations. It is a pendulous orchid. The thick pseudostems bear sheathing leaves which fall off in winters.

Flowering details: The beautiful pale coloured flowers bloom in summers. The pouch-shaped lip gives the flowers an appearance similar to the 'slipper orchids', however D. moschatum is not a slipper orchid. The flowers produce a musky fragrance; mine however did not produce any scent at all. Sadly, most of my orchids did not produce any scent :(

Cultivation Methods:
• Light requirements: In its natural habitat, Dendrobium moschatum can tolerate good amount of light, but this is coupled with very high humidity levels. So it can be placed in a sunny location, but should be accompanied by high humidity.
• Water requirements: Watering frequency can be once daily in summers and twice or thrice in a week in winters (depending upon the prevailing humidity levels). Being an epiphyte, it requires frequent dry periods in between watering.
• Air circulation: Maintain good air circulation, either by hanging it in open areas or by placing a working fan nearby.
• Temperature requirements: Being a tropical orchid, it can tolerate a wide range of temperatures from warm to cool.
• Growth medium: Under natural conditions, this orchid grows by sticking its roots to the bark of the trees. The roots are bunched together to conserve some of the rain water which gets quickly absorbed by the roots. While growing this orchid, a medium which remains wet only for a short period of time will work out fine for this orchid.
• Propagation: D. moschatum can be propagated through kiekies, previous season's viable pseudobulbs (also called backbulbs) and also by separating the root bearing pseudostems.

Pests and Diseases: Pests such as aphis, thrips, spidermites can attack this orchid. Dendrobes in general get infected by fungal, bacterial and viral pathogens. Inspect the orchid weekly for any signs of rotting, disease and pests. Warm and high humidity which is good for the orchid is also quite conducive to the growth of fungus, bacteria and the various insect pests.
Control: Best way to control pests and diseases is 'prevention'. Good ventilation, regular checking, appropriate distance between each plant are few ways of prevention and control of pests and disease attacks. And in case of infection, use green methods such as insect traps, natural insecticides (e.g. Neem oil). Please use strong insecticide, fungicide etc. only as a last resort.

You Should Also Read:
Pest Control in Orchids
Growth Requirements of Epiphytes
Other growth requirements for Epiphytic orchids


Related Articles
Editor's Picks Articles
Top Ten Articles
Previous Features
Site Map





Content copyright © 2022 by Anu Dharmani. All rights reserved.
This content was written by Anu Dharmani. If you wish to use this content in any manner, you need written permission. Contact Anu Dharmani for details.