Orchid Profile - Dendrobium kingianum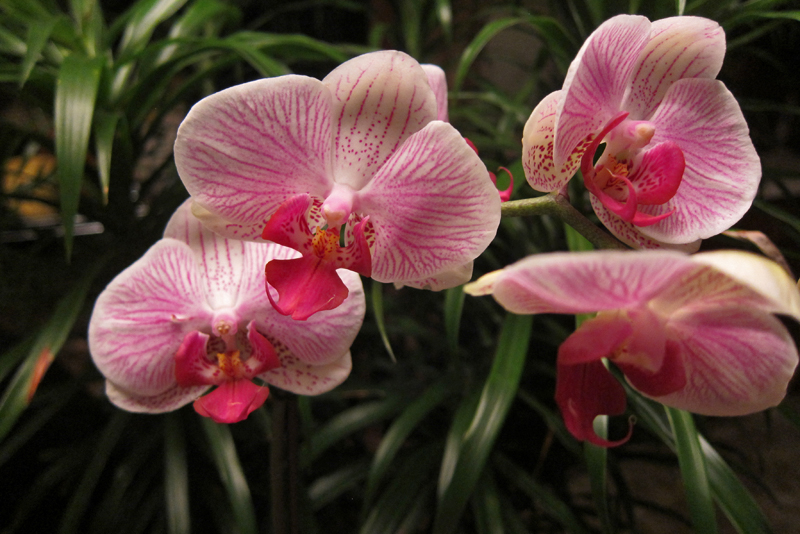 Dendrobium kingianum
is a native of eastern Australia, usually found as a lithophyte or growing on rocks. Locally it is named Pink Rock Orchid or Capt. King's Dendrobium. It is generally a small plant which produces inflorescences of light pink to dark purple flowers held on long inflorescences above the plant. There are also white varieties and a few spotted and variegated varieties.
This species is variable as to size and number of flowers on the inflorescence, so it would be better if you can see the plant in flower before purchasing. Most plants sold commercially are of the smaller variety, but it is best to make sure. If not, inquire as to these items before you buy the plant.
This is one of the easiest Dendrobiums to grow and bloom as long as you give the plant a winter rest from watering and fertilizing. It is very adaptable as far as temperature goes and can tolerate winter temperatures down to about 35 degrees Fahrenheit or 2 Celsius. They seem to grow and flower best if they are pot bound, so leave them in the same pot until they are about to move over the edge. They need high light in order to flower, so be sure that they receive enough light for the leaves to be a light green. Dark green leaves will show that the plant is not receiving enough light; yellow leaves indicate too much light.
They do better with a summer spent outdoors in most climates. A shady patio with morning or afternoon sun should provide an ideal growing area. They can be placed outside as soon as the nighttime temperatures are above around 60 degrees Fahrenheit or 15 degrees Celsius. That way there will not be too much of a shock from the inside temperatures they are used to. After flowering, remove all inflorescences and clean up the plant. Many varieties will produce keikis (baby plants) which can be removed and planted separately. If you leave them on the mother plant, you will quickly have a large plant with many inflorescences.
In the fall (in the northern hemisphere) give the plant a cool and dry period of several months to allow it to store up energy for flowering. Once the buds appear, start watering about once a week. During warm weather the plant will need enough water to keep it moist while it is growing.
You Should Also Read:
Orchid Profile: Dendrobium biggibum
Dendrobium-The Spray Orchid


Related Articles
Editor's Picks Articles
Top Ten Articles
Previous Features
Site Map





Content copyright © 2022 by Susan Taylor. All rights reserved.
This content was written by Susan Taylor. If you wish to use this content in any manner, you need written permission. Contact Anu Dharmani for details.