Guest Author - Mavis Metcalf
Try this jigsaw puzzle of an adorable little Budgie named Sherbie sent to me by Michael Hargreaves. Thanks for the use of the picture Michael.
You may have to scroll the window over to get the whole puzzle in your view. You can make this harder (or easier) by changing the size and shape of puzzle pieces.
More Jigsaw Puzzles
Budgies are wonderful little companions and come highly recommended as pets - whether it is your first bird or you have had birds for many years.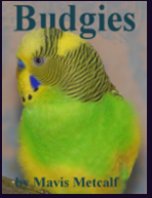 Please take a look at my new Budgie E-Book written after many years of experience with these wonderful little birds.
Please drop by the forum, where we can talk birds!