In Japanese folklore you will find fascinating characters among the shapeshifters. These are called
Yokai
, which are creatures of many different personalities and character, from the evil ogre (
oni
) to the mischievious fox (
kitsune
) or Snow Woman,
Yuki-onna
.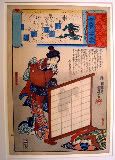 Yokai
usually possess certain spiritual or supernatural powers. The humble human being will almost certainly encounter danger when confronting them. It is therefore best to avoid them whenever possible. Their devious motives are not what anyone would want to know about or get involved in. Fortunately, some of these
Yokai
avoid humans. These types prefer solidarity in secluded locale far from the crowds.
There are those, however, who like living near the human population because of their fascination with people and our lifestyles. The warmth of the hearth may attract them, or the smells of the hearth fire burning. These creatures are very much attracted by fire. Summertime, with the heat of the day, is their preferred season. It is at this time that the spiritual world is believed to be closest to that of the humans.
More than one type of
Yokai
exist in Japanese folklore. Some of them are known as
Tanuki
, or
Mujina
, just two of the many different types.
Tanuki
Tanuki (raccoon dog) are ancient legendary creatures. They are portrayed as mischievious and jolly. These characters are masters of disguise, yet somewhat gullible and absent-minded. In Japan you may find, outside temples or restaurants, statues of a Tanuki. They often are depicted with big cone-shaped hats and have a bottle of
sake
in one hand, and may also have an empty purse in the other for promissory notes.
Tanuki have eight impressive traits. These are 1) a bamboo hat that protects against trouble, (2) big eyes to perceive the environment and help make good decisions, (3) a sake bottle that represents virtue, (4) a big tail that provides steadiness and strength until success is achieved, (5) over-sized testicles that symbolize financial luck, (6) a promissory note that represents trust, (7) a big belly that symbolizes bold decisiveness, and (8) a friendly smile.
It was during the Kamakura and Muromachi eras, that some stories of the Tanuki began to include more sinister aspects. "Kachi-kachi Yama", an Otogizoshi tale, features a tanuki that clubs an old lady to death and serves her up as "old lady soup" to her unknowing husband. This is an ironic twist on the folkloric recipe known as "tanuki soup".
Mujina
Mujina
(badgers), as with the Tanuki, are avid shapeshifters and love to deceive humans. One form this character likes to take on is that of a faceless ghost. This particular sort is often referred to as
noppera-bo
.
There is a tale called
The Noppera-bo and the Koi Pond
. This is about a lazy fisherman who decided to fish in the imperial koi ponds near the Heiankyo palace. Despite being warned by his wife about the pond being sacred ground and near a graveyard, the fisherman went anyway. On his way to the pond, he is warned by another fisherman to not go there, but he again ignores the warning. Once at the spot, he is met by a beautiful young woman who pleads with him to not fish in the pond. He ignores her, and to his horror, she wipes her face off. Rushing home to hide, he is confronted by what seems to be his wife, who chastises him for his wickedness before wiping off her facial features as well.
Just goes to show ya - you cannot trust the Mujina - it is therefore beneficial to listen those who are wiser.
*******
,