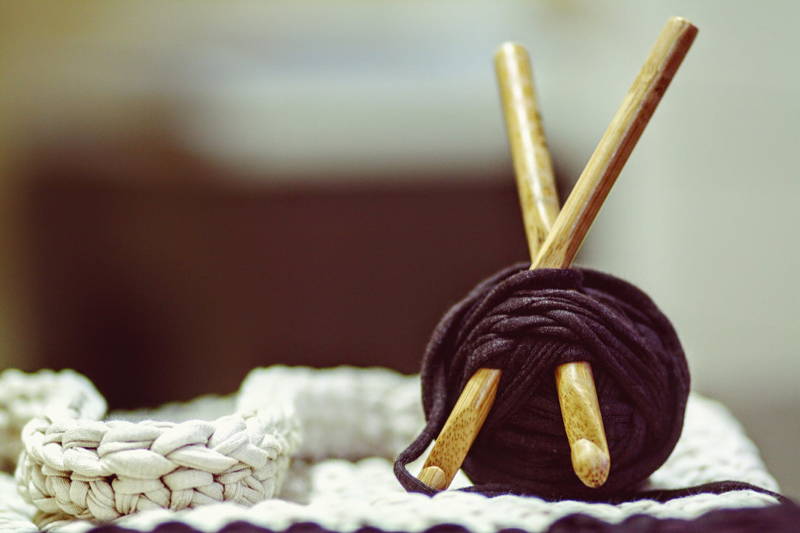 Crochet Me Book
Crochet Me - Designs to Fuel the Crochet Revolution
Edited by Kim Werker
Published by Interweave Press
ISBN 13 978-1-59668-044-9
Available from book stores, yarn stores and Amazon.com
The new book from the Crochet Me team has been eagerly anticipated. Anyone familiar with the
CrochetMe.com
website will know the contemporary and modern approach that Kim Werker and the Crochet Me team take to crochet. The publication of a Crochet Me book was always going to be a challenge – would it live up to the high expectations set by the website?
The answer is quite simple – and that is a resounding YES! This book meets and beats expectations. Most readers would be anticipating a range of contemporary and slightly different designs, which offer crocheters something a little unusual without being completely off the wall or too wild, and there are certainly plenty of wearable designs suitable for normal people and not stick insects. In addition to this, there are plenty of useful essays on different techniques plus lots of hints and tips.
Projects
There are seventeen projects in the book, mostly women´s clothing. These clothing projects include tops, a skirt and even a pair of knee high socks. In addition to the clothes projects, there are also two bag projects, a rug, baskets and dolls. While not everyone will love every design, everyone who enjoys the Crochet Me style will be bound to find some new favorites here. There are also plenty of ideas for variations given throughout the book which will help crocheters adapt the patterns and create something unique.
The projects are suitable for crocheters of all levels and even the most complicated projects are accessible.
There are numerous positive features about this book. These include:
Yarns
The yarns used are not all high end designer yarns, great to look at but hard both to find and on the budget . Although some of the projects use Rowan and Debbie Bliss; the Mini Wrap Skirt, for instance uses Red Heart Super Saver. Confident crocheters can easily substitute yarns using the gauge information.
Instructions
The instructions for each project are clearly laid out and easy to read. The difficulty level is defined by concentrating ratings which is the amount of concentration it takes to crochet a design. Level one means that a crocheter can work away at the project while chatting to friends, level 4 requires maximum concentration to avoid mistakes.
Pattern notes including special stitches, schematics and diagrams are included for each project. This is extremely useful to help explain the project and visual crocheters will find this exceptionally beneficial.
Technical Notes
Throughout the book different techniques are discussed and important information explained. For instance the section on gauge explains how to use gauge to substitute yarns.
Designers
In addition to a profile of each designer, they also tell us a bit about their inspiration for the designs. This gives a nice personal touch and gives an insight into the way that the designer approaches their work.
Basic crochet instructions are given in the book which will help beginner crocheters. This is not a ´how to´crochet book, however, and there are plenty of excellent books that will teach someone the basics of crocheting.
Conclusion
The resurgence of interest in crochet has resulted in a number of books proud of the fact that they are not your normal crochet books and trying to break crochet conventions and misconceptions, and there are some pretty wild and wacky designs around. These may be highly unusual but many are unwearable for the normal person. One concern was that the Crochet Me book might have tried to 'out wacky' the competition which would result in great to look at, but unpractical to make, designs.
This fear was unfounded and the Crochet Me book is an excellent book and offers something for crocheters of all experiences and interest. The designs are all wearable and there is nothing here that is too wild. The technical help and crochet essays are useful and informative and even experienced crocheters will find something of interest.
This book will make an excellent present for anyone interested in crochet or thinking about taking up the craft.
More Information:
Interweave Publications Crochet Me
You Should Also Read:
Crochet Earrings - Free Project
Crochet Brooches and Pins
Hairpin Lace Scarf - Free Pattern


Related Articles
Editor's Picks Articles
Top Ten Articles
Previous Features
Site Map





Content copyright © 2021 by Kate Pullen. All rights reserved.
This content was written by Kate Pullen. If you wish to use this content in any manner, you need written permission. Contact Holly Messenger Aamot for details.