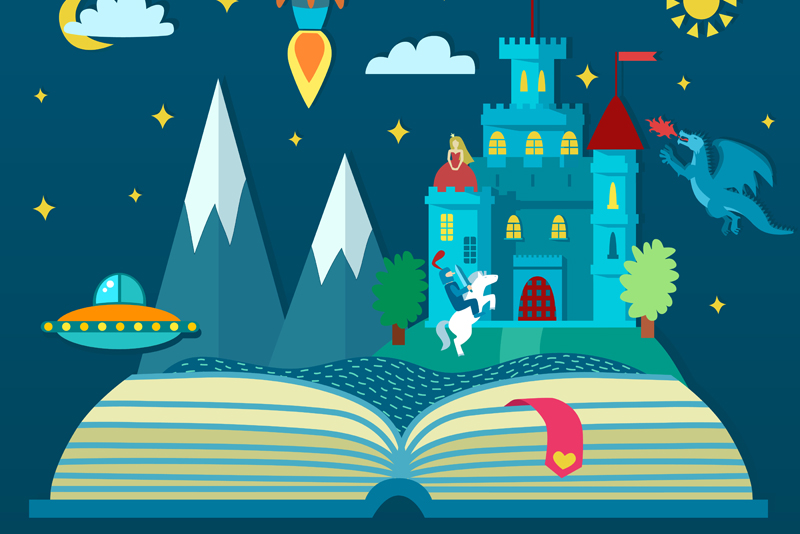 As a storyteller, writer and self-publisher, I'm always learning new strategies and trying to apply them to improve my writing, enhance my marketing techniques, and discover new methods to distribute my work. One thing I've discovered is that powerful stories can be delivered effectively in lots of different ways.

When you think about the evolution of storytelling it's an interesting story as well. Early humans used art to tell their stories. Out of that art, came oral storytelling and then symbolic language. The first symbolic language was created from iconic pictures and then evolved to the more abstract letters and phonetic sounds that create the modern languages we know today. Now fast forward to the monks in the Middle Ages as they carefully handscribed the bible and other great works of literature so that a few select individuals could read their calligraphy. The advent of the printing press made the great works of masterful writers available to a much wider audience. For a long time, the printing press held its position as the major innovation for distribution of the written word.

And so the story, once told from person to person, then from person to community, was available to a wider and wider audience. Telegraph, telephone, radio, movies, television...all these inventions made it possible to communicate a story very quickly to larger and more distant audiences.

Now the internet and mobile devices are changing the storytelling paradigm once again. Voice, pictures, and the written word are all being blended together with a completely new form of alchemy.

So, how does this change in communication and distribution impact the future of children's literature? Yesterday, I saw Beatrix Potter's The Tale of Peter Rabbit in a completely new form. Not only can children learn to read using this new form, namely an iPad application, they can also play and discover with its interactive tools. Reading is not new. Looking at pictures is not new. Animation is not new. But the fact that now reading is becoming even more of an interactive experience is relatively new. The iPad app is elevating this form of reading to an art form. Children always played and imagined using books as a springboard but now the book has become a manipulative that can aid in learning and exploring the wonders of literature and of the world. Reading, playing, and learning are being blended into something new.

So what does this mean for the small children's press? In addition to our roles as storytellers, writers, and publishers, we now need to learn better skills with art direction and a deeper understanding of animation and programming. We can't direct these efforts if we don't understand the work, the art, and the magic involved.

It's no wonder that large publishing houses are turning to top-quality specialty developers, such as OceanHouse Media, to create beautiful apps that bring the storybook alive. There's so much to learn and we need to learn it faster and faster. The publishing world is vibrating and changing.

Is there any hope that the individual writer and small press can succeed in this brave new world? I only have to remember that "The Tale of Peter Rabbit" was originally self-published to know the answer. One tiny voice can yield a powerful story and it can be heard around the world. And yet it all begins on your living room couch. You share a story with your child with a book, movie or app and the evolution of story comes full circle. It's both personal and global.

Don't be afraid to tell your story with emotion and conviction.

Happy Writing!
You Should Also Read:
Publishing Know How
What is a Loss Leader in Publishing?
How Publishers Market a Book


Related Articles
Editor's Picks Articles
Top Ten Articles
Previous Features
Site Map





Content copyright © 2022 by Annamaria Farbizio. All rights reserved.
This content was written by Annamaria Farbizio. If you wish to use this content in any manner, you need written permission. Contact Annamaria Farbizio for details.