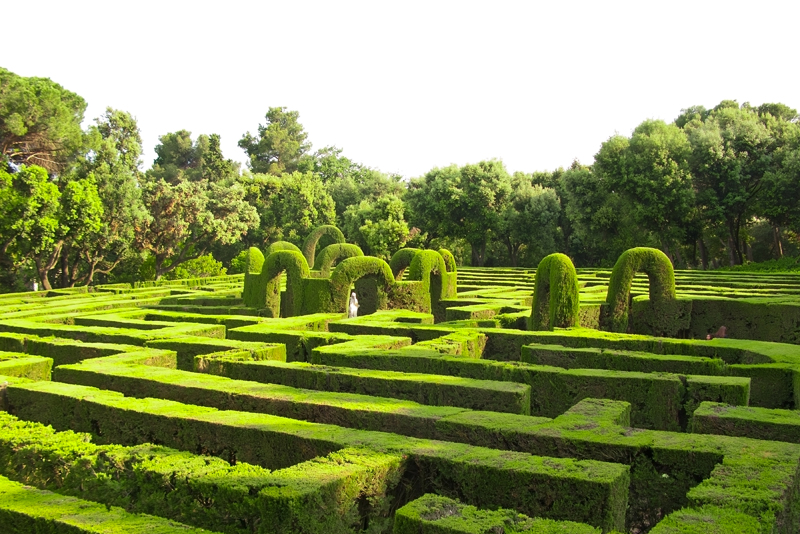 Buxus Sempervirens, or boxwood, is an essential part of an English garden. It is, in fact, native to parts of England. The largest stand of it can be found in the aptly named Box Hill, Surrey, which is the setting of an important scene in Jane Austen's Emma. In the language of plants, boxwood symbolizes constancy.

Boxwood, sometimes just called box, has been used in English gardens for hundreds of years in a wide variety of ways. It can be used to edge a path or a garden bed. Or it can be grown taller to create a hedge. This would help to create an enclosed garden, perfect for privacy. Or individual plants might be used as a decorative feature such as topiary. Boxwood is also traditionally used to create knot gardens and parterres. Its versatility is largely due to the fact that it takes shearing very well, mainly due to its small leaves that are very close together.

Historically, boxwood was used to dry clothes! People would lay their garments over boxwood, lavender or rosemary hedges and the clothes would absorb the scents from the plants as they dried.

Boxwood is an evergreen shrub that can grow up to 20 feet tall. The leaves are usually glossy with tiny yellow flowers that appear in spring. The flowers are so tiny, though, that they are usually not noticeable. It is hardy to zone 5 in the U.S.

Common box can have an unpleasant odor, which is what prompted Queen Anne to have all of the boxwood removed at Hampton Court Palace. Some people don't notice the odor, but if you do, you may want to try the variety Buxus macrophylla Koreana, or Korean boxwood, as it doesn't have this odor. Korean boxwood is also hardier for colder climates.

There are hundreds of different varieties of boxwood, including Buxus elegantissium (cream-tipped leaves) and Buxus 'Latifolia Maculata' (yellow-tipped leaves). Lots more have blue toned leaves.

'Graham Blandy' is a relatively new variety that is tall and narrow. Plant one on each side of your front door for a formal entry.

Buxus sempervirens 'suffruticosa' is a dwarf form that has been used for centuries and works especially well as a low edging.

How to grow boxwood
Boxwood is fairly easy to grow. It will grow in sun or partial shade, but it must have well drained soil. It can also take chalky soil.

It's one of the few shrubs that can be planted deeply in the soil. So if the main trunk is bare at the bottom, just mound dirt up around the base and it will grow new fibrous roots.

It should only be pruned once a year, usually in July or early August. If you prune it earlier, you'll encourage new growth which will have to be cut again, so it will be less work if you just wait until mid-summer to prune it.

Whether your garden is formal or informal, small or a vast estate, you can find a place for boxwood.

You Should Also Read:
Jane Austen's Garden
Hampton Court Palace Garden
Designing an English Front Entry


Related Articles
Editor's Picks Articles
Top Ten Articles
Previous Features
Site Map





Content copyright © 2023 by Carol Chernega. All rights reserved.
This content was written by Carol Chernega. If you wish to use this content in any manner, you need written permission. Contact Carol Chernega for details.