Cheyenne Legend - Origin of the Buffalo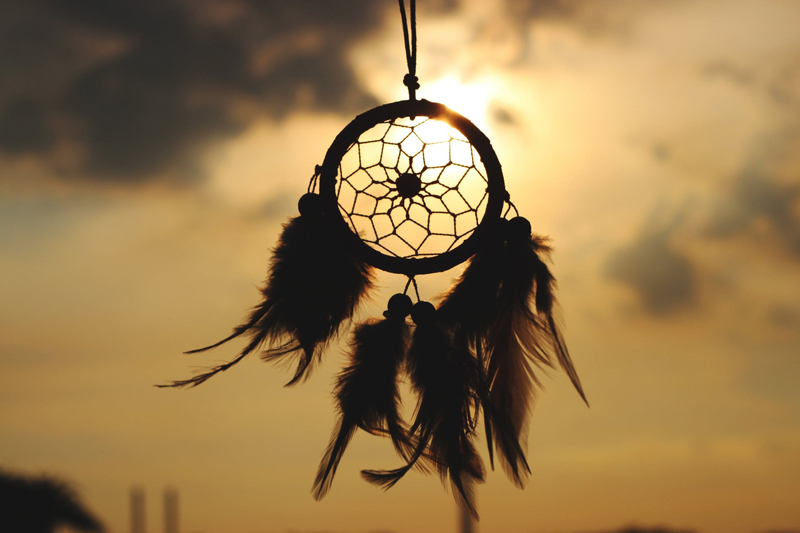 In ancient times, a tribe of Tsitsitas (Cheyenne) hunters lived at the head of a rushing stream. The stream eventually emptied into a mysterious, large cave. Because of the great need for a new food supply for his people, the Chief called a council meeting. "We should explore the large cave in search of food," he told his people. "Who are the brave hunters that will offer to go on this mission? We do not know what we will find and it may be very dangerous, but we have brave hunters." There was complete silence as not a single hunter responded to the Chief's request.

Finally, one young brave painted himself for hunting and stepped forth, replying to the Chief, "I will go and sacrifice myself for our people." He arrived at the cave, and to his surprise, First Brave found two other Cheyenne hunters near the opening, where the stream rushed underground. "Are they here to taunt me," First Brave wondered? "Will they only pretend to jump when I do?" But the other two braves assured him they would go also.

"No, you are mistaken about us. We really do want to enter the cave with you," they pleaded. First Brave then joined hands with them and together they jumped into the huge opening of the cave. The cave was pitch-black inside and it took some time for their eyes to adjust. Soon they discovered what appeared to be a door. First Brave knocked, but there was no response. He knocked again but with great force and then was shocked at what he heard and saw.

"What do you want, my brave ones?" asked an old Indian Grandmother as she slowly opened her door. "Grandmother, we are searching for a new food supply for our tribe," First Brave replied. "Our people never seem to have enough food to eat." "And are you hungry now?" asked the old Grandmother.

"Oh, yes, kind Grandmother, we are very hungry," all three braves quickly answered. The old Grandmother opened her door wide, as she invited the young braves to enter. "Look out there!" she pointed for them to look through her window. The young braves saw a beautiful wide prairie stretched before their eyes. Great herds of buffalo were grazing contentedly. The young hunters could hardly believe what they saw!

The old Grandmother brought each of them a stone pan full of buffalo meat. How good it tasted, as they ate and ate until they were filled. To their surprise, more buffalo meat remained in their stone pans! "I want you to take your stone pans of buffalo meat back to your people at your camp," said the old Grandmother. "Tell them that soon I will send some live buffalo."

"Thank you, thank you, thank you, kind Grandmother," said the three young Cheyenne braves. When the young hunters returned to their tribe with the gifts of buffalo meat, their people rejoiced over the new, good food. Their entire tribe ate heartily from the old Grandmother's three magic pans. They were very grateful. When the Cheyenne woke at dawn the next day, majestic herds of buffalo had mysteriously appeared, surrounding their village!

They were truly thankful to the old Indian Grandmother and to the Great Spirit for their good fortune as the Cheyenne thrived and prospered on the Great Plains. The sacred wisdom of our Ancestors stands among universal truths. Just as Mother Earth provides for us with her bounty, the ancient Grandmother in the cave gifted the Cheyenne tribe with the buffalo. The People lived in abundance as thundering herds dominated the ancient grasslands in numbers further than the eye could see. It was then that a spiritual kinship with the buffalo began and the spirit of a Nation was born.




Related Articles
Editor's Picks Articles
Top Ten Articles
Previous Features
Site Map





Content copyright © 2022 by Jacqueline Olivia Pina. All rights reserved.
This content was written by Jacqueline Olivia Pina. If you wish to use this content in any manner, you need written permission. Contact Jacqueline Olivia Pina for details.