Demon, Demons - Dream Symbol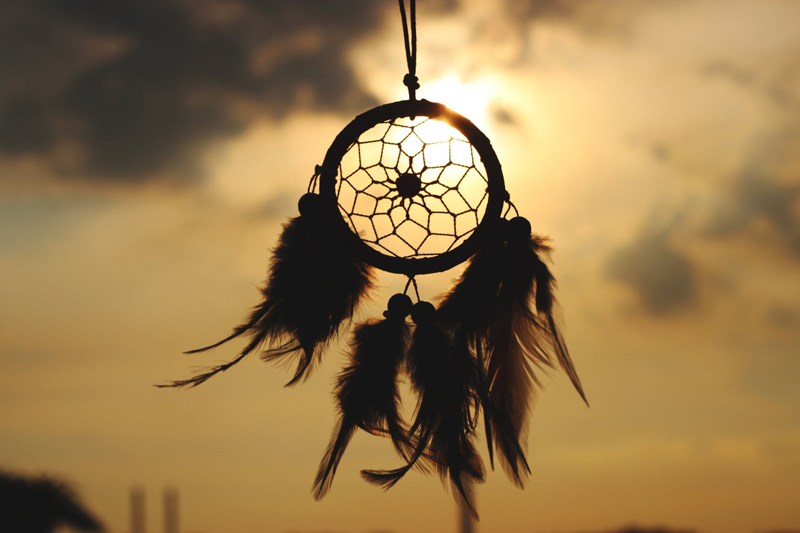 "If I could stay, then the night would give you up.
Stay, and the day would keep its trust.
Stay, with the demons you drown,
Stay, with the spirit I found,
Stay, and the night would be enough.
- U2, Stay, Zooropa
Demons tap into a deep-seated, primordial fear - primarily the fear that some powerful, alien force with evil intent could actually take over our lives, assault our bodies, and force us to do that which we would normally never do if in full possession of our faculties. Demons are different from ghosts or other supernatural creatures in that they are almost always associated with evil, specifically a kind a evil that represents that which is diametrically opposed to the Divine. Demons don't simply want one's body. Demons want one's soul as well.
Demons in dreams may be representatives of those unexpressed fears; they may also, however have a more complex meaning as well - one that isn't frightening at all, one that may actually prove beneficial both in dream life and in the waking world. Read on to learn more about demons in dreams and what they may symbolize.
Spiritual Foes
Some of the more interesting biblical accounts are those of people possessed by demons. In fact, although she is often portrayed as a penitent prostitute, the Bible itself refers to Mary Magdalene as one of the first to witness the resurrected Christ and as the woman from whom Christ cast seven demons.
Many people view demons and demonic possession as purely psychological. For those people, demons do not exist as actual, alien entities but rather as defects in the psyche or a hysterical way of expressing that for which one has no words. Many other people view demons in the exact opposite manner. Those people believe that demons are, in fact, actual forces bent on destroying anything that God loves.
Your belief, your interpretation is, as always, the most important. If you believe in the authenticity of demons and of demonic possession, then it is of tantamount importance that you look into the dream of your demon and establish what the demon is attacking, how it is making its attack and how you may be able to defeat the demon. Dreams of demons for those who believe in their authenticity can indicate a spiritual struggle of some sort, one that one may feel one is losing. Spiritual counseling is probably the best route to take if this is the situation in which you are in.
Emotional Demons
Demons, aside from being spiritual enemies, may also be personifications of those parts of one's self from which one has dissociated one's self or those parts of the psyche that one has repressed. And the emotions that we experience as unpleasant are often those that get repressed. Anger, hatred, feelings of powerlessness - these are all emotions that may be repressed and which may appear in dreams as demons. If you are experiencing recurrent or vivid demon dreams, check to see if there is a situation that is bringing up repressed emotions or look to see if there is some event that you are "drowning" in order to keep it from causing you pain.
Helper Demons
OK, so maybe the demon
itself
isn't helpful, but the energy behind it might be. Much like the rejected or aberrant animus, a dream demon may actually mask something that is helpful, something that, once confronted might be integrated and thereby transformed. Demons are made more powerful from the energy we put into avoiding them. In a way, demons actually hold us captive by via our attempts to avoid them rather than confront them. In waking life, many people attempt to medicate the pain of the demon, via drugs, alcohol or actually allow their demons to actively thwart their success by engaging in self-sabotaging behaviours. These are all ways of demon avoidance. However, if one can confront the demon, that is, if one can address the demon producing situation and make peace with it, then the energy that one is putting into demon avoidance can actually be used in a more productive manner. And even the demon itself can be transformed. Many people take situations that are horrific and find a way to transcend them, to use those situations as stepping stones to help themselves and others. For example, victims of abuse can confront their abusers, can confront the pain of their abuse and become advocates for others. When one is able to do this one transforms one's demon in to one's
daimon
--a genius that helps rather than haunts.
Until next time, sleep well and dream out loud!
*~Aisling Ireland~* is an ordained Interfaith Minister, available for weddings and commitment ceremonies and a Spiritual Counselor providing dream interpretation and Tarot readings. To make an appointment check out her website at:
Sang-Realta Spiritual Counseling
Stay
is from the U2 CD
Zooropa
. You can follow the links to get your own copy from Amazon:


Related Articles
Editor's Picks Articles
Top Ten Articles
Previous Features
Site Map





Content copyright © 2019 by Aisling Ireland. All rights reserved.
This content was written by Aisling Ireland. If you wish to use this content in any manner, you need written permission. Contact Lori Chidori Phillips for details.