Here are screenshots from the role playing game Dark Kingdom Untold Legends. The graphics for this game are a bit polygonal, but generally good quality renderings.
Here's typical game play graphics. You're standing by a pond with a friend of yours. Note that the water in the pond ripples heavily or smoothly based on you running through it! The HUD in the top left is your health / magic, and the top right is your mini-map.
This is a cut scene, that shows about the exact same graphics. I imagine if I was a different character that I'd still be his favorite :) I love that her response is "And I always thought of you as a father" :) Maybe it wasn't quite the response he was hoping for ...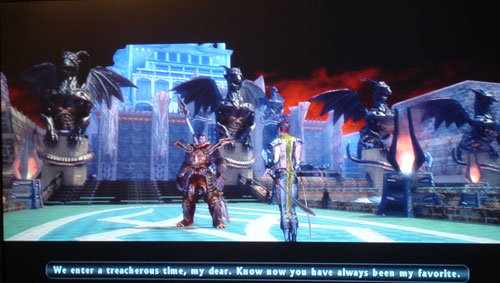 Remember that this isn't even a "graphic focussed" game. It's more like Diablo. Just wait until we get games like Fable on this system!
Dark Kingdom Untold Legends Review