What is the use of a book, without pictures or conversations?
(Alice asked)
- from Alice in Wonderland by Charles Lutwidge Dodgson (Lewis Carroll), 1865
So true, Alice. Without pictures or conversations a book is just a study. With pictures and conversations it comes alive and grabs hold our hearts. Good illustration can take one from reality to the world of fantasy in a flash -- just like falling down a rabbit hole can! No one knew this better than Arthur Rackham, British artist and illustrator of folk and fairy tales.
The timeless tales of Lewis Carroll, the Brothers Grimm, Jonathan Swift, Washington Irving, William Shakespeare, Aesop, Edgar Allan Poe, Charles Dickens and many others have been brought to life by the beautiful illustrations of Arthur Rackham.
Born September 1867 in London, England, Rackham was one of twelve children. He worked as a clerk at the Westminster Fire Office at the age of eighteen and studied part time at a school which was originally called Lambeth School of Art in London. The school was founded in 1854 by William Gregory. It operated as a night school in the St. Mary the Less Church building. In 1860, a new foundation was laid for a redevelopment which included the art school and St Peter's Church. In 1879 the operation of the school became the responsibility of the City and Guilds of London Institute and the new name became South London School of Technical Art. Rackham attended the school in 1885.
In 1892, Rackham left his job as clerk and became a reporter and illustrator for The Westminster Budget, a popular weekly magazine at the time. A year later, Thomas Rhodes published a book called
To The Other Side
in which illustrations by Arthur Rackham appeared. This was Rackham's first job as illustrating for books. Another commission in 1894 for a book titled
The Dolly Dialogues
by Anthony Hope, a social comedy featuring Dolly (Lady Mickleham), a witty and irresponsible lady who rambles on about nonsensical subjects with grace and humour. The work done in this book began Rackham's lifetime career as an illustrator.
Rackham developed a very unique drawing technique which made his illustrations much sought after and brought him gold medals for his work. In 1906 he was featured in the Milan International Exhibition which gave him his first gold medal. He won another at the Louvre in Paris in 1914.
The technique Rackham invented very much resembled reproductions of photographic work.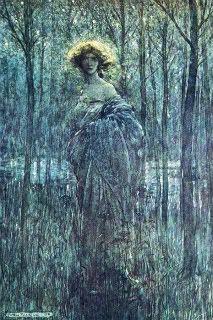 After sketching an outline of the subject he was working on, he lightly blocked in the shapes and any details. Using pen and India ink, he then added defining lines and removed any traces of pencil. For his drawings with color, he applied multiple washes of colors until he achieved transparent tints. In his monochromatic drawings, like Fair Helena on the right here, this created soft, subtle, and very unique images with a dreamlike quality which added enchantment to the tales.
Some of Arthur Rackham's notable works can be found in the following books:
Fairy Tales of the Brothers Grimm, 1900
Gulliver's Travels by Jonathan Swift, 1900
Rip van Winkle by Washington Irving, 1905
Peter Pan in Kensington Gardens by J.M.Barrie, 1906
Alice's Adventures in Wonderland by Lewis Carroll, 1907
A Midsummer Night's Dream by William Shakespeare, 1908
The Rhinegold and The Valkyrie by Richard Wagner, 1910
Siegfried and The Twilight of the Gods by Richard Wagner, 1911
Aesop's Fables by Aesop, 1912
Mother Goose, 1913
A Christmas Carol by Charles Dickens, 1915
The Allies Fairy Book, 1916
Little Brother and Little Sister by The Brothers Grimm, 1917
The Romance of King Arthur and His Knights of the Round Table by Alfred W. Pollard, 1917
English Fairy Tales by Flora Annie Steel, 1918
Cinderella ed. Charles S. Evans, 1919
The Sleeping Beauty ed. Charles S. Evans, 1920
Irish Fairy Tales by James Stephens, 1920
The Tempest by William Shakespeare, 1926
Fairy Tales by Hans Christian Andersen, 1932
Tales of Mystery & Imagination by Edgar Allan Poe, 1935
The Wind in the Willows by Kenneth Grahame, posthumously 1940 US, 1950 UK
Arthur Rackham married Edyth Starkie (1867 - 1941) in 1903. Starkie was an established portrait painter and sculptor. She was born in Ireland, near Galway. They had one child, a daughter, Barbara, in 1908. Rackham died in 1939 in Limpsfield, Surrey, England.
*******
Image Credits
Alice
Alice in Wonderland
Arthur Rackham, 1907
Public Domain
Fair Helena
Midsummer's Night Dream
Arthur Rackham, 1908
Public Domain
*******
Editor's Picks:
,