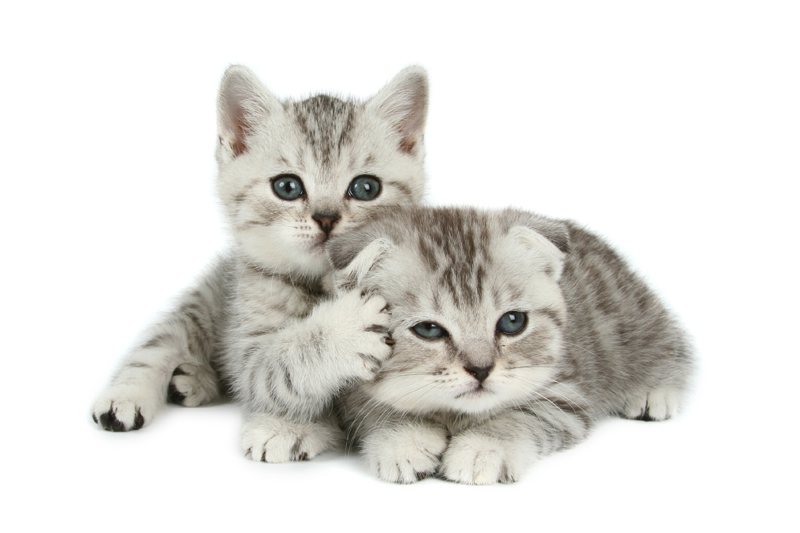 Hello and welcome to the Cats site here at BellaOnline! If you read my bio you know a little about me and my love for our feline friends. Now I'd like to take this opportunity to introduce you to my kitty crew, otherwise known as our fabulous feline five.
Jewel is a purebred Persian. She was born December 28, 1988 and is dilute calico in color. Jewel is a very petite cat, never weighing above seven and a half pounds. She's your typical, adorable, somewhat prissy Persian who lives in her own little world most of the time. When she was younger she had a stuffed mouse that she carried with her everywhere. In fact, she did this until recently. We had to mend her mouse and she hasn't shown the same enthusiasm for it since.
We adopted our other four cats when I was working at a local animal hospital. First came Velvet, born in 1992, who is black with a few white spots on her belly, shorthair. She came into the vet with her six siblings and every time I went over to check on them, Velvet meowed and jumped on my smock. It wasn't too long before she came home with me. She still loves playing with string and yarn. Velvet is very friendly toward people, but to our cats - well, lets just say she's got most of them intimidated.
Next came Sidney, who was also born in 1992. He's our gray and white tuxedo cat. His former owner brought him into the vet claiming he was acting slow and thought he might have worms. He didn't. We suggested having a feline leukemia test done and this guy, who we could all tell didn't care a lick for this kitty, misinterpreted us thinking the cat had the disease and told us to put him to sleep. We explained further and told the man that we knew of someone who would be interested in the kitten (five months old at the time) if he wanted us to find him a new home. Of course that someone was me, and the rest is history. Sidney has a very unique personality. He absolutely loves good smells. We have several Yankee and other scented candles and he will sit beside them and stick his nose down in the jar and inhale for the longest time. He also loves to bond with us right after we get out of the shower.
Jordan, our buff color tabby, was born in 1994. He was brought into the animal hospital with his three siblings. One of our clients had a shop cat at work and this shop cat was the mommy. After seeing Jordan, I knew he was our next kitty. Soon I talked my husband into letting me bring this sweet little kitten home. Jordan does have a very sweet and loving personality. He's also our food monitor. He doesn't like to see the food or water bowls half empty! And yes, I spoil him by filling them up on his command.
Serena is our baby, even though she was also born in 1994. She, her brother and another kitten were brought into the animal hospital after being found by one of our clients in a box on the side of the road. To this day it still angers me that some people could be so cruel. Serena is a brown tabby and looks so much like a cat I lost to kidney failure that I had to bring her home. She's always been a little skittish, but through the years she's come around a lot. She loves to watch the birds from our bedroom window in the mornings. Every morning, like clockwork, she's relaxing in the window for bird watching. She's a very loving and social cat, especially with other cats.

July 2006 - A lot has changed in our feline family. For an update, please read Update on Your Editor's Cats.


You Should Also Read:
Cats & Kittens Poster Shop


Related Articles
Editor's Picks Articles
Top Ten Articles
Previous Features
Site Map





Content copyright © 2022 by Melissa Knoblett-Aman. All rights reserved.
This content was written by Melissa Knoblett-Aman. If you wish to use this content in any manner, you need written permission. Contact Melissa Knoblett-Aman for details.