Meditate Your Stress Away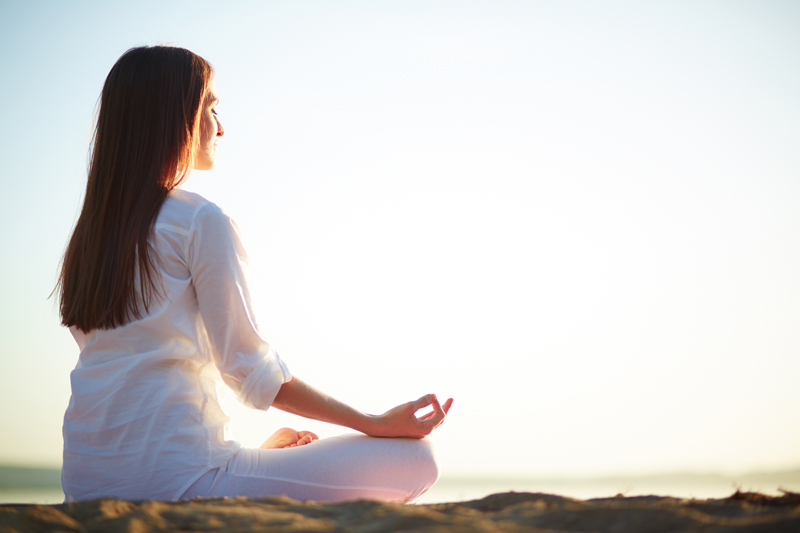 Mindfulness, relaxation response, cognitive behavioral modification
- these are the buzz words of meditation. To many the concept is abstract, new agey and a slick panacea for whatever ails you. However, the mind/body benefits are actually real and have been documented. Last year meditation went mainstream making the cover of
Time Magazine
which extolled the concrete physiological benefits, quoting medical experts from Harvard and citing scientific breakthroughs in healing and pain relief. PET scans revealed that Buddhists' brains had more left prefrontal lobe activity; in short, they were happier than the rest of us.
Yet many of us resist the idea of meditation or view it as an impossible dream. The excuses abound:
I'm too busy; you want to make a Buddhist out of me? I am bombarded by too many images; I get no images.
The first time that I tried meditating (in a yoga class), I composed a supermarket shopping list in my head. The second time I was so relaxed, I fell asleep. At least I didn't snore and ruin it for the group.
The problem was that these meditation classes lasted twenty minutes. For someone who was afflicted with busyness and the inability to sit still, twenty minutes was too long of a commitment. Also, I needed something to focus on. My mind wandered in a free fall. I didn't have the discipline or the joints to sit in a Lotus position and watch my thoughts float by.
However, intuitively, I knew that I needed to sit still. There was something wrong with being too busy, having no time for the self. I had a great deal of diffuse energy which needed to be channeled into a clearer focus. Therefore, I planned to meditate on something specific like an affirmation or an image for only five minutes. I knew I could find five minutes to devote to meditation especially at bedtime.
I enjoyed using my five senses to experience my meditation. I liked selecting a passage or an affirmation to close my day. It helped me to evaluate my goals. Gradually, I began to get clearer about what I wanted to accomplish during the day while I became more calmly active, less reactive. Also, I grew more honest about why I was doing things. I even cleaned out my pocket book! Next, I tackled simplifying my schedule- tapering down. Not only did I sleep better, I was able to remain more calm and upbeat during stressful situations.
In my meditative journey I discovered that no drug or food could ever give you the
high
you experience when you meditate. Small miracles and breakthroughs really do happen when you connect to your higher power and positive attitude. I then started using these short meditations at the close of my stress-management workshops. Many of my workshop participants asked me to transcribe these meditations, so that they could enjoy them at home. As a result, I wrote a
compact book
of beautiful and effective meditations for beginners - using the five senses. Meditation makes you more receptive because if you are always running around, you are too busy to notice the signals or the coincidences. At the very least, you will be happier and healthier!
---
Debbie Mandel, MA is the author of
Turn On Your Inner Light: Fitness for Body, Mind and Soul,
a stress-reduction specialist, motivational speaker, a personal trainer and mind/body lecturer at Southampton College. She is the host of the weekly Turn On Your Inner Light Show on WHLI 1100AM in New York City , produces a weekly wellness newsletter, and has been featured on radio/ TV and print media. To learn more visit:
www.turnonyourinnerlight.com
---


Editor's Picks Articles
Top Ten Articles
Previous Features
Site Map





Content copyright © 2019 by Debbie Mandel. All rights reserved.
This content was written by Debbie Mandel. If you wish to use this content in any manner, you need written permission. Contact Debbie Mandel for details.