Traeger Pellet Grills review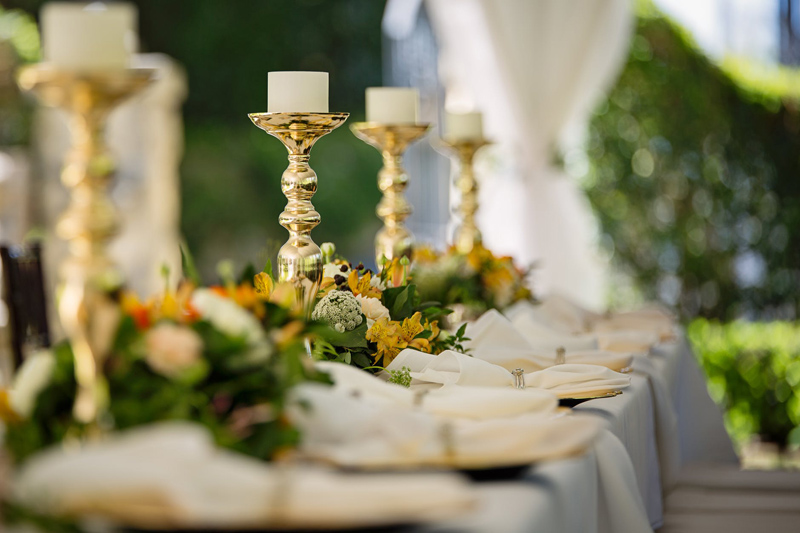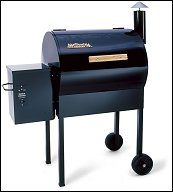 Traeger Pellet Grills review
Traeger Grills makes high-quality wood pellet grills for discerning grillers. These grills are made to last and have been featured on national television, magazines and in newspapers.
The grill I can personally share with you is the Lil' Tex grill that features plenty of cooking surface and a high tech auger-fed burner, electronic Autostart, three position cooking control system, and EZ-Drain Grease system. This is a wonderful grill! My husband and I and our children fell in love with it the first time we tried it. The wood pellets just make the food taste great! This is an easy grill to operate so anyone can run it. No more messing with messy charcoal or gas and frequently burned food! The grill came with it's own little cookbook which features several recipes and directions for using with your grills including recommended pellets to help take the guesswork out of the choices.
Traeger offers a full line of grills, one of which is also available as a built in model ready to install in your non-conbustable masonry or brick grill island and two novelty grills such as the Traeger Longhorn Steer and the Lil Pig grill - Novelty on the outside but some serious, delicious cooking on the inside!
Traeger provides online Grilling Tips & Tricks which also come with the grills to help make your grilling experience a good one. Recipes for many foods are also available online along with accessories that include racks and shelves, covers, meat injector, temperature products, tools, pellet caddy, cookbook and other items.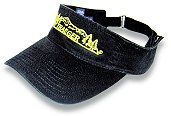 You will also find apparel such as Caps, Visors, Aprons, Vests, and shirts. Pellets are available in various types such as mesquite, hickory, apple, alder, cherry, hazelnut, maple, oak, pecan, garlic, and onion.
Other products include: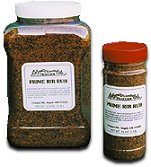 Rubs such as the Sweet, Barbecue, Beef, Chicken and Prime Rib Rubs.
Shakes for your meats and vegetables including: Beef, Cajun, Pork & Poultry, Salmon and Veggie Shakes.
Sauces that include the Texas Spicy Sauce, Apricot Sauce, Carne Asada Marinade, Chili Sauce, Honey Mustard Sauce, Mandarin Glaze Sauce, Regular Marinade and their Regular BBQ Sauce.
I can personally tell you their rubs and shakes are delicious as I've had the pleasure of trying them also. I even got creative and worked some of the rubs into hamburger patties and they tastes wonderful! Try them.. I am sure you will love them.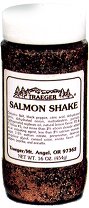 They also allow you to purchase sampler sets for the sauces and rubs which is a great way to try them all before you decide which ones you like the best!
You can also quench your thirst with some delicious beverages such as Marionberry Soda, Hazelnut Creme Soda, Orange Creme Soda and Rootbeer.
All-in-all Traeger is a well rounded company with all the products you need to get started on your outdoor dining pleasure!
If you're ever in the Portland Oregon area you should check out the
Mt. Angel Brewing Company
is a division of Traeger Industries, Inc. and has a Bavarian/Barbecue themed restaurant and Microbrewery where they make their own sodas, and they also have Banquet Facilities, Catering Services and a Gift Shop. They are located approximately 40 minutes south of Portland, Oregon in the town of Mt. Angel, home of the world famous Oktoberfest held each September.
If you're grilling and you don't have this logo on your grill,

you might be missing out on the best experience in grilling you could have!
Visit their site at
http://www.traegerindustries.com
and see what all Traeger has to offer!
If you are interested in a great Barbecue cookbook check out my review of their cookbook
HERE.


Editor's Picks Articles
Top Ten Articles
Previous Features
Site Map





Content copyright © 2018 by Deborah Adams. All rights reserved.
This content was written by Deborah Adams. If you wish to use this content in any manner, you need written permission. Contact Allyson Elizabeth D´Angelo for details.