Guest Author - Deborah Adams
Ed's Kasilof Seafoods, Inc.
These people know how to do seafood right! They have been buying wild Alaskan salmon and processing gourmet seafood since 1970 and they offer
a wide variety of wild Alaska salmon and Alaskan seafood with which they create unique gourmet gift baskets and deliver them straight to your door! They are one of the few internet fish companies that actually buy directly from the fishermen and sell it to the consumers. They try very hard to keep the prices equivalent to what people will pay in their own grocery store.
Some of the wonderful products that I can personally share with you from these fine folks include:
Alaska Smoked Salmon Spread - Delicious spread that comes in 1/2 lb containers with Jalapeno flavored smoked salmon spread and the original smoked salmon spread. Both of these are wonderful with crackers! I particularly enjoyed the bite of the jalapeno spread.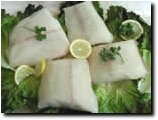 Fresh Frozen Halibut Fillet - This is a snowy white fillet of mouth watering delight! I love fish and this is vacuum packed as all of their fish is and sent fresh to you packed in ice packs in a styrofoam container. It is available in 12 oz. portions and it tastes delicious when cooked.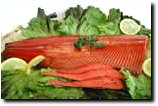 Fillet of Smoked Salmon - A delectible ruby red, smoked Alaskan salmon. This is ready to eat when it gets to your door! Delivered by FedEx so you will get it fresh.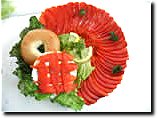 Nova Lox - Alaskan salmon fully cured in their own special brine and delicately cold smoked to perfection. This comes sliced and packaged in 1/2 pound portions so that you can serve it when it arrives.
Alaska Wild Salmon Fillets - A robust flavored treat that has been caught in the icy waters of Alaska and delivered to your door overnight! I loved this baked with a light sauce.
All of their seafood comes straight to you quickly and is packed carefully in the styrofoam crate with ice packs so you can be assured that it will be fresh when it gets to you. Satisfaction guaranteed! They also welcome wholesale inquiries.
Visit
Ed's Kasilof Seafoods, Inc. - kasilofseafoods.com
and see what all they have to offer!
Some of their products and gifts include:
Fresh Frozen Salmon & Halibut sampler
Alaskan Spot Prawns (Fresh Wild Shrimp)
Fresh Frozen Jumbo Scallops
Smoked Salmon Gift - a variety of their world famous wild smoked salmon
Smoked Salmon & Halibut set
Jumbo or Large King Crab Legs
Taste of Alaska - unique variety of wild Alaskan Seafoods. Includes 1 lb. of smoked salmon spread, 1 lb. of smoked salmon, 1 lb. of smoked halibut, 1 lb. of fresh frozen salmon, 1 lb. of fresh frozen halibut, and 1 lb. of Nova lox. (6-8 oz vacuum sealed portions)
Smoked Halibut
Alaskan Wild Salmon - Canned
Smoked Alaskan Wild Salmon - Canned
Canned Smoked & Fresh Alaskan Wild Salmon gift set
Wild Alaska Canned Salmon & Jam Gift Box
If you donít find what you are looking for or if you want a customized order, please just give them a call at (800) 982-2377 and they will be glad to assist you.
Their seafood retail outlet is located next to the Kenai River in Soldotna which is also a drop-off point for sport fish processing and custom smoking needs.
They offer on site - Information about Wild Alaska Salmon, Wholesale Information, Customer Testimonials, a Alaska Interactive Map, Pictures of Alaska, Salmon Recipes and information on their Sport Fish Processing and Smoking - Hot Smoking (Kippered), Cold Smoking (Nova Lox), Filleting, Steaking, Vacuum Sealing, and Freezing, plus Overnight Shipping.
Their list of Alaska fishing guides