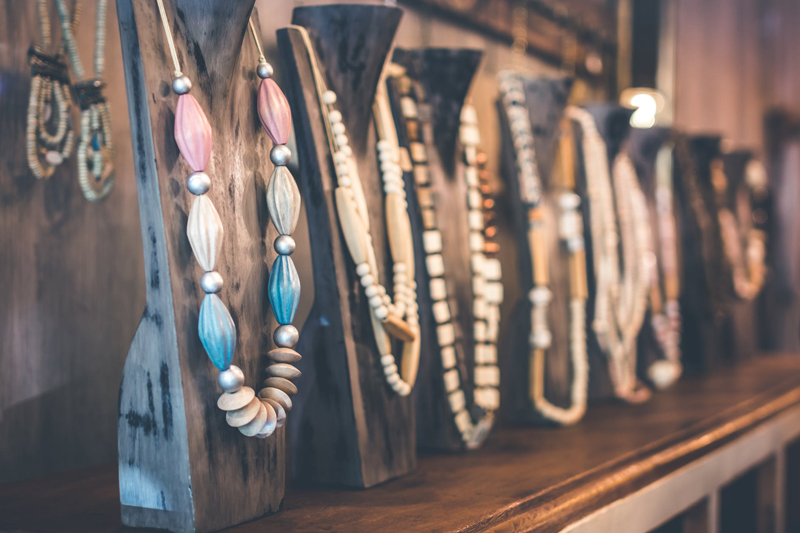 Knotting between beads is traditionally used for stringing fine pearls on silk, but it's also a great way to create casual summer jewelry with lots of texture and personality. Here's a look at the basic technique.
Basic Knotting Technique
When you start out knotting, it can be challenging to position the knots exactly where you want them every time. But with practice it becomes much easier and you'll be able to work more quickly. My favorite method for knotting is the traditional awl-and-tweezers technique.
Begin with a length of cord that is at least 4 times longer than you'd like the finished jewelry to be. Finish one end of the cord with an end finding, or make a simple overhand knot several inches from one end (and leave that end to finish later). String the first bead.
Now, holding the bead in your dominant hand, wrap the cord around the index and middle finger of your other hand, like this:
Point your index and middle finger downward, and then drop the bead through the loop of cord between them - with the bead falling toward your fingertips.
Insert a knotting awl into the loop, with the point toward your fingertips. Remove your index and middle finger to drop the loop. Press your index finger against the upper part of the awl to keep the loop from slipping off.
Pull the end of the cord away from the awl to slide the loop - which should close into a loose knot - down against the bead.
Remove the awl, and use knotting tweezers to push the knot as snuggly as possible against the bead.
Repeat this process for each bead that you would like to string with knots. If you knot an entire strand, then by the time you reach the end you will be dropping the strand of beads down through the loop of cord between your fingers. That is normal - it just takes a little practice to get comfortable with.
As an alternative to using an awl and tweezers, you can use a specialty knotting tool (like the Beadalon model shown below) that serves the same function. It will allow you to make the knot and push it down against the bead without having to switch tools. However, I actually find the traditional method easier and faster - and the equipment is less expensive. You may want to experiment to see which you prefer.
To learn how to finish the ends of your knotted jewelry and for my easy method for making a "tin cup" knotted necklace, see my book Teach Yourself Visually: Jewelry Making & Beading.
If you're looking for a knotting awl and tweezers, you'll find them at Artbeads.com.
In next week's column, I'll cover the most common stringing materials used for knotting and provide some examples of each in action.
---
Chris Franchetti Michaels is a writer and jewelry artisan specializing in beaded designs, wire work, and metal fabrication. She is the author of the books Teach Yourself Visually: Jewelry Making and Beading, Beading Quick Tips, and Wire Jewelry Quick Tips.
You Should Also Read:
Beading


Related Articles
Editor's Picks Articles
Top Ten Articles
Previous Features
Site Map





Content copyright © 2021 by Chris Franchetti Michaels. All rights reserved.
This content was written by Chris Franchetti Michaels. If you wish to use this content in any manner, you need written permission. Contact Susan Mendenhall for details.