Bead Drop Prom Necklace Project - Getting Started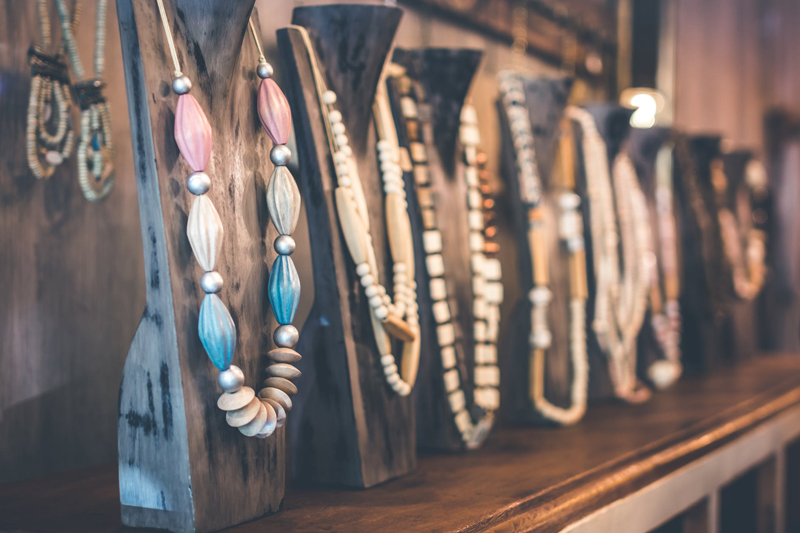 This intermediate-level bead stringing project uses a beaded-fringe technique to create a flashy little necklace perfect for prom or any other formal-but-fun event.
The project instructions are presented in two parts. In this first part, we'll cover the tools, supplies, and materials you'll need to create one 16-inch necklace, plus the initial steps for getting started. In the second part, we'll finish stringing the beads and add a clasp. Keep in mind that this basic technique can be used to create beaded fringe in different lengths and with larger or smaller beads than we use here.
Tools, Supplies, and Materials
(Resources for finding these items online are provided at the bottom of the page.)
2 size #12 beading needles
About 2 1/2 yards of size D white beading thread (I used Nymo)
Small, sharp scissors
Chain nose pliers
Thread conditioner (I used Thread Heaven)
Industrial strength glue (I used 527 Multi-Purpose Cement, but you can also use E6000 or GS Hypo)
47 5mm gold-tone spacer beads (I used gold-plated pewter beads)
8 8mm faceted glass round beads in blue (I used aquamarine Czech glass beads, but crystal beads would also work well)
18 size 11/0 seed beads in metallic gold color
2 gold-tone clamshell bead tips
2 gold-tone jump rings
1 gold-tone lobster clasp
1 Bead Stopper (or a piece of masking tape)
---
Instructions
1. Cut two pieces of beading thread: one about 52 inches long, and the other 36 inches (1 yard) long. Apply thread conditioner to both pieces.
2. Thread a needle onto the 52-inch length of thread, and position the needle half-way along the thread. Bring the ends of the thread together. Note: You will string the main row of beads on this double-strand. Double-strand thread can tangle very easily, so be careful not to allow the thread to coil back onto itself or become twisted as you work.
3. String on a seed bead, and position it about 5 inches from the ends of the thread. Set this piece of thread aside.
4. Thread the other needle onto the 36-inch length of thread. Position the needle about 4 inches from the end of the thread, and fold-over the shorter end of thread. Note: You will string this strand as a single-strand, so you'll need to hold the needle onto the thread with your fingers, with the end folded over, as you work.
5. String the needle through the seed bead that you strung onto the first strand in Step 3 (in the same direction) and pull the thread through until all three ends of thread are even with one another. (The seed bead should be positioned about 5 inches from the end of all three threads.)
6. Tie a double-overhand knot around the seed bead using all three strands of threads together.
7. String a clamshell bead tip, with the open clamshell facing the seed bead, over both needles and onto all three strands of thread. Position the bead tip against the seed bead so that the seed bead is inside the open clamshell.
8. Apply a drop of glue to the seed bead inside the open clamshell.
9. Use chain nose pliers to gently squeeze the clamshell closed over the seed bead.
10. Beginning with a gold-plated spacer bead, string all of the spacer beads and 46 pearls onto the double-strand of thread, alternating between spacer beads and pearls.
11. Apply a Bead Stopper or a piece of tape to the double-strand thread between the needle and the final seed bead (to keep the beads from falling off until you're ready to finish this end of the necklace).
Click
here for part two of the project.
---
Resources:
~ The following items are currently available at ChettiBeads:
8mm Aquamarine Czech Fire Polish Glass Beads
5mm Gold Plate Pewter Spacer Beads
5mm White Freshwater Pearl Beads
~ You can find gold seed beads and other supplies at FusionBeads:
Size 11 Metallic Gold Round Japanese Seed Beads
~ You can find all of the other supplies for this project, with free shipping, at ArtBeads.com.
---
Feel free to post in the Jewelry Making Forum with questions, comments, or suggestions regarding this project.
---
Chris Franchetti Michaels is a writer and jewelry artisan specializing in beaded designs, wire work, and metal fabrication. She is the author of the books Teach Yourself Visually: Jewelry Making and Beading, Beading Quick Tips, and Wire Jewelry Quick Tips. Visit her website BeadJewelry.net for more jewelry-making help and inspiration.
You Should Also Read:
Advanced Beadwork by Ruth F. Poris - Book Review
Making Colorful Wire & Beaded Jewelry - Book Review
Simple Lace and Other Beaded Jewelry Patterns - Book Review


Related Articles
Editor's Picks Articles
Top Ten Articles
Previous Features
Site Map





Content copyright © 2023 by Chris Franchetti Michaels. All rights reserved.
This content was written by Chris Franchetti Michaels. If you wish to use this content in any manner, you need written permission. Contact Susan Mendenhall for details.