Guest Author - Deborah Adams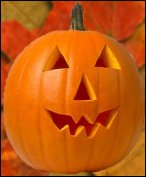 It's that time of year again when ghosts and goblins, gnomes and superbeings wander the streets in search
of the yearly treats that are traditionally passed out. Many people are changing the way they celebrate
Halloween to include parties and costume contests so that kids of all ages can have their fun and be safe. So you have
a party but what to serve? How about some bone chilling punch and creepy tasty delights. Your party with
be the talk of the neighborhood! Invite the adults and children too and see if you don't have the most popular
house in town. This is a good time for adults to let their hair down and enjoy Halloween too.
A list of chilin' beverages served by your favorite creepy witch from her cauldron to start off the gathering.
Gorey Hand Punch
Punkin Punch
Witches Brew
How about some fine fare for all the beasties...
Black "Beetle" Dip Bowl
Cheesy Mexican Chip Dip
Easy Tortilla Pizzas
Jack O' Lantern Beef Pies
And what Halloween party is complete without desserts and treats!
Lolli Pop Tarantulas
Wee Widdle Cheesecakes
Graveyard Cake
Cemetary Cookies
Spooky Batwitches
Witches Finger Cookies
Tarantula Cookies
However you celebrate the holidays and Halloween please always consider safety first. If the children in your life go trick or treating please check candy thoroughly before allowing them to eat it and only take them to homes that you know for certain are safe to take them to. Unfortunately there are too many people out there who don't care for the children like we do and it is better to be safe than sorry as the old saying goes. Happy Halloween Everyone!