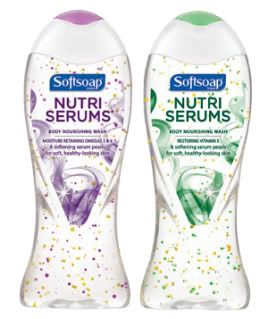 Colgate-Palmolive Softsoap Nutri Serums Body Nourishing Wash is a new Vitamin rich body wash with moisture retaining Omega 3 and 6 ingredients. Plus softening Serum Pearls for soft and healthy skin.
Many women would do just about anything to maintain healthy skin. And the basic way to guarantee good healthy skin starts with the soaps, body washes, and creams applied to the body. Take a look at the body washes or soaps you apply to the body daily. Most of these body wash products contain chemical ingredients that are harsh to sensitive skin.
Softsoap has recognized this fact and developed a new line of products Softsoaps Nutri Serums Body Nourishing Wash. This new innovative and vitamin rich body wash contains exclusive ingredients to soften, nourish, and encourage healthy skin.
The Verdict
I am familiar with Softsoap and have used it previously. But, I had never tried the new Nutri Serums Body Nourishing Wash. After using the sample supplied by the manufacturer a few days I found that the body wash has a scent that is very flowery. And the scent has a tendency to linger on the skin for many hours. The wash is very thick, not watery. And includes softening serum pearls with Omega 3 & 6. Squeeze a few drops under running bath water and it fills the tub with lots of bubbles. After washing in the product it leaves the skin feeling oh so soft and luxurious.
Actually I was amazed at how velvety soft my skin felt after using the product. And my skin also felt very clean, and moist! A big plus for naturally dry skin. I am satisfied with the products results and would surely recommend Softsoap Nutri Serums Body Nourishing Wash Moisture Retaining with Omega's 3 & 6 to anyone looking for a good, vitamin rich, body wash at a very modest price. Only 5.49 for 15 ounces. Note: Price varies across the country.
Product Ingredients
Water, Sodium Laureth Sulfate, Glycerin, Cocamidopropyl Betaine, Acrylates Copolymer, Fragrance, Sodium Chloride, Castoryl Maleate, Sodium Hydroxide, DMDM Hydantoin, Tocopheryl Acetate (Vitamin E), Mineral Oil, Butyrospermum Parkii (Shea Butter), Tetrasodium EDTA, Linum Usitatissimum (Linseed) Seed Oil, Gelatin, Acacia Senegal Gum Extract, Mica, Titanium Dioxide, Euterpe Oleracea (Acai Berry) Extract, Iron Oxides
More Info
Softsoap Nutri Serums Body Nourishing Wash is available in two varieties: Vitamin E and Moisture Retaining with Omega 3 & 6. The product is available at local department stores, supermarkets, drug stores across the country. Suggested Price: 5.49 for 15 ounces.