Neofinetia falcata, The Japanese Wind Orchid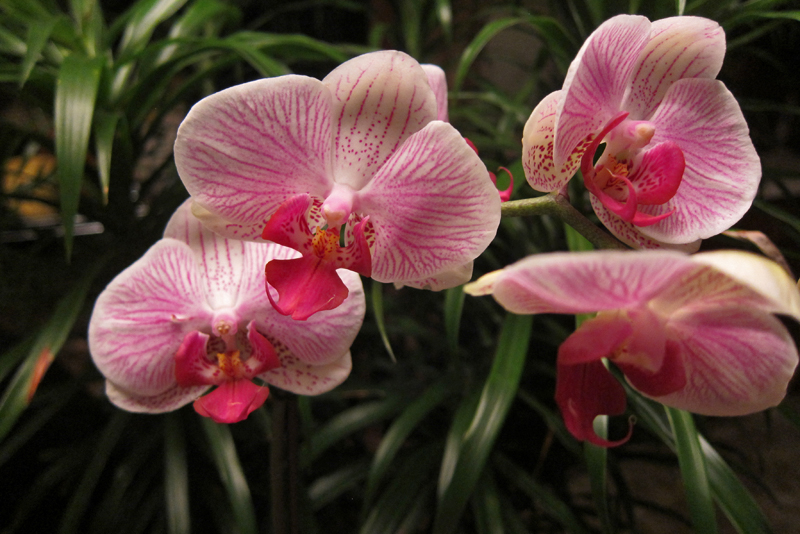 From guest columnist Terri Lewin, a member of the American Orchid Society and Niagra Frontier Orchid Society. Terri has been growing orchids under lights for a number of years.
Neofinetia falcata
is the only representative of its genus, but there are many forms to grow and enjoy. Native to Japan and to some extent China and Korea, Neofinetias are given the popular name of "The Japanese Wind Orchid" and are a favourite of many growers. The white flowers are of average size in proportion to the plant, but the fragrance is much sweeter and stronger than would be expected from such a small package. Growing in nature, it is generally an epiphyte, growing well on deciduous trees and taking advantage of the bare branches for strong winter light and summer foliage for cover from the sun. This is a monopodial plant that has a similar growth pattern to Vandas. The plant is often seen growing at an angle to prohibit water from collecting at the top and rotting the crown.
Neofinetia has been cultivated for centuries in Japan and is closely intertwined with the culture of the samurai warriors. Great acclaim was awarded when these warriors would brave crossing waterways and high terrain to bring one back for all to admire. Some noblemen were also reported to carry their plants with them on long trips, a custom recorded visually in paintings and renderings from the era.
Neofinetias are generally easy to cultivate, even for the beginner. They require a bright light level (1500-2500 footcandles) and a well draining mix and may be grown on a bright windowsill or under fluorescent/HID lighting. When grown under fluorescents, try to keep the top of the plant within six inches of the tubes.
When potted, a special technique with sphagnum moss may be used. The plant is placed in the pot, but instead of having the base of the plant level with the top of the pot, the base is lifted so it is about ¾" higher than the top of the pot. Fine quality New Zealand sphagnum moss is carefully packed into the pot and wound around the exposed roots to form a sort of 'upside down cone' of moss upon which the base of the plant sits. In the orient, plants are often potted as a 'landscape' in a tray with drainage; the grower will mound moss on the tray and place the plant on one of the mounds, where it may sit surrounded by rocks and other fetishes.
Neofinetia has been bred with other relatives to produce compact hybrids. Neostylis (Neofinetia x Rhyncostylis) Lou Sneary is a famous hybrid. Certain clones ('Colorful Blue', 'Lea') may be found which retain the size and fragrance of the Neofinetia while incorporating the bluish/lavender tones of the Rhyncostylis.
Another variation is the rare variegated form, which is hugely popular in Japan and is slowly gaining ground in North America. As with all variegated plants, variegated Neofinetia grows more slowly than the all-green form. It is reported that in Japan, some variegated Neofinetias are passed down through five or more generations!
Neofinetias are relatively easy to come by, and most major orchid nurseries have them in stock. Be sure to purchase from a reputable dealer – I like
Oak Hill Gardens
and
Hoosier Orchids
for species plants. Both have online ordering.
You Should Also Read:
Miniature Orchid Series
Dendrochilum filiforme
Cischweinfia pusilla, The Tiny Cischweinfia


Editor's Picks Articles
Top Ten Articles
Previous Features
Site Map





Content copyright © 2021 by Terri Lewin. All rights reserved.
This content was written by Terri Lewin. If you wish to use this content in any manner, you need written permission. Contact Anu Dharmani for details.