Beer Goddesses and Surly Girls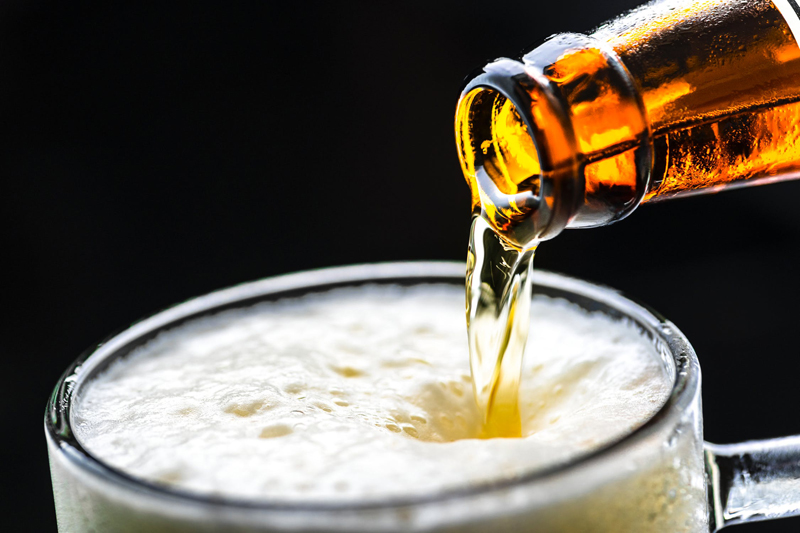 What ancient brewing secrets linger within the minds of women by pure natural genetics? You might be tempted to say, "Rubbish!" but if you examine the background of the life-sustaining brew, you will discover women at every turn. In ancient Mesopotamia, tradition dictated that men worshipped Ninkasi, ancient Sumerian Goddess of Beer. This made sense because women were both the master brewers and the pub keepers, making it possible for men to have liquid food that produced bliss and euphoria, at the hands of their talented womenfolk. Small wonder that they worshipped the "Beer Goddess!"

Babylonian women developed higher sophistication in the traditional art. As masters of brewing, these high priestesses perfected twenty different types of unfiltered beer. An ancient implement called the "straw" has been excavated from this period, artfully connected with the art of brewing.

The tomb of the Lady Pu-abi in the Royal Cemetery at Ur revealed these ancient secrets. Lady Pu-abi was a high-ranking priestess in the temple of the moon god Nanna, to whom the city of Ur belonged. Ancient beliefs dictated that a priestess would take her most precious possessions into the afterlife. Archaeologists who unearthed Lady Pu-abi's tomb discovered her beer jar and straw, artfully fashioned of gold, carnelian, shell and lapis lazuli, carefully stored among her precious treasures.

The tradition continues today in many parts of the world. In Moscow and Northern Russia, you may hear the men exclaim, "Making beer is women's work." Of course, Madame Galina Plakhova, managing director of Moscow City Brewery, would have it no other way. Her brewery, which shares a wall with the historical landmark of Leo Tolstoy's home, is run entirely by women.

In fact, Europe's beer landscape is dotted with "brewsters." Liefmans Brewery in Oudenaarde, Belgium, brews hearty brown ale and fruit lambic, under the direction of Rose Blanquaert, a former ballet dancer. Anne De Ryck Brewery in Herzele, Belgium, is under the proud leadership of Anne De Ryck. In Scotland, Catherine Maxwell Stuart manages Traquair House.

The U.S. is not without its beer goddesses. Melanie Proctor is cofounder and CEO of The Babe Beer Company in Beaverton, Oregon. Boston Beer Works-Fenway has the noteworthy head brewer, Jodi Andrews, who was trained at the prestigious Siebel Institute of Brewery Technology in Chicago. Denise Jones is Brewster at The Third Street Aleworks Brewpub in Santa Rosa, California.

This women's heritage is immortalized in many fine brews, as well. Women of strength are respected in the hoppy and intensly bitter profiles of India Pale Ales. Bitter Woman IPA from Tyranena Brewing Company in Lake Mills, Wisconsin was named after Aunt Cal, an early resident of Lake Mills. Legend has it that she had a torrid affair with Henry Wadsworth Longfellow, and has love letters from the poet to this day! Middle Ages Brewing Company of Syracuse, New York has Wailing Wench, a Double IPA – dark auburn, and worth seeking out. Minneapolis Town Hall Brewery brews Masala Mama IPA, rated as World Class, like the woman it honors.

American Ale Ruth or Belgian Style Tripple Rose, from Hair of the Dog Brewing Company in Portland Oregon are both winners in complexity. If you are in the mood for a Belgium Strong Pale Ale, Wild Brunette from Barley John's Brewpub in New Brighton, Minnesota may satisfy your palate.

"Nothing beats a Southern Blonde," says Diamond Bear Brewing Company, of Little Rock, Arkansas, referring to their famous and refreshing Southern Blonde. John Harvard's Brewhouse in New England honors the lady with their golden hued Summer Blonde and Queen Bee Honey Beer. JJ Bitting Brewing Company of Woodbridge, New Jersey brews a German Style Kolsch, Victoria's Golden Ale.

For a slightly different style, Third Street Aleworks Brewpub has Blarney Sisters Dry Irish Stout; Barley John's Brewpub brews Rosie's Ale, a dark hazy mahogany American Barley Wine.

Despite the rich history behind the brew, women still enjoy flaunting their sizzling sexuality at men. What better way than to present a Belgian Import with an enticing label? Rubbel Sexy Pils from Brasserie d'Evin Malmaison lures men into its spell with a "rub off and see what's underneath" label. Who knows? Maybe with enough rubbing, your very own "Beer Genie" will appear to satisfy your thirst for eternity!
 


Editor's Picks Articles
Top Ten Articles
Previous Features
Site Map





Content copyright © 2022 by Carolyn Smagalski. All rights reserved.
This content was written by Carolyn Smagalski. If you wish to use this content in any manner, you need written permission. Contact Carolyn Smagalski for details.