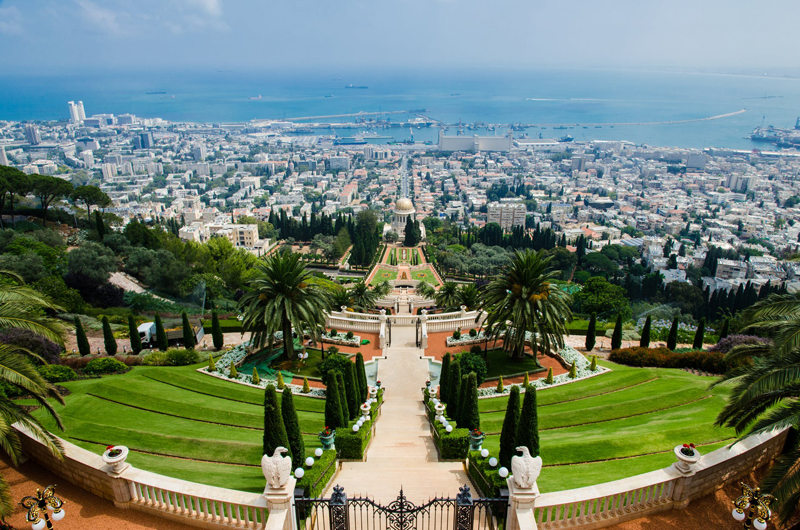 It would be great if I could present to you all the cogent and carefully thought out reasons for my decision to join the worldwide Bahá'í community. But the truth is that most of my rational arguments and understanding have come through years of study and experience since I accepted Bahá'u'lláh as the Messenger of God for this Day. Here's what really happened!

I entered college in the hippy sixties. It was a small predominantly agricultural school without a student union, so the social watering hole was the snack bar adjacent to the dining hall. I divided my lunchtimes between the tables where the hard science majors sat espousing what we thought were insightful solutions to all the world's problems--and the tables where the foreign students gathered to flirt with American coeds.

The make-up of people at any table varied from day to day, but there were regulars. I became friends with one student from India, whose family was Hindu, but had sent their children to a Catholic school. This resulted in dogmatic mealtime brangling that left him as sick of religion as I was, so we would happily munch our lunches while deriding organized religion.

Over the course of several months, he began attending something he called Firesides, but which sounded like a cross between our lunchtime chats and parties. They evidently talked religion, but with refreshments and board games and folk songs late into the night.

We didn't meet every day, but when we did, he would share what had been discussed at the Firesides. I was not very charitable about losing a good church-bashing buddy, and I don't remember what he said, or what questions I asked him. He claims he would bring those questions to the weekly Fireside and then carry the answers back to me. Eventually, he decided to join this religion, which shocked me greatly, as I had considered him too intelligent to be taken in this way. And I was disgusted at him for changing his opinions of religion in general, which I still held in very low esteem.

Problems developed when he wanted me to come to those meetings with him. By then, he had also begun asking me to go out, but I wasn't interested in dating. I was just too busy with schoolwork, and lunchtime conversation was a far as I was willing to go socially. However, he had become enough of a friend that I felt bad saying no to him all the time.

Eventually,I decided that a couple hours of some religious meeting would be better than a date. His description of the people and the parties sounded less threatening than some of my experiences with church youth groups as a teenager. Being a person who asked that any argument contain logic, plus refused to believe in any God that didn't treat all His/Her creation equally, had really annoyed those who wanted to save my soul!

The Fireside I ended up attending was held on Saturday nights in a 1920s stucco bungalow on the south side of town, far from campus. I walked in the door, was greeted warmly by the two women who lived there, and introduced to several people of different ages and colors. There were none of the staples of sixties college parties--no cigarettes, beer or pot--but everyone seemed prepared to be have a good time anyway.

After a while, prayers were read from a small book. Then someone gave a short talk explaining what the Bahá'í Faith was, its history and a brief outline of social and religious laws. The openness to questions, welcoming inclusivity and warmth, as well as view of humanity as one family, were comforting.

My decision to join this faith probably dates from that night, without extensive rational consideration. The truth is, my heart knew even though it would be some time and study before I enrolled officially. Of course, I couldn't admit such an apparently non-logical move even to myself, back then.

Love at first sight? Maybe. Religion--like any loving relationship--is a heart thing, but it too requires mindfulness and commitment in order to last. I had found a congenial group of people who happened to be religious, which was a new experience. They had minds they didn't have to turn off in order to worship.

Looking back, I'd say that it was not so much a decision as it was an acknowledgement of the obvious. My heart/soul knew it had found a home as quickly it did for each of my husbands. Not that instant 'knowing' is a common part of my life, then or now! But with work and faith, spirit and thought, that first marriage prospered nearly 25 years, and the second just turned 16 this week.

It has been 45 years for the religion, and I'm still working on that relationship with God every day.


You Should Also Read:
Characteristics of a Bahá'í Community
Who is Bahá'u'lláh?
Basic Bahá'í Teachings


Related Articles
Editor's Picks Articles
Top Ten Articles
Previous Features
Site Map





Content copyright © 2022 by Cheryll Schuette. All rights reserved.
This content was written by Cheryll Schuette. If you wish to use this content in any manner, you need written permission. Contact Cheryll Schuette for details.