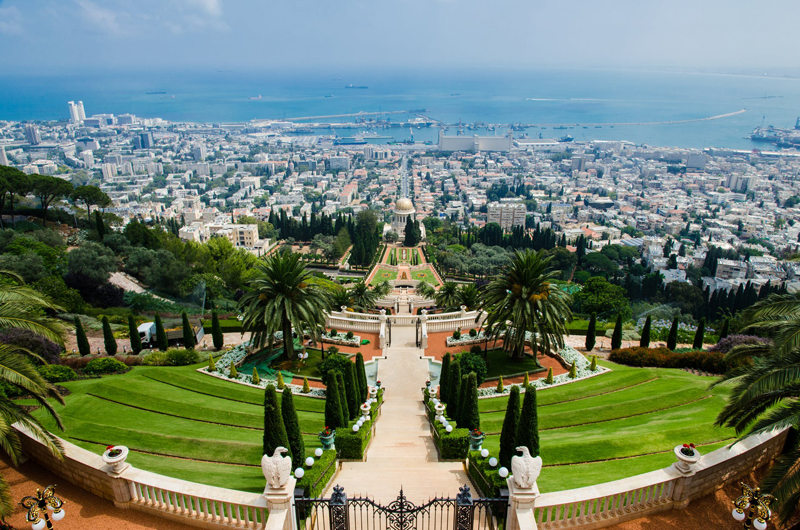 The short answer to the question is: the Prophet/Founder of the Bahá'í Faith. (A Bahá'í is a follower of Bahá'u'lláh.) Bahá'u'lláh is a title taken by Mirzá Husayn Alí Núrí, which means Glory, or Light, of God in Arabic.
Bahá'ís believe that this young man, whose father was a minister in the court of the Shah of Persia, was the latest in a long line of Messengers sent from God to educate and guide mankind. These Teachers have always been part of human history, all speak with the Voice of God, and have been responsible for each great leap forward in civilization.
Bahá'ú'lláh was born November 12, 1817, and spent His early years in relative comfort, although He wasn't interested in the dissolute activities popular among the aristocrats of the time. Instead, He and his wife became known as the Mother and Father of the Poor, because they spent their time and wealth helping the needy. He was well liked and respected by just about everyone, and could have stepped into His Father's position in the Shah's court, had He been interested.
All that changed abruptly when Bahá'u'lláh became a follower of Mírzá Alí-Muhammad, The Báb, whose forward-looking religious teachings were sweeping Persia. This was a messianic movement in Shí'ih Islam, whose followers were looking for the return promised in the Qur'an. They did not use hashish or tobacco, followed a new calendar, dispensed with clergy, and accepted the emancipation of slaves and women--all of which was cause for uproar. Further, the movement was enormously popular and alarmed both clergy and government.
Bahá'u'lláh became a leading supporter of this fledgling religion and, along with many others, was thrown into prison and His possessions pillaged. Later, He and His young family were exiled, "from mountain to mountain and fortified city to fortified city," further and further West, ending at the Ottoman prison of Akká, in what is now Israel.
During His exile, Bahá'u'lláh became the spiritual leader of the Bábí movement and in the spring of 1863 announced that He was the Promised One foretold by the Báb. For the next thirty years, notwithstanding imprisonment and house arrest, Bahá'u'lláh revealed the hundreds of texts that form the foundation of the Bahá'í Faith. He proclaimed His mission in letters to the kings and rulers of the world, calling upon them to take care of their poor and establish world peace, justice and unity.
Bahá'u'lláh's Writings are considered by Bahá'ís to be revelation from God and many thousands of His Tablets have been collected. Some of the major works include,
The Hidden Words,
a distillation of God's direct guidance to mankind found in all religious teaching;
The Book of Laws,
a summation of His Dispensation for this day and age, and
The Book of Certitude,
an essay on progressive revelation. All of these titles, and many more, have been translated into English (and several hundred other languages) and can be read online at no cost.
So, "Like all Prophets, Bahá'u'lláh lived a life of sacrifice and service. Like Buddha, He was a nobleman who gave up His wealth and power to teach the Word of God. Like Abraham, He was exiled from His native land. Like Moses, He guided His followers to new understandings for forty years. Like Jesus, He was persecuted and tortured by the leaders of His time. Despite this oppression, He founded a community which is established in more countries than Judaism or Islam and is still growing. His teachings, once considered dangerous, are now recognized as visionary prescriptions for humanity's survival." - from an essay by Justice St Rain
For more information on the Baha'i Faith please check Baha'i Links
You Should Also Read:
Festival of Ridván
Progressive Revelation
Introductory books


Related Articles
Editor's Picks Articles
Top Ten Articles
Previous Features
Site Map





Content copyright © 2022 by Cheryll Schuette. All rights reserved.
This content was written by Cheryll Schuette. If you wish to use this content in any manner, you need written permission. Contact Cheryll Schuette for details.