This article is about the first doll I received as an adult, she was the start of my collection. Her name is Elizabeth and she is a porcelain, or china doll, with a music box inside of her that plays Brahms' Lullaby. She has a label in her dress that says
Schmid Collectables
and is dated 1982. Her hair and facial features are painted on but her skin is the white of the porcelain.
At the time that I got her I was an art teacher in a middle school. There were several display cases and many bulletin boards, though out the school, that the teachers took turns decorating, for a month at a time. For the month of June, a seventh grade teacher had the display case in the main lobby and she filled it with part of her doll collection. I spent a lot of time gazing at all the beautiful dolls in that case, and one morning that teacher joined me at the case and asked which was my favorite. I immediately responded, "Well, they're all lovely, but my favorite is that beautiful little baby doll in the basket."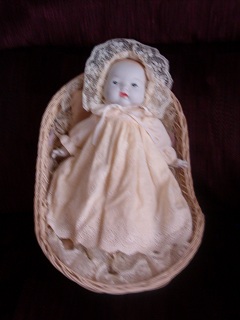 On the last day of school for the teachers, 2 days after the students had left, that teacher came into the art room with the doll I had pointed out. She said: "She is yours, on one condition, you must give her a name." I couldn't believe it and said I couldn't possibly accept such a gift. She assured me that she wanted me to have her, not many people shared her love of dolls and she knew I would love her.
After some disbelief, I named her Elizabeth, after my Grandmother, tearfully thanked her and took Elizabeth home. As you know, from other articles, I have always loved dolls, but at that time I had none. It seems my Mother had gotten rid of all my childhood dolls, I know not where. So Elizabeth was the first of my adult collection, and she is one of my favorites. Thank-you Miss Dizzia!
Making and Dressing Cloth Dolls
Ebook with patterns and instructions to make 5 cloth dolls as well as chapters on general doll making techniques.The book includes 21 inch Lalena Doll, 21 inch David Doll, Bear Dolls, 9 inch Destiny Doll and 15 inch Annie Doll, all together in one handy book. 53 pages.
Making and Dressing Cloth Dolls
.