Growing Orchids Under Lights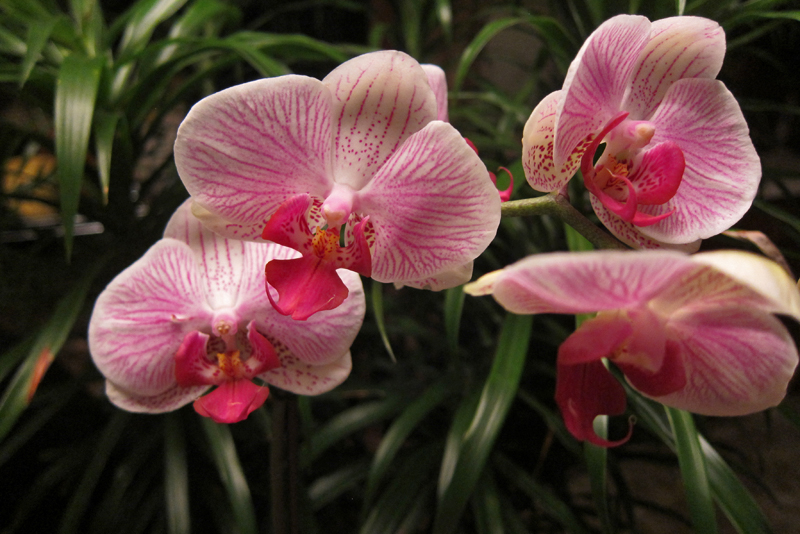 Many of us grow our orchids indoors in windows, extra rooms, basements and garages. Fortunately orchids are well adapted to growth under lights and there are many vendors who specialize in plants which will do well under these conditions.
In general, you will want to try to grow plants that are fairly compact in size under lights. Many of the large plants need high light and physically it's almost impossible to provide for their needs under artificial light banks.
Light intensity is of primary importance for growing orchids. You will often find the number of foot candles necessary for different groups of orchids published and it's important to understand the amount of light needed. Otherwise your plants will grow, but not flower. The most reliable way to measure it is by light meter. They are relatively inexpensive and very important for the indoor grower. Here are the light intensities needed for the most often grown orchids:
Phalaenopsis 1,000 to 1,500 foot-candles
Dendrobium 1,500 to 2,500 foot-candles
Cattleya 2,000 to 3,000 foot-candles
Paphiopedilum 1,000 to 1,000 foot-candles
Oncidium 2,000 to 5,000 foot-candles
Plants need both blue and red light in order to grow and flower. As a general rule, warm white bulbs will provide red spectrum light and cool white bulbs will provide the blue spectrum light needed. You can combine these types for your plants, or buy the specially formulated grow lights that incorporate both.
Another important factor to consider is the length of time you provide your plants with light or photoperiodicity (day length). If you are growing species which require changes in day length to induce flowers then you will need to provide the changing day length in order to make them bloom. Otherwise 12-14 hours during the winter months and 14-16 hours during the summer months will provide enough light for flowering.
There are many different types of bulbs which can be used to grow plants, and the choice is dependent upon your growing environment. In general most growers use fluorescent lights since they can be suspended easily over growing shelves and are much do not produce as much heat as incandescent lighting. They come in a variety of colors and intensities and many are specifically for growing plants. Although they will often provide light for several years it is recommended that you replace the bulbs every 12 months since the intensity of light is greatly reduced as they age.
For more information and orchids grown and bred for growing under lights, visit
Enlightened Orchids
.
You Should Also Read:
Light Meters and Hygrometers
Enough Light for Orchids
How to choose an orchid


Related Articles
Editor's Picks Articles
Top Ten Articles
Previous Features
Site Map





Content copyright © 2023 by Susan Taylor. All rights reserved.
This content was written by Susan Taylor. If you wish to use this content in any manner, you need written permission. Contact Anu Dharmani for details.