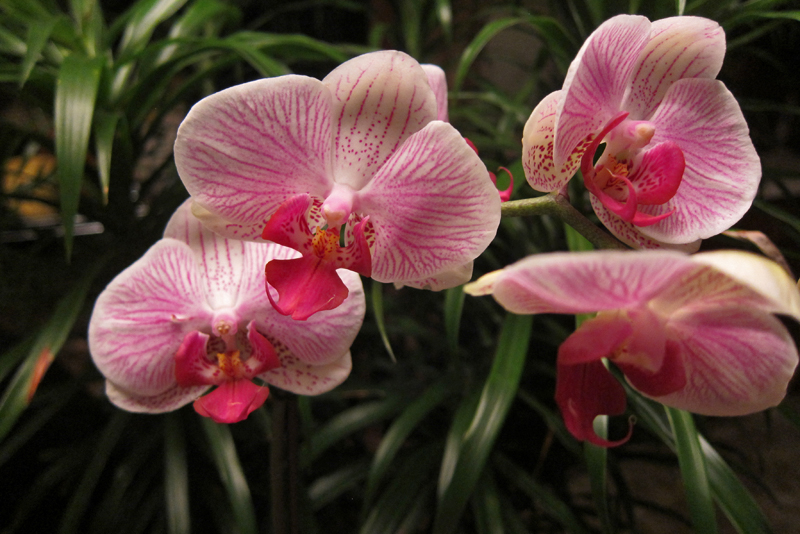 One of the best pieces of advice for a new enthusiast is to check out your environment before you buy your orchid and choose the orchid that is right for your location. The most common mistake, and the most common reason for poor growth, is to try to grow the wrong orchid for your environment. In the home, light is the most important environmental factor.

Talk to one of the many vendors who can help you. If you have a nice south window, by all means try Cattleyas, Dendrobiums and Oncidiums. If you have a north window with less light, get a Phalaenopsis or Paphopedlium. While the plant is flowering, you can keep it in a location where you can really enjoy the blooms; once it is finished blooming is when you need to have the proper conditions to grow it so that it will bloom again for you.

The second most important thing to consider is the temperature requirement of the plant you purchase. If you are growing solely inside this may not be as important as if you are growing on a patio or in a greenhouse. Cymbidiums which are very popular in the northwestern part of the country will do poorly in southern climates. There are a few which have been bred for temperature tolerance, but the really spectacular, big plants rarely do well. Miltonias, or pansy orchids, also do poorly in warm climates, but will grow nicely in more northerly areas.

Many of the new hybrids, especially in the Cattleya Alliance, have been bred to grow and flower well in indoor locations. These will give you the most satisfaction since their light requirements are somewhat less than the older hybrids and generally they are compact or miniature sized so that it requires less space to grow them. There are even some miniature Paphs being marketed for the indoor grower as a result of breeding programs for the indoor market.

The third most important thing you need to do is also invest in some kind of equipment such as humidity trays in order to give your plants the best kind of environment for their growth. A humidity tray will go a long way to making your plants happy so they will grow well and flower for you.

So, do your homework and talk to other growers or your preferred vendor to determine which type of orchid will best suit your environment before you buy. You and your plant will be together much longer and give each other much more pleasure if you do.

You Should Also Read:
Growing Orchids for Beginners
Beginner Orchids
Orchid Growing Tips #20


Related Articles
Editor's Picks Articles
Top Ten Articles
Previous Features
Site Map





Content copyright © 2022 by Susan Taylor. All rights reserved.
This content was written by Susan Taylor. If you wish to use this content in any manner, you need written permission. Contact Anu Dharmani for details.