Guest Author - Deborah Adams
Spinmaster
is a company that provides qualitys products such as Air Hogs, Aqua Doodle, Astro-Jax, Bella Dancerella, Bounce 'Round, Bubble Fun, Fishful of Power, Food Fun, Girl Crush, Mighty Beanz Magnetic Dartboard, Paint Sensation, R/C, Shrinky Dinks, Stink Blasters, and The Wiggles. Things that children love to play with!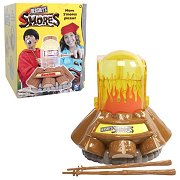 Fostering your children's cooking creativity is a good way to get them started loving a skill they will be able to use someday. One of the products that I enjoyed using from this company is the fantastic Hershey's Smore's Maker from the Food Fun line. This is the stuff dreams are made of where kids are concerned. Their own safe little smore's maker that is almost like having their own bonfire with sticks and everything! You supply the ingredients, Spinmaster supplies the fun!
Other Food Fun products offered by Spinmaster include:
Hershey's Chocolate Magic
Hershey's Chocolate Kiss Maker
McKids Milkshake Maker
McKids McFlurry Maker
Icee Maker
and the
Simpson's Squishee Maker
Don't forget to check out their other lines of fun stuff all for kids!
Spinmaster offers a "Where to buy" feature online with each product and lists the many places that you can buy the products you are looking for.
They also offer a
Careers
page where you can look for rewarding jobs with Spinmaster and an
Inventors
page for submitting inventions you think might be of interest to them.
For those of you in the retail business they also have a
Distributors and Retailers
section.
This company has it all. You'll love the site and the ease in finding the products your kids are looking for.
Visit Spinmaster at
www.spinmaster.com
and see all the wonderful products they have to offer. Your kids will thank you for it!