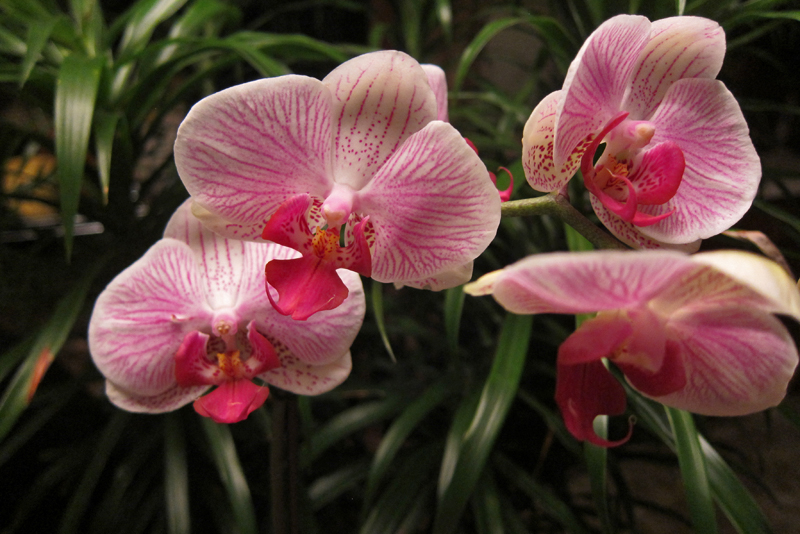 This is a continuation of the Tips article which was posted previously. If you have any tips you'd like to contribute, please send me an e-mail with "Tips" in the subject line. I would like to thank the members of the AOS Forum for the tips they contributed, this has been a big help.

Color Coded Spray Bottles. Use different colored spray bottles for different kinds of sprays—one for plain water, one for fungicide, one for an insecticide, etc. Using different colors makes it more difficult to spray with the wrong thing. Most garden centers today offer different shape, size and color bottles which work just as well.

Biodegradable Insect Killer. This is a tip that is for any kind of garden, not only for orchids. Use kitchen dish soap mixed with water to kill insects. I use a regular spray bottle and put 1/4 cup liquid dish soap to a pint of water. Spray on any kind of insect and the soap will stop up the breathing pores of the insect and kill it—even wasps—and quite quickly. I prefer using this than insect spray. For orchids, most sources say to use 1 teaspoon per gallon. It will still kill insects, but a little slower.

Water and/or mist in the morning. Water and mist your orchids in the morning rather than the evening. This gives them the whole day with heat and air movement to use the water. Molds grow on orchids that are damp at night. You will have fewer problems if you follow this rule. I do mine as I'm waiting for my coffee to finish.

Use bamboo skewers as watering sensors. Use bamboo skewers (the kind from the supermarket) to determine whether or not an orchid needs watering. Cut the skewer an inch or so longer than the medium is deep and keep the skewer in the medium. When you think it's time to water, pull out the skewer and touch it or hold it to your cheek or lip. If the skewer is dry, water. If it's wet, wait. How wet or dry the skewer is will depend on the need of each particular orchid.

Try buying a flask. This tip from an AOS Forum member is for those of you who are adventurous, have lots of space and are very patient!! For the price of a single plant, you can buy a flask. The learning comes because you can mount a few, compot some, and pot up some singles. Keep some dry, some wet, more/less light, etc. The learning comes from watching how each set of plants responds under certain conditions. It is very educational, and easier than people who haven't tried it think. Plus, if you are a beginner, you have added some volume to your collection to trade with others in a couple years.

You Should Also Read:
Orchid Growing Tips #1
Orchid Growing Tips #3
Orchid Growing Tips #4


Related Articles
Editor's Picks Articles
Top Ten Articles
Previous Features
Site Map





Content copyright © 2022 by Susan Taylor. All rights reserved.
This content was written by Susan Taylor. If you wish to use this content in any manner, you need written permission. Contact Anu Dharmani for details.