Beer and Seafood - Atlantic Flounder Divine Recipe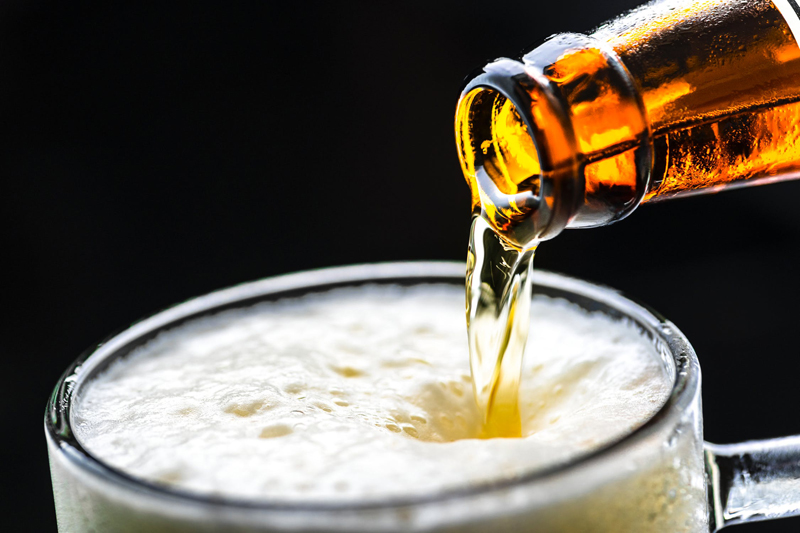 Imagine yourself as a  seafaring adventurer of the 1500's, embarking on a journey to the Far East, in search of trade routes that will bring spice and abundance into your life.  In addition to victuals, supplies and equipment, you load ample barrels of freshly brewed beer for this long expedition across the rolling expanse of ocean.  This is necessity.  The experience of master sea-captains of the past created the need to purge water as a staple on these treks due to imminent stagnation and the resultant illness or death of many crew members. Beer, with its alcohol content and natural protein and vitamin content, will preserve the good health of the crew. 
By natural circumstances of replenishing the food supply during these journeys, sailors would double as sea-faring fishermen, celebrating their catch-of-the-day with wild song, musik, dancing and beer.  This was the beginning of the happy affinity of fish and seafood with beer. 
By today's standards it is no surprise that it continues to be a complementary blend that is kissed by heaven.  You are, undoubtedly, familiar with the tasty sensation of shrimp or crab cooked in beer.  Expand your repertoire to include blends with flounder, cod, tilapia or red snapper.  With the addition of a complex ingredient such as beer, merge light flavors of seafood with lighter beer styles.  Often, a scant 1/4 cup will be sufficient to add the zest you desire. 
If you have not discovered the joys of beer cookery, begin with a basic recipe, and move to more complex blends as your experience develops.  The Beer Fox recommends Atlantic Flounder Divine as a perfect beginning to your gourmet experience.
Atlantic Flounder Divine
The Beer Fox says, "The seductive flavor of fresh cherries in a light sauce blesses this flounder with a bit of heavenly magic."
Recommended Beer: Kasteel Kriek, Brouwerij Van Honsebrouck N.V., Ingelmunster, Belgium

Style: Cherry Lambic – Clear Garnet in color with pink, rocky head  - Undertones of malt are enhanced by the up-front tartness of cherries and deluxe, creamy texture. Subtle, clean finish.

6 Flounder Fillets
1 C. dry bread crumbs, finely ground
¾ teaspoon sea salt
1 teaspoon paprika
½ teaspoon Old Bay Seasoning
2 tablespoons butter
1 can (10-3/4 ounce) Cream of Mushroom Soup
½ C. Kasteel Kriek

Grease bottom of shallow baking pan. Place flounder fillets in bottom of pan and dust with fine bread crumbs. Sprinkle with sea salt, paprika and Old Bay Seasoning. Dot with butter.

Mix soup with Kasteel Kriek. Pour over fish. Bake for 35 minutes in 375 degree oven until bubbly and brown. Before serving, spoon extra sauce over fish.
Serving suggestion:  Serve with a side of herbed rice and lightly steamed broccoli.

* Health Benefit: Rich in protein, B-complex vitamins, niacin, magnesium, pantothenic acid
Enjoy!
 


Related Articles
Editor's Picks Articles
Top Ten Articles
Previous Features
Site Map





Content copyright © 2022 by Carolyn Smagalski. All rights reserved.
This content was written by Carolyn Smagalski. If you wish to use this content in any manner, you need written permission. Contact Carolyn Smagalski for details.