How to Stop Making Yourself Unhappy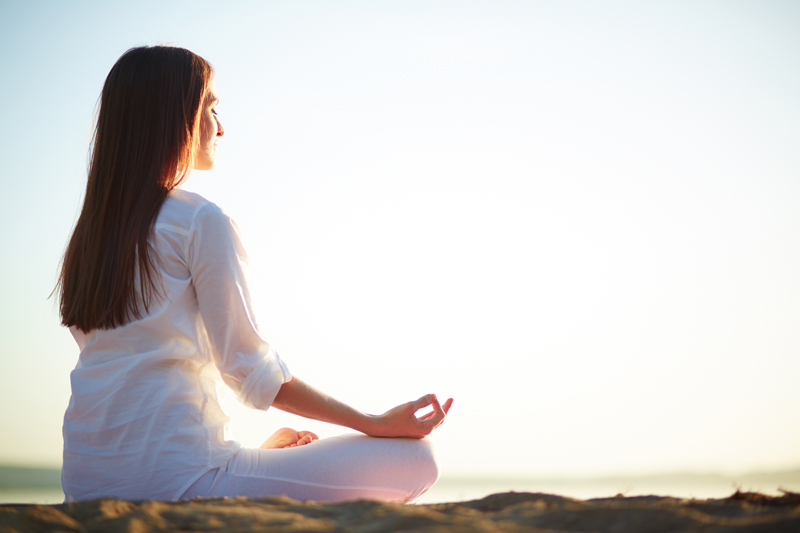 If we think that circumstances make us unhappy, we should broaden our view. Every week I speak to cancer patients; some wake up happy to savor each moment, living more fully than ever before. And you don't have to be confronted with your own mortality to enjoy life either. I have a friend who was fired from a lucrative, prestigious position and was delighted to try something new and exciting, "I never would have had the courage to walk out on all that money even though I was miserable at work. I'm glad they fired me!" Nevertheless, many of us wake up in the morning with all our parts working and the sun shining, feeling unhappy and don't know why.
The last thing we want to hear is "Cheer up!" Nobody can cheer up on command, especially when we are immersed in disturbing thoughts which cause us to feel sad, disappointed, anxious, resentful and disrupted. The way to achieve happiness is to change our thinking about those circumstances by letting go of the disturbing thoughts.
I would like to share with you my personal circumstances. I was a caregiver to two parents who had Alzheimer's disease, first my father and then my mother. Since I'm an only child, it was all on my shoulders. However, juggling terminally ill parents, a husband, 3 children, work and a dog, I realized that I was just going through the motions... but without my usual sense of humor and cheerfulness. I had this ache in my heart which wouldn't go away. And it somehow needed to be expressed. Because writing is my passion combined with the experience of the destructive force of Alzheimer's... I felt intuitively that creativity would counteract it. And what could have been more creative than writing.
Turn On Your Inner Light
was born as a manual for happiness. Because I wrote it from the dark side, from tragedy, I was able to see in black and white how to bring back the light. I rushed to finish the book which interestingly took nine months to write: The birth of a learning to live again process. And it went directly where it belonged. I put it in my mother's hands like a beloved gift while she could have a glimmer of what it meant to both of us. And from my experience I learned that happiness means to be reasonably happy and let me repeat that, reasonably happy, and that each one of us, you and I have the ability to perceive happiness even in the middle of a difficulty. And in fact, difficulty makes you appreciate and relish the good moments.
Here are some suggestions to make yourself happy:
Accept that life is filled with ups and downs. There will always be annoying problems and things that go wrong. Don't have unrealistic expectations that will hurl you into an abyss after you experience a disappointment.
Stop depressing yourself with time limits for accomplishments or milestones in life like getting a job, getting married, or having an ideal family. If you have experienced many broken relationships, the more people you meet, the odds increase in finding a fulfilling, lasting relationship. If you expect a job or relationship to be hassle-free, it will never work. Life is filled with difficulties.
Challenge your negative critical voice that tells you for example, you will never accomplish and that you are worthless. See if your negative voice can logically prove to you that you are a failure. No one has a crystal ball to see future failure. Become your own defense attorney and argue with yourself how good and capable you really are.
If you expect a dramatic and immediate improvement when you are unhappy, forget about it. This is depressing in itself. Work at making yourself happy and changing your perceptions. Slowly the clouds will lift and you will delight in the light.
Call up a positive friend for a quick pick-me-up. This is known as phone therapy.
Exercise for a few minutes to music to release stress, raise endorphins. Then you will be able to root out the negative, self-deprecating thoughts. When your body grows stronger, so does your mind.
---
Debbie Mandel, MA is the author of Turn On Your Inner Light: Fitness for Body, Mind and Soul, a stress-reduction specialist, motivational speaker, a personal trainer and mind/body lecturer. She is the host of the weekly Turn On Your Inner Light Show on WGBB AM1240 in New York City , produces a weekly wellness newsletter, and has been featured on radio/ TV and print media. To learn more visit: www.turnonyourinnerlight.com

Editor's Picks Articles
Top Ten Articles
Previous Features
Site Map
Content copyright © 2019 by Debbie Mandel. All rights reserved.
This content was written by Debbie Mandel. If you wish to use this content in any manner, you need written permission.
Contact Debbie Mandel for details.