Go to an American Orchid Society Orchid Show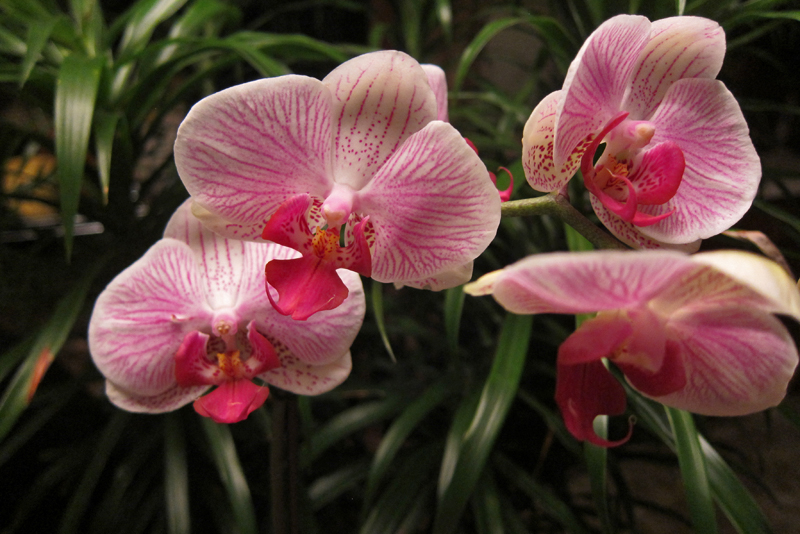 One of the best educational opportunities for most beginner orchid enthusiasts is to attend a local orchid show. They are always spectacular, even the smallest show. There are masses of flowers in the show itself and most shows have a large area dedicated to vendors of all kind of orchid plants and items. The
American Orchid Society
web site has a listing of the shows put on by their affiliated societies. Just choose "Calendar" from the linked page. You will see what is possible with almost any kind of orchid. It is also probably the only place you will be able to see many rare species of plants.
There's nothing like being able to see what the flower and plant really looks like of the plant on your wish list. I've revised my opinion on several plants I thought I wanted when I saw the size of a full grown plant of that variety. On the other hand, I've also decided I wanted something that didn't look very interesting from a picture on a catalog.
As you look at the plants, be sure to talk to the vendors who are local and get their business cards. This is the very best way to find local places to visit throughout the year to get the best orchids for your area. A local nursery will generally be more than happy to work with you and provide knowledge and expertise for your growing questions. They are also one of the best sources for learning what grows well in your area of the country. Many nurseries put on periodic classes on how to care for your orchids, how to repot, etc. Get on their mailing lists so you're aware of what is going on.
In many areas there will be one specialty grower who will exhibit and sell at local shows. If you are interested in the same kind of plant as he/she has you can gain a valuable friend by meeting them at a show. We have a world-renowned Equitant Oncidium (now know as Tolumnia) breeder in my area who loves to give tours of her greenhouses when her orchids are in bloom.
A friend of mine and I who were both interested in orchids, set up a monthly excursion to a local nursery to really meet and talk with them on a one-on-one basis. The amount of information you can learn in just one such visit is extraordinary. Ask questions. If you're having problems with a plant, take it with you (leave it in your vehicle so you don't spread disease and/or pests) and ask if they will look at it for you. Often you can not only find out what the problem is, but get the solution all in about 10 minutes!! And of course you can get a flowering plant as a bonus!!
You Should Also Read:
Getting Started with Orchids
Join an Orchid of the Month Club
Learn Through Your Local Orchid Society


Editor's Picks Articles
Top Ten Articles
Previous Features
Site Map





Content copyright © 2023 by Susan Taylor. All rights reserved.
This content was written by Susan Taylor. If you wish to use this content in any manner, you need written permission. Contact Anu Dharmani for details.