Guest Author - Mavis Metcalf
After more than 20 years of Cockatiel ownership, I have decided to write an e-book about the care of these wonderful birds. Cockatiels are one of my favourite bird species and they can have wonderful personalities.
Read through the 27 pages of information and advice about the care of your pet Cockatiel including:
Introduction

About Cockatiels

Cockatiels as Pets

Where to Obtain a Pet Cockatiel

One Cockatiel or Two?

Bringing Your New Cockatiel Home

Cages

Diet

Taming Your Cockatiel

Talking Ability

Bathing

Wingclipping

Toys

Household Dangers

Egg Laying

Breeding

Colour Mutations

Sex Linked Mutations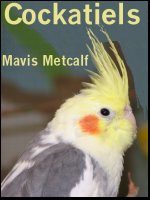 Many chapters have pictures including many of the colour mutations of these birds, baby Cockatiels and a Cockatiel in flight.

Now available for the low introductory price of $2.00.

Click on the picture of the book or here to read more.




If you love Cockatiels, you'll love this clock from Cafe Press.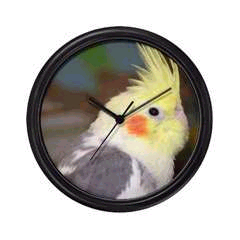 I have other e-books also available and I have decided that the price of $2.00 each will remain on all the e-books, so that everyone has the opportunity to learn from these books.

Come by the bellaonline bird forum, where we can talk about our birds. You can ask questions or answer question - whichever you like. Sometimes the forum can get very active and sometimes we can go a day or two without any posts, but someone will always answer questions and be available to talk to you. You can get to the forum by clicking on one of the links below that will take you to the most recent posts. If you have not posted before, a quick and easy registration is required before you start.