Guest Author - Mavis Metcalf
This Zebra Finch is posing for a picture on this jigsaw puzzle.
You may have to scroll over to get the whole puzzle on your screen. As always, you may make this puzzle easier (or harder) by clicking on "Shapes" to change the number and shape of the pieces.
More Jigsaw Puzzles
Click
here
to send this picture as a postcard.
Here is an e-book Iíve written that is devoted to Zebra and Society Finches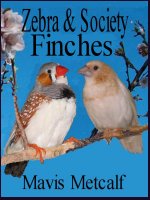 Click on the picture or
here
for more information or to order.