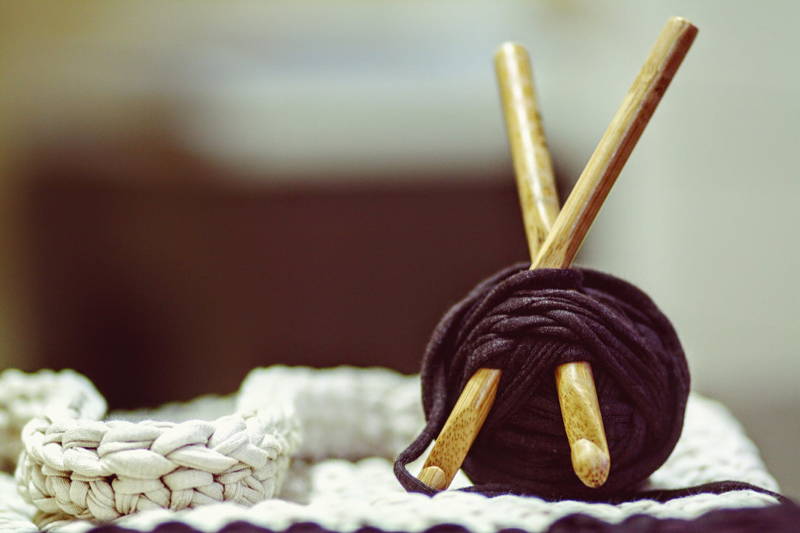 Every year it's the same: I'm running off my feet, making Christmas gifts and filling custom orders for the holidays. January is filled with projects inspired by the gifts that were under the tree, feeding off the momentum of December. But then February rolls around, and I don't really care if I ever pick up a crochet hook again. Of course, the feeling never lasts, but I want to talk about what to do when you're just not feeling it anymore, and you feel like your current WIP will remain a WIP indefinitely.
Sometimes, depending on your personality, it's actually helpful to put your yarn and tools away out of sight. "Absence makes the heart grow fonder," and all that. I know it's helped me to do so. It helps me to clear the mental clutter of ideas, and lets me start fresh when I do finally open the trunk where I keep my yarn stash. Depending on your level of addiction, this pause may last a few days or a few weeks. Maybe even a few months! The point is, crochet should be fun, so if you're not having fun, put it away until it sounds fun again.
Another thing that's helped me is to anticipate the doldrums ahead of time, and be ready for them. I spend a few minutes every now and then during the busy season searching for inspiration and patterns on Ravelry, and save them to my favorites, so they're easy to find when I'm suffering from the blues that inevitably accompany the last dregs of winter, and want something to keep my fingers busy without being too intensive.
But what if you're a business owner, and you don't have the luxury of setting your crochet aside when you feel like doing so?
Something that has really helped me is to find peripheral things that will help me enjoy my crocheting. For me, this includes having my favorite audiobook ready to listen to, or a great show queued up on Netflix. Or my personal favorite, having a group of fellow crafters to gather with to craft and chat. You can often find these types of groups through your local yarn store, or via social media. Don't be shy! You have your own brand of fabulous to add to the group.
Remember, when the crochet doldrums strike, they don't have to last forever. You'll finish that blanket when you're meant to; you'll find your crochet mojo—maybe when and where you least expect it!
Clover 3672 Amour Crochet Hook Set, Size 10
You Should Also Read:
Turning a Profit at Handmade Shows
Free Pattern - Fingerless Gloves


Related Articles
Editor's Picks Articles
Top Ten Articles
Previous Features
Site Map





Content copyright © 2023 by Holly Messenger Aamot. All rights reserved.
This content was written by Holly Messenger Aamot. If you wish to use this content in any manner, you need written permission. Contact Holly Messenger Aamot for details.