Beer Lovers - Central Indiana Beer Appreciation Society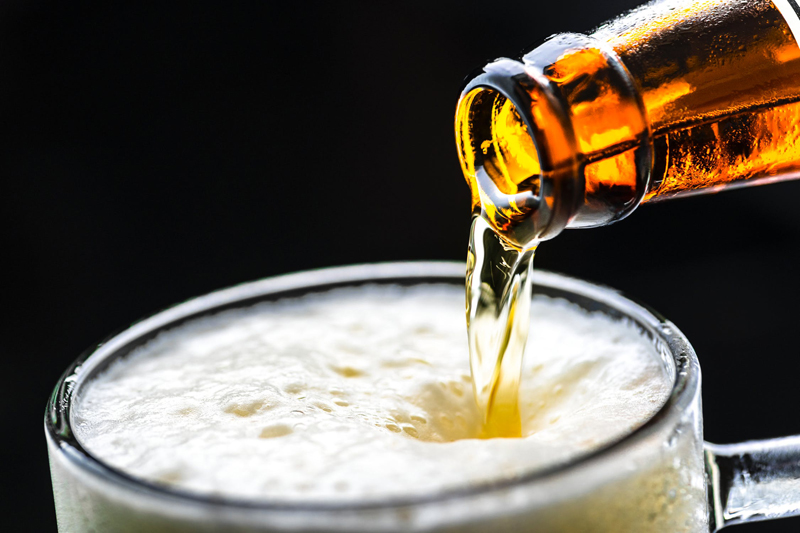 What is the profile of a true Beer Lover? Most beer enthusiasts conjure up visions of Michael Jackson, Charlie Papazian, Garrett Oliver, and Ken Wells – all well-known names in the business of beer. A love for beer, however, is seated deep in the heart of America, the second largest beer producer in the world.

It is a part of our culture. In the flash of a lightning bolt, the image of celebrations and fun are associated with beer:

Sizzling steaks over a hot grill, the sound of kids-at-play, red-and-white checkered tablecloths, and a spirited volleyball game by the river. Cave Creek Chile Beer adding just enough zest to the laughter of friends…

You close your eyes! Memories of victory rush through your mind! You can taste the quenching flavor of Samuel Adams Lager as it cuts the edge during those final moments before Super Bowl victory! Celebration Rally at City Hall Plaza! You're fired up! Red, white and blue confetti, thunderous cheers, rapturous smiles…

See what I mean?

Beer appreciation is spread throughout the American landscape in the form of homebrew clubs, brewery tour groups, and beer lovers clubs. One such group is CIBAS, Central Indiana Beer Appreciation Society. Mark Schiess, an enthusiastic homebrewer and Schiessmaster of CIBAS, founded the society to educate the beer lover about fine craft brews and, at the same time, respect the "Bud Light guy who enjoyed his beer."

Although there are two major homebrew clubs in the area - Foam Blowers of Indiana (FBI) and Tippecanoe Homebrewer's Circle (THC) – Schiess observed the growing craft-brew revolution, and believes in promoting local craft brewers and the establishments that serve them. With over 500 different beers available in Indianapolis, the awakening of American taste buds is creating a lively environment for the development of increasingly enticing beer.

Schiess hails from a long line of brewers and enthusiasts. His great-great grandfather, George Ringler, was founder of George Ringler and Company Brewery in New York City, which operated from 1872 until 1925, when the brewery was caught selling "real" beer, cider and AppleJack. The officers, including George Jetter, Ringler's son-in-law, were fined and the brewery was ordered locked-up with over 100 locks. The apple trees on their family farm were destroyed.

In the late 1800's, Schiess' great-grandfather, Henry Schiess, was owner/operator of the Laclede Exchange, a large tavern in St. Louis. The family tradition of home-brewing continued throughout the generations, creating a love for beer that Mark Schiess feels compelled to share.

In addition to the current "beer bargain" of free membership, CIBAS provides an Indy "tap-list" and newsletter, links to beer events, beer news, sites, humor and field research, while at the same time, promoting responsible drinking and information about beer and health. If you are a homebrewer, you can share your enthusiasm with Mark, who homebrews - (a brew each month: Rye Pale Ale, Irish Red, Smoke Wheat Lager, Totem Pole Porter, Fireplace Irish Stout, Fish-on-a-Bicycle-Hossier Stout) - in his home-made- brewery shower stall (See pictures on the CIBAS website).

An Indiana Beer Appreciation Sampler of Beer:

Three Floyds Brewing Company, Munster, Indiana -
Alpha King Pale Ale; X-Tra Pale Ale; Behemoth Barleywine; Gumballhead Wheat Beer; Pride & Joy Mild Ale; Dark Lord Russian Imperial Stout; Robert the Bruce Scottish Ale; Rabbid Rabbit Belgian Saison "Farmhouse Ale"

Oaken Barrel Brewing Company, Greenwood, Indiana –
Indiana Amber Hoosier-Style Red Ale; Razz Wheat Raspberry Wheat Ale; Gnaw Bone Pale Ale; Snake Bit Porter; Irish Gold; Superfly IPA; Winter White Belgian Wheat Ale; Old No.10 Barleywine; Belgian Dubbel

Mad Anthony Brewing Company, Fort Wayne, Indiana –
"Gabby" Blonde Lager; "Auburn" Lager; "Ol Woody" Pale Ale; "Ruby Raspberry" Wheat Ale; "Harry Baals" Irish Stout; "Black Squirrel" Oatmeal Stout; "Gold Rush" Amber Lager; Maibock German Lager; "Happy Weasel" Hefe Weizen; "Old Crippled Bastard"

Lafayette Brewing, Lafayette, Indiana –
Whitetail Wheat; Prophet's Rock Pale Ale; Eastside Bitter ESB; Pipers Pride Scottish Ale; Eighty-Five Hybrid American Ale; Black Angus Oatmeal Stout; Cask Conditioned Unfiltered Ale; Tippecanoe Common Ale; Heritage Trail Amber Ale; Digley's Irish Stout; Weeping Hog IPA; Copper Top Rauch Bier

Just a few – but this should whet your appetite for great Indiana brews!

Cheers!
 


Editor's Picks Articles
Top Ten Articles
Previous Features
Site Map





Content copyright © 2022 by Carolyn Smagalski. All rights reserved.
This content was written by Carolyn Smagalski. If you wish to use this content in any manner, you need written permission. Contact Carolyn Smagalski for details.