Cluny Square Motif - Dagmar Pezzuto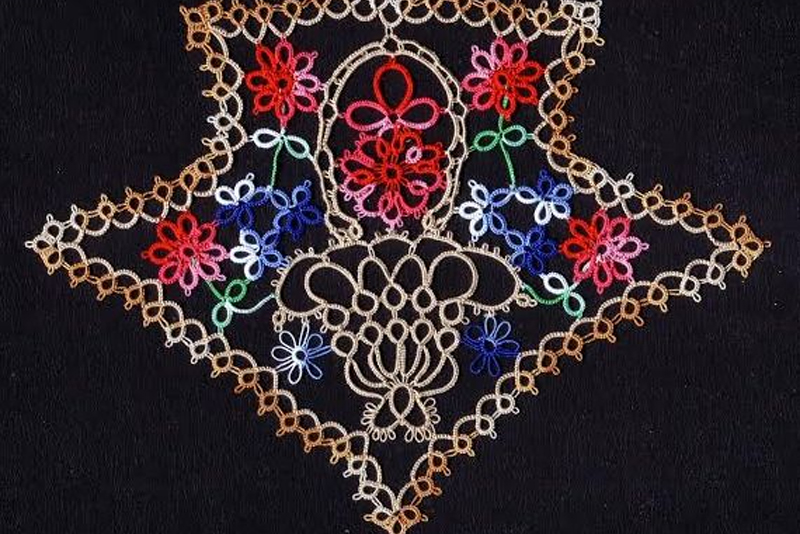 Cluny Square Motif - Dagmar Pezzuto
Dagmar Pezzuto is a master of the tatted cluny leaf. Her new cluny square may be tatted individually and joined into flat lace fabric as the decorative chains of round 2 are added. If tatted in size 80 or finer thread it would serve as earring pendant also.










Abbreviations

Ch = chain

CL = cluny

Clr = close ring

CTM = continuous thread method

ds = double stitch

vsp = very small picot

R = ring

RW = reverse work

+ = join

- = picot

--- = long picot



ROUND 1

CTM with a starter picot at the beginning (use a paper clip) 2 ds.








CL1 = 17 passes - (vsp1). RW

Ch1 = 5 ds - 5ds. RW

R1 = 10ds + (vsp1) 5ds - 5ds. Clr. RW

R2 = 5ds - 5ds (vsp2) 10ds Clr

Ch2 = 5ds - 5ds + (vsp2).

CL2 = 17 passes 2ds – 2ds. RW

CL3 = 17 passes + (vsp2). RW

RI/R2 = Make 4x

R8 + vsp1.

CL8 = 17 passes, 2ds + (starter picot)









ROUND 2

R9 = 3ds --- 3ds. Clr.

Ch9 = 2ds – 1ds – 1ds (7x) 2ds + (- Ch1)

Ch10 = 2ds + (- Ch9) 1ds – 1ds (6x) + (-Ch2).

Ch 11 = 2ds + (-Ch 10 )1ds – (6x) + (-CL )

R10 = 3ds --- 3ds . Clr.

Continue around.








Dagmar Pezzuto ©2014



Here's how to wind the hand loom and weave a tallie or cluny leaf:





Place the previously complete work in the pinch. Bring the ball or shuttle 2 thread across the middle finger and ring finger and back down to the pinch. Allow a loop of thread to dangle down below the pinch (place a space holder or hackle pliers on the loop to prevent premature closing. Bring the thread back up and across the ring finger and anchor it to the little finger with a few ties or wraps.
Take up shuttle 1 (or the tatting needle) and begin to weave the leaf. One pass is a complete trip from the right to the left and back to the right. The pattern will designate the number of wraps.
Take the shuttle over/under/over to the left, then under/over/under back to the right. Use the point of the shuttle/needle or a crochet hook to move the thread tightly down to the point.
Make the leaf get a little wider at the center then taper off again.
Take the tatting off the hand or loom and lay it on the table. There will be one thread going to shuttle one (red in photo), one thread going to the ball or shuttle 2 (white.) There will up a lower loop and an upper loop.
Grasp the left side of the lower loop and pull down until upper loop is gone.
Next grasp the ball thread and pull up until the lower loop disappears.
With practice your cluny leaf will look much finer than mine. Good luck.
You Should Also Read:
Cluny Flowers 2 colors
Hanging Cluny Split Ring Flower


Related Articles
Editor's Picks Articles
Top Ten Articles
Previous Features
Site Map





Content copyright © 2019 by Georgia Seitz. All rights reserved.
This content was written by Georgia Seitz. If you wish to use this content in any manner, you need written permission. Contact Georgia Seitz for details.