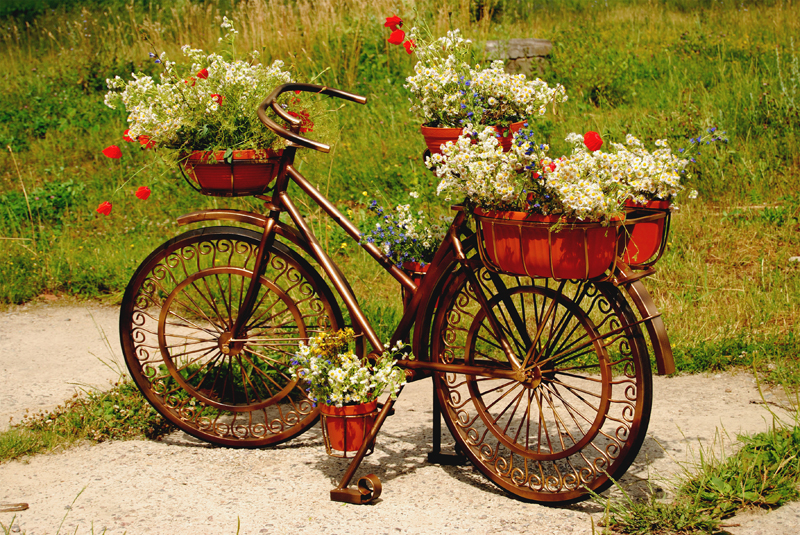 There are so many different garden types and themes that we are spoilt for choice; and as a Container Gardener (in capital letters!) when you consider the space you have and your general conditions, then you, as the artist, have a blank canvas upon which you can 'paint' anything that suits.

With this in mind then, what about using your container garden space to make up a Zen garden … a place for contemplation and the appreciation of the beauty of simplicity? It can be a low maintenance project that can see you through all the seasons. If you don't have that much space – then you can use some of the ideas that follow for containers only.

Do you think that such a garden might be too austere, rigid, plain or lacking interest? Some do, but I don't think it has to be that way, not when you combine the best of all worlds … and if you are not going to be too strict, then you can borrow and idea here and add a bit there. The end result will be pleasing I am sure.

Creating a space of tranquility, beauty and calm for yourself is easy, all you need is at your fingertips.

WHAT YOU NEED
Time to think and plan – a Zen garden doesn't just happen because you have a few pots and a clean cut topiary with some pebbles. There is a lot more to designing simplicity than a person may realize.

• The right space – this type of garden will not really suit a strip balcony or a long rectangle/walkway/lane. If you do have a larger garden (in which you use containers), then set aside an area to use for your seat of meditation – a space around 9' x 12' would be about right but use the space you have.
• Optimal conditions for the plants you will choose i.e. the right amount of sunshine, shade, the right types of soil, a suitable watering regimen, fertilisers and soil conditioners and so on.

• The hardware and the software! Let's just assume that the plants will be the software – which leaves the hardware to include seating, stone and pebbles, statues, containers and pots, bamboo trellising; water feature/s, lighting, rocks and sand and more.

ASPECTS OF AN ASIAN GARDEN

In the middle ages Zen Buddhism spread from India to many countries and there were dry and perhaps symbolic gardens to be found surrounding Zen Buddhist temples … but the Zen gardens that we know today as associated with Japanese gardens seems to have been an early 20th century western idea. Each element you use your garden has a meaning and purpose.

• Rocks, stones and pebbles. These come in all sorts of shapes and sizes and textures. Use them to represent flowing water, swirling patterns, spirals or borders. Use odd numbers for balance and composition (3, 5, 7 and so on).

• Flagstones can create 'restful craziness' if combined with plants like creeping jenny, peace in the home or mosses. You could place these around your composition of pots.

• Sand both coarse and fine. Use light coloured sands, I like river sand because of the ease with which it can be raked into swirling patterns or circles or whatever.

• Trellising and dividers most usually made of bamboo or other natural products. Art screens are pretty and can divide your space into opposites (like hot and cold, foliage and flowers, busyness and rest). A screen can be moved too.

• Statuary, Icons and Figurines
… such as a Meditating Garden Monk; a Laughing Buddha; a birdbath or feeder; a rock water basin; leaping fish, a stone pagoda lantern; Ganesh … some people may even use the simplicity garden idea but eschew any religious connotation and add concrete or stone butterflies; frogs; digging dogs and faeries. For lighting, you could consider the traditions rock lantern, but there are also solar lights which come in all materials, shapes and sizes.

• Plants
Note that a Zen garden is not filled with plants like, say, an English country garden bed. Think about what plants you will choose taking into consideration things like colour, growth patterns, size, texture, leaf shapes, location and more.

• Other
… such as Bonsai, flowering orchids, cranes, motivational messages, kokedama, wind chimes (either tuned metal or wood); driftwood, large shells, or nothing. Nothing? Yes, just a large rock surrounded by coarse river sand can make the statement you seek. Remember Shirley Valentine's Greek rock? I do.

PUTTING IT ALL TOGETHER
These 'rules' can be used if you just want to make a single Zen Container or a small space meditation garden. It's a tranquil retreat you seek so use each element with thought design and measure.

• Simplicity is the word, the thought and the deed. Empty space makes as much of a statement as the plant and design choices you make. Go for serenity,' less is more' - don't overcrowd your container or bed with too many ornaments.
• A beautiful container with a single plant or cactus surrounded by pebble pattern or plain raked sand lends itself to clean and calm lines.
• Use a varying mix of elements, juxtapose pots of different shapes, planted up with similar plants, foliage textures and colours.
• Remember that opposites do attract – so mixing feathery textures of grasses with fat flat leaved succulents may work, play around a bit until you are pleased.
• The context of your Zen garden is as important as the pots in it – use soft and muted colours for walls and other surrounding décor.
• Container gardening is not static – plants grow, fruit and die … work with the seasons and let them be represented in your space – use all that plants have to give in colour, texture shapes and sizes. Renew all the time – stay simple.

As you see above, there are many ways to make up a Zen-style container garden, so interpret your own design in ways you can afford and imagine, choose a couple of the ideas you have read about and add some of your own; see if you can make them work together – remember you are looking for beauty, simplicity and flow, and this is likely to follow if you have a deep respect for nature.

What do you want your container garden to do for you?

................................................................................

CASUAL VISITOR … and just browsing? Why not sign up to the Container Garden newsletter? It won't matter what space or how many pots you have or even how much time you have to spend in your container garden; what will matter is that you get our reminders and good advice and ideas all in one interesting article.




Related Articles
Editor's Picks Articles
Top Ten Articles
Previous Features
Site Map





Content copyright © 2022 by Lestie Mulholland. All rights reserved.
This content was written by Lestie Mulholland. If you wish to use this content in any manner, you need written permission. Contact Lestie Mulholland for details.